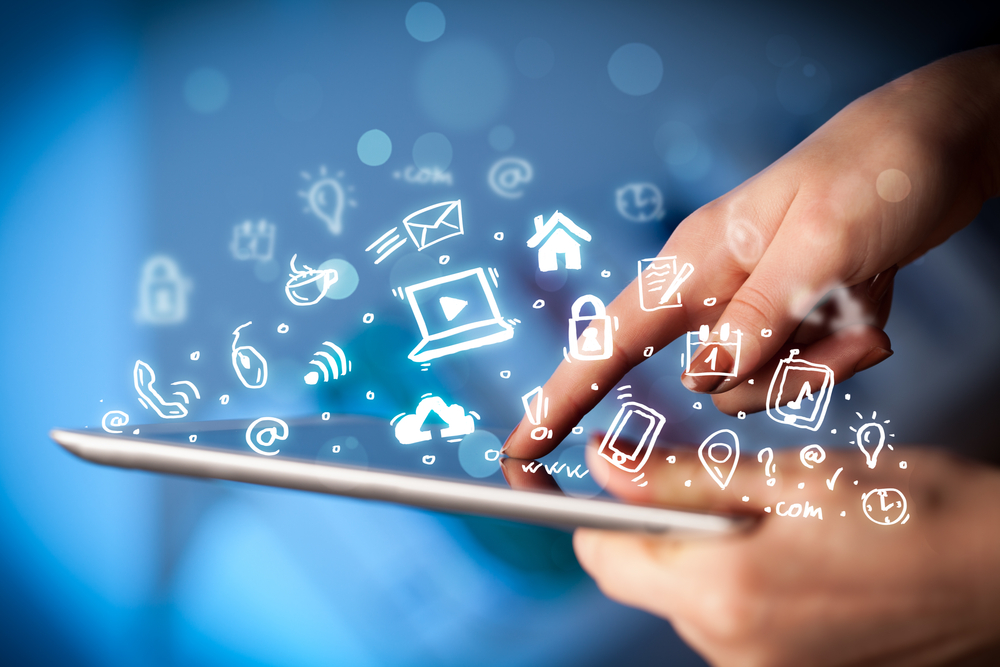 Social Media for Entrepreneurs: Top 10 Best Practices
It's been less than 20 years since the launch of Facebook, YouTube, and WordPress kicked social media into high gear. Now a whopping 82% of the U.S.population have social media accounts, and new platforms pop up regularly.
In this hyper-social online environment, to be recognized as an expert, you've got to have a digital presence.
YEC member Kristopher B. Jones, founder of LSEO.com, says, "As a CEO, your social feeds will be seen and relied upon by all kinds of groups, from prospective employees looking to join your company to investors who want to work with you."1
Luckily, successful entrepreneurs have done the work for you when it comes to figuring out the best social media strategies for personal branding, social media marketing, and connecting with other company leaders. Here are the top 10 best practices recommended by YEC members: five for social strategy and planning, and five for engaging with your audience.
Five Tips for Social Strategy and Planning
1. Create a Personal Social Media Presence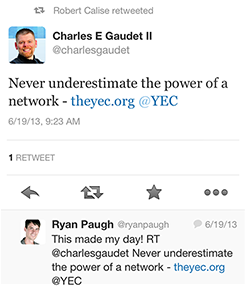 Don't be afraid to appear on social media platforms as yourself. Kristopher says that CEOs should personally be on social media so they can establish the business's online personality. He recommends that entrepreneurs "start conversations about topics that are meaningful to you. Loop in your friends in the industry to let them voice their opinions. Share your company's approach to this or that current issue. In that way, you'll be letting the public know what your company is about and how people should feel about it."
By establishing a personal presence on social media rather than leaving everything to a marketing team, you'll create a firm base for personal branding, and an opening for your audience to get to know and trust you personally.
2. Be Where Your Audience Is
So you're headed for social media to connect with your audience. How do you choose where to post, advertise, and interact? You go where your audience is.
YEC member John Lincoln, co-founder and CEO of Ignite Visibility, explains that when choosing social media sites for marketing, "It would be nice to be in control of how our audience chooses to spend their digital time, but that's not reality. The truth is that they pick the path, and we just follow. If we want to speak to our audience, we need to find them first."2 He recommends looking beyond the big, mainstream social sites to more specialized ones like Twitch, GoodReads, Steemit, and even NextDoor.
Before you invest a lot of time or money into advertising or posting on any platform, do your research. Find out which platforms are home to conversations that you want to be a part of. There lies your audience.
3. Use Social Listening to Inform Strategy
Social media isn't just about sharing your own content. It's also a fantastic tool for learning about your target audience and your competitors.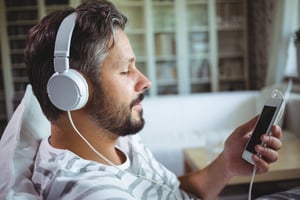 In his article about strengthening customer trust with social media, YEC member Chris Christoff, co-founder of MonsterInsights, says, "Social listening is the process of observing what users are saying about your brand on different platforms. Monitoring these conversations is vital to understanding what you're doing right while working on your areas of opportunity."3
YEC member Alfredo Atanacio, founder of UassistME.co, also recommends social media listening to "see how competitors are doing. It involves taking a look at their content, branding and what others are saying about their products or services."4 Alfredo uses social listening to gather data that informs his social strategy.
You can use a tool like Hootsuite (or any of its many competitors) to keep an eye on things.
Watch for:
People venting their frustrations. Are they talking about problems you or your product can solve? Note: don't respond to the posts. If you do, your post is likely to be seen as unsolicited spam. Instead, get a sense of the problems people are talking about, and then use your marketing efforts on that social channel to present solutions. Draw people in.
Your competitors. What do they post about that gets the most engagement? Where do they post? How does the audience you're looking for respond to different kinds of content?
Praise for your product or service. You're doing something right! Celebrate — and then build on the wins.
Criticism of your product or service. Don't freak out. First, filter out trolls and irrelevant rants; some folks just love to be angry on the internet. Then accept that there are always ways you can do better, use the critical feedback to consider what those are, and move forward.
4. Optimize Your Profiles
Like everything else on the web, your social profiles are more likely to be found if they're optimized for SEO. YEC member Jared Atchison, co-founder of WPForms, recently offered up 5 ways to optimize your profiles, and pointed out that "an unoptimized social media profile fails to drive traffic, increase email subscribers, and boost sales. It doesn't tell users anything about your brand or who it caters to, which hurts its growth."5 Jared reminds us that it's important to quality check your brand info on social accounts to be sure it is up-to-date and sending a clear and cohesive message.
Check:
NAP (Name, Address, Phone). Even profile names should match across platforms as much as possible, so that you're easily recognizable.
Avatar images. Make sure colors and style are on-brand, and the photo you use is clear.
Profile header images. Ditto.
Bio information. Give the most important facts, with something personal thrown in to differentiate you from thousands of other business people.
Links. Be sure they're live and correct. There's nothing more off-putting than clicking a link in someone's bio and finding they haven't bothered to keep it current.
Hashtags. It takes a moment of extra effort, but adding hashtags to your posts can help gather readers interested in your topics. Just remember that platforms differ when it comes to how many hashtags are appropriate. Use other people and brands you admire as a model.
5. Establish a Social Media Policy
One important bit of prep work for business leaders is establishing a social media policy for your brand. What discussions will you engage in, and what topics are off-limits? How will you respond to criticism or negative reviews?
In his piece on why a social media policy equals reputation insurance, YEC member Evan Nierman, founder and CEO of Red Banyan, says, "Your credibility and integrity are at stake every time you post online." Evan says clear plans for dealing with negative reviews and criticism online are important. He says,"a common sense social media policy can help your business respond to online comments and criticisms with calm and focus."6
Five Tips for Engaging With Your Audience on Social Media
Once you've found your audience, it's time to engage.
"Engaging with your audience is one of the biggest ways to make — or break — your brand reputation," says YEC member John Rampton, founder of Calendar, in an article about building consumer trust via social media. John recommends showing an interest in your audience by interacting in post comments, offering customer service chat options, and conducting surveys. He also recommends "brand shoutouts" to "give consumers a better understanding of the kinds of brands your business works with."7
1. Host Real-Time Virtual Events
YEC member Adrian Fisher, founder and CEO of PropertySimple, in his piece on how to host a successful virtual event,8 encourages going beyond Zoom by livestreaming on social platforms like Facebook Live, LinkedIn Live, Instagram Live, YouTube Livestream, and Twitter Live. Live events with video offer the opportunity for real-time interaction like Q&A sessions and allow your audience to see you — up close and personal.
YEC member Nikki Carlson, co-founder of ChicExecs Retail and Strategy Firm, points out that social media events are a great low-cost tool. "If you're marketing your business on a shoestring budget, use interactive, real-time features like live social media video to reach your audience."9 She also points out that "social media can be a lifeline between you and your customers … Since social media isn't bound to one location, you'll be able to reach a global audience of customers who are ready to engage with your content."
2. Create Interactive Content
Events are fantastic, but there are other ways to get some back-and-forth going with your audience. In an article on using social media to create better engagements, YEC member Syed Balkhi, founder of WPBeginner, points out that "interactive content goes beyond presenting content that people usually consume. You create real engagement through stories, questions, polls and more."10 Syed also mentions using contests or giveaways to grab attention and working with influencers who resonate with your brand.
3. Try New Social Features as They Release
YEC member Kalin Kassabov, founder and CEO of ProTexting.com, published a piece11 about hot social media trends drawing attention to newer features of existing platforms, like Facebook Rooms, Instagram Reels, and audio tweets. These options offer new possibilities for personal branding and audience interaction. With social media, there's always something new to try. If your audience is there, why not give it a go and see what resonates?
4. Target Niche Social Media Sites (aka Vertical Social Media Sites)
The social media world is bigger than the big four (Facebook, LinkedIn, Twitter, and Instagram). Smaller, more niche communities may have dedicated members that are a more specific and appropriate audience for your content.

YEC member John Turner, founder of SeedProd, in an article about overcoming customer objections, says, "People love to have discussions about their hobbies and interests on social media. You can look up virtually every industry and find hundreds, possibly thousands, of people talking about different niches."12

YEC member Simonetta Lein, CEO of Ausonia Partners, in her recent article about social media trends, says "Niche communities present a ton of potential because many of them are still untapped. Many brands are concerned about oversaturation in their markets, which is completely valid. Getting around that is about reaching a more targeted niche audience and appealing to their higher and more personal level of investment."13

Some niche social sites that have become a big deal: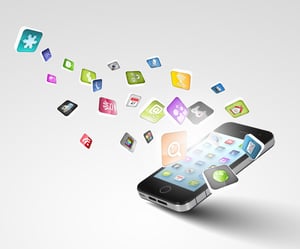 BlogHer: for female content creators
GoodReads: for book lovers
Houzz: for Chip and Joanna Gaines wanna-bes
Twitch: for video gamers and streamers
Behance: for creative professionals
AngelList: for startups and investors
These are just a handful, and they've grown so much they are already practically mainstream. There are many, many more communities out there just waiting for the spark you will bring to the conversation. You can't be everywhere, so do your research and be in the places that are already honed in on the topics that matter most to you and your business.
5. Be Authentic
YEC member Sheila Nazarian, board certified plastic surgeon and founder of Nazarian Plastic Surgery says in her article about social media mastery, "My biggest tip for mastering the world of social media to grow your influence is: Be authentically you."14
This may be the most important thing to remember as you're posting and curating content, listening to your customers and interacting with them.
As Sheila says, "What you put out there, you'll attract." So be sure to put out the vibe, the quality content, and the openness to connection that you want to attract.
Get online
If you want to be seen — and you do, right, because you have a business to promote? — social media is a great place to start. The young entrepreneurs of YEC use social for personal branding, engaging with customers, responding to criticism, and just staying connected.
Want to start connecting with the successful young entrepreneurs of YEC? Find us on LinkedIn, Facebook, Twitter, and Instagram.
---
Resources:
(Click into each member's profile to find a full list of their published articles with links)
1 "Why All CEO's Should Be Active on Social Media" by Kristopher B. Jones on inc.com
2 "Nine Social Media Sites To Watch For Marketing In 2021" by John Lincoln on Forbes.com
3 "3 Ways to Strengthen Customer Trust With Social Media" by Chris Christoff on inc.com
4 "Five Quick And Easy Steps To Create A Successful Social Media Strategy" by Alfredo Atanacio on Forbes.com
5 "Five Easy Ways to Optimize Your Social Media Profiles" by Jared Atchison on Forbes.com
6 "Why a social media policy equals reputation insurance" by Evan Nierman on Forbes.com
7 "Three Great Social Media Engagement Policies To Build Consumer Trust" by John Rampton on Forbes.com
8 "How To Host a Successful Virtual Event on Social Media" by Adrian Fisher on Forbes.com
9 "Five Social Media Trends You Need To Follow In 2021" by Nikki Carlson on Forbes.com
10 "5 Ways To Use Social Media To Create Better Engagements" by Syed Balkhi on inc.com
11 "Tap Into These Five Hot Social Media Trends" by Kalin Kassabov on Forbes.com
12 "How To Overcome Customer Objections Using Social Media" by John Turner on Forbes.com
13 "Six Social Media Trends Brands Must Watch For In 2021" by Simonetta Lein on Forbes.com
14 "Social Media Mastery And What It Has To Do With Self-Mastery" by Sheila Nazarian on Forbes.com