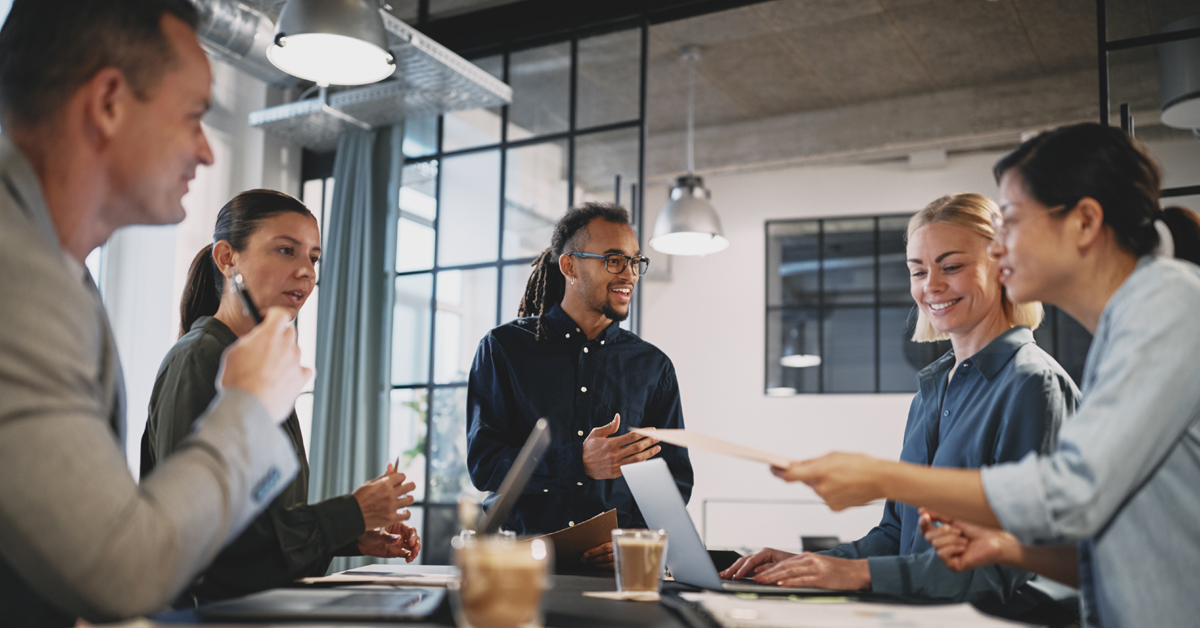 Company Culture in the New Normal: A Guide for Entrepreneurs
Company culture is one of the hottest topics among entrepreneurs for a reason. Your business's culture — sometimes framed as its "personality" or "vibe" — affects everything from finding and keeping employees, to the flow of product development, to the way your customers perceive you.
But the past two years have caused dramatic upheavals. As the world copes with the challenges of a pandemic, and the U.S. faces stark realizations about the need for social justice, the ways we live, work, and do business have also changed.
Luckily, entrepreneurs are more suited than most to learning, adapting, and pivoting. And it's likely that company culture is already on your list of top priorities.
Whether you're hiring your first employee or overseeing a team of hundreds, you know that leadership in the new normal requires establishing a positive environment for success. With a strong culture that allows for trust, collaboration, and communication, you'll get more done and be happier doing it. And you and your team will be well-equipped to handle whatever challenges come.
In this post, we'll take a look at the evolution of company culture, the emergence of the new normal, and solutions and best practices for entrepreneurs to implement.
What Is the New Normal?
Company Culture: Then and Now
Challenges and Opportunities of the New Normal
3 Positive Examples of Company Culture
5 Ways Entrepreneurs Can Boost Company Culture
What is the New Normal?
The"new normal" isn't a new phrase. It's been used in the wake of other societal crises: wars, recessions, and disasters. This time around, almost as soon as the COVID-19 pandemic began, people started talking about the "new normal." First, life in lockdown was the new normal; then, people began looking ahead to what life after COVID might look like. As the pandemic dragged on, emergency changes like lockdowns began to settle into semi-permanent solutions like remote jobs, and now many of us feel that we are already living in the new normal.
In the new normal of 2021-2022, we're living with:
Social isolation: People physically isolated by pandemic restrictions are searching for new ways to connect. (TikTok, for example, has skyrocketed to over 1 billion users.)
Tele-everything: Meetings, collaboration, and previously live events have all gone digital. Many more companies are operating remotely, whether semi-permanently or permanently.
Migration of city workers: Professionals are leaving urban centers, taking advantage of locations with better cost-of-living.
Digital transformation: More than ever, businesses are embracing digital technology to get things done.
Social justice: In the U.S., a movement toward social justice is causing disruption to old systems.
The Great Resignation: Workers, especially in the U.S., are quitting their jobs in record numbers, in search of better environments, pay, and benefits.
Sustainability efforts: Businesses and individuals are adjusting their habits to combat climate change.
Gig economy boom: Freelancers and contractors are filling roles previously held by full-time or part-time employees.
These trends are the backdrop of the "new normal" business world. Given all the changes, it's time for entrepreneurs to take a fresh look at company culture.
Company Culture: Then and Now
Until the advent of the internet, most professional careers were one-company affairs. People showed up at offices, sat at desks, and produced, like cogs in a machine, eight hours a day, for 45 years or so.
But as internet capabilities evolved and travel and relocation became faster and easier, professionals were no longer locked into building a career at just one company. Businesses had to adapt to retain their best employees; cutting-edge companies began to implement unusual perks and benefits. Complimentary snacks. Ping-pong tables in common areas. Casual dress codes. Unlimited paid time off.
Then came COVID. Many people lost jobs, and many others suddenly became long-term remote employees. People began really thinking about the impact of work on their lives. As millions of Americans quit their jobs, the Great Resignation of 2021 made a strong statement that humans need to be treated as humans, not cogs in a machine.
Now, the majority of job-seekers consider culture fit as important as salary, and they're looking for a better work-life balance. So it's important to pay attention to the vibe you're aiming for and the needs of your human employees as you hire and develop your team.
But in the new normal, much of what has traditionally been thought of as company culture — the look and feel of the physical space, the in-office perks like catered lunches, and even the office location — are suddenly irrelevant. But dig a little deeper — a company's identity is built on more than karaoke nights and snacks.
The clarity and style of your business communication and the trust you build are the most important components of organizational culture. And you can nurture and influence those from wherever you are.
Challenges and Opportunities of the New Normal
When we talk about the new normal, often challenges come to mind first. But for every cloud, there is a silver lining for entrepreneurs who are ready to grab it.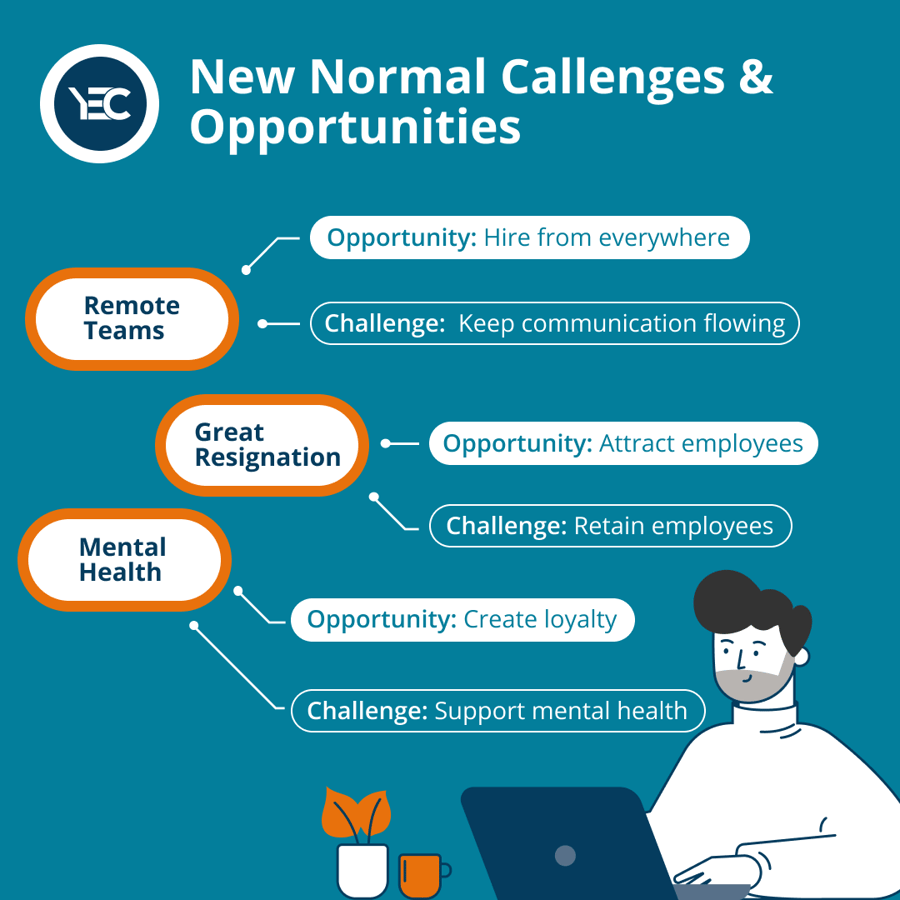 Remote Teams
Since the pandemic forced lockdowns in early 2020, many companies have chosen to stick with remote work — some permanently, some "until further notice." This setup brings new communication challenges, but allows for the hiring of a talented and diverse team from across the country or the world.
Challenge: Keep communication flowing
In a remote company, team members can't just stop by one another's desks to ask quick questions. They can't chat over lunch. They can't brainstorm in a shared conference room.
Enter technology.
Many all-remote businesses, including YEC itself, use Slack (or similar software) for real-time messaging, so all team members can be in touch. It's just like stopping by someone's desk, but with a bonus: if that person is really busy or in the zone, they can answer when they get a minute instead of dropping everything.
Whether or not you continue with remote work for your company, remember to make strong communication a priority so that things run smoothly. If you're remote, you can use instant messaging apps, video calls, clear documentation, and wikis to keep information flowing. YEC members have been doing it for years.
Opportunity: Hire from everywhere
When a company goes remote, not only does it gain a lot of $$ that would have gone toward overhead costs like rent and utilities, it also gains access to lots more job candidates.
Location flexibility allows you to hire great people you wouldn't have had access to in a set location. You're not limited to hiring in one city, so you can choose the best of the best from a wide-ranging, diverse candidate pool.
Great Resignation
The "Great Resignation" of 2021 has been a wake-up call for business owners. As employees pour into the job market, it's clear that humans want more from their careers than just paychecks. They expect to be paid competitively, to be respected, to be safe, and to be part of decision-making that affects their careers.
Challenge: Retain employees
As more people decide not to settle for being corporate drones, you've got to make sure your team knows that they are valued and appreciated as individuals so they stick with you and don't become part of the Great Resignation. You may already offer flexibility in schedule and location, competitive salaries, and so on. These quality-of-life perks make a big difference to employees. If you don't yet, maybe it's time.
Opportunity: Attract employees
The added bonus of being a great place for your current employees to work is that you can also attract and hire new people who are capable of great work but weren't well supported in previous positions. This is a win-win; they get the kind of work environment they want and need to thrive, and you get the talent you need to further your vision.
Mental Health
In the wake of COVID, many adults are suffering from anxiety and depression. Over 40 percent of adults reported anxiety or depression in January 2021 — up from 11 percent the previous year. Social isolation and adjustment to new routines (like working from home with kids) has been tough on everyone — even those who were lucky enough to remain employed throughout the pandemic.
With such a large percentage of people affected, you can be sure some of your employees are among them. As an employer, you've got to support the people who support your company. Your empathy will be paid back in good vibes at your company and loyalty in your team.
Challenge: Support mental health
The mental health support you provide may be direct, like insurance that covers mental health services, or indirect, like flexible scheduling. Ideally, it would be both. Give your team what they need to deal with the stress of busy lives. It's good business, pandemic or no pandemic.
Opportunity: Create loyalty
When people are supported, stress is alleviated, and they can do their best work for you. And the stronger your team's mental health is, the stronger their work and business relationships will be. All of that leads to positive feelings among your team, which results in surges of productivity, creativity, and loyalty.
Three Positive Examples of Company Culture
Some companies have cultures so strong that they're known for them. #goals Here are three companies doing culture right:
Adobe
Adobe consistently ranks on "best places to work" lists from Fortune, LinkedIn, Glassdoor, and more. The company is known as a top choice for graduates and early-career employees because of its emphasis on training opportunities for staff.
Adobe provides special resources and training for entry-level employees. In addition, all employees, at every level, get leadership training. In addition, Adobe provides reimbursement for courses, including certificate and graduate programs.
With all these programs, Adobe makes it clear that the company is invested in their employees, and eager to help them develop skills and advance in their careers.
Athleta
Athleta, a producer of women's activewear acquired by Gap, Inc. in 2008, is responsible for the #powerofshe hashtag. The company's mission is "to ignite a community of active, healthy, confident women and girls who empower each other to reach their limitless potential." Athleta seeks out employees who believe in an active lifestyle, and their stores incorporate fitness studios and classes.
Athleta stands out because its core values, like "sisterhood elevates," and "sustainability sustains us," indicate a strong affinity for making a positive impact. The company emphasizes equality, belonging, and sustainability. It has acquired B Corp status, indicating that the company meets high social and environmental standards.
In all its planning and policies, Athleta emphasizes a desire to do good in the world. Athleta employees can feel certain that their work is contributing to a better world.
Zappos
Zappos is the place to buy shoes online. It's known for a 365-day return policy, 24/7 customer service, and core values which include "Create Fun and a Little Weirdness."
The fun and weirdness is clear at the Zappos campus, a seriously quirky and inspiring place to work. There's a Lego wall in the lobby, a nap room, and a touchscreen with video games in the elevator. Conference rooms are themed — there's one with tiki torches and sand on the floor, and one with Tim Burton decor. And there are plenty of places for employees to work, relax, and collaborate: a bistro, an open courtyard, a park-like green space, and a rooftop deck.
All these whimsical campus features make it clear that Zappos is a place where employee expression, satisfaction, and input are paramount to success.
One important note about the three companies featured above: the qualities that make them stand out are all still viable in the new normal. Even with no physical office, a business owner can provide resources and training, align with social causes, and encourage fun and weirdness.
Let's talk about more ways to boost your vibe.
Five Ways Entrepreneurs Can Boost Company Culture
To sustain your culture during times of change, pay attention to the qualities that make your business unique.
You may need to adjust the specifics of your approach, but the core of your culture is not in the place you work or the perks you offer. It's the attitude and ideology behind those choices, and how your people live them. Here's what to do:
Lay a strong foundation. Immerse your employees in core values; incorporate diversity, equity, and inclusion; identify with a social mission; and share company goals openly with your team.
Build strong relationships among your team. Create strong positive interactions with your employees and encourage them to connect with one another.
Encourage strong communication. Establish clear expectations; welcome feedback; and be open to changing your mind when the situation calls for it.
Foster employee engagement. Support your employees; provide training and development opportunities; acknowledge hard work; plan for fun with your team; and (when possible) put cash behind your efforts.
If you're working in an office, optimize your space. Make it a welcoming, multi-functional environment.
If you work through these steps thoughtfully, you'll soon have a company culture that cannot be shaken, no matter what " new normal" we live in now or in the future.
Resources
To make sure you're doing all you can to nurture your company culture, download your copy of YEC's free resource "The Young Entrepreneur's Ultimate Checklist: Building a Company Culture That Supports Your Vision." Use this checklist to find out where your business could use a boost and how to make it happen.
In the new normal, just like before, your company's culture is in your hands.