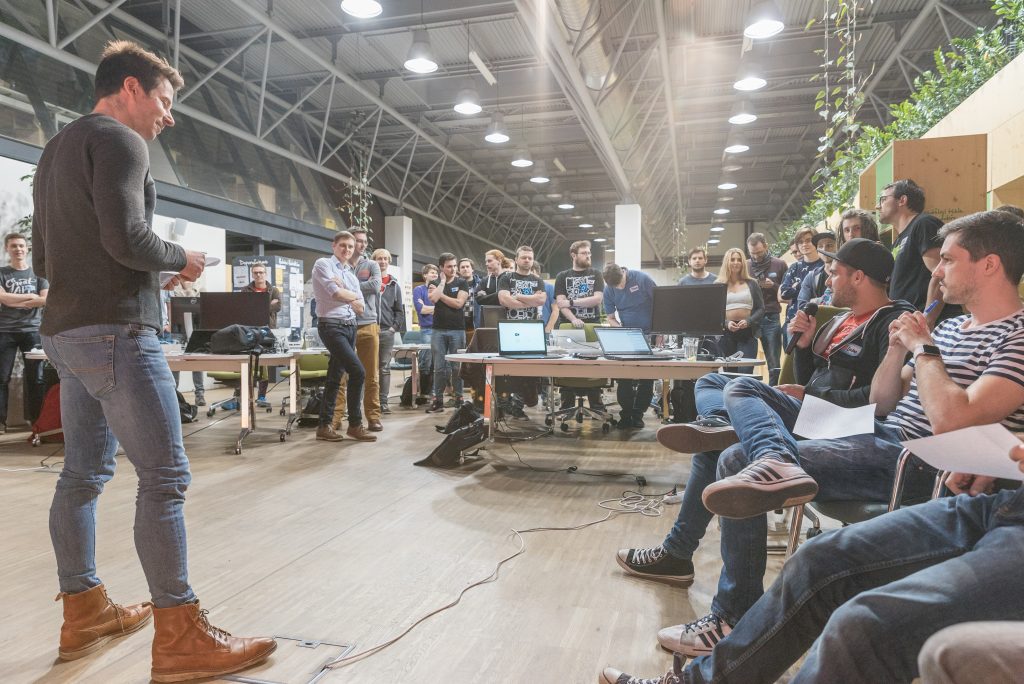 YEC Members on Managing Your Greatest Resource
When Podio was acquired by Citrix, co-founder Kasper Hulthin saw his 30-person team become part of a 10,000-person team. Having built companies for nearly the last decade, Hulthin knew how important engaged employees were to the momentum of a business and how much harder it becomes to manage them after a certain size. He thought Citrix "must have all this stuff in order," and of course they did to some degree — they had an annual survey — but the way it was done, the tools used, and the once-a-year cadence didn't deliver much value. There must be a better way to manage employees for scaling companies, he thought.
Dan Rogers, Phil Chambers and Christian Holm felt the same way. Hulthin had worked with Chambers and Holm during Podio's early stages and knew Rogers through his work with Chambers at a previous startup. Together, the four founded Peakon, an employee engagement software program that sends out brief questions to employees and asks them to rate certain drivers of engagement, such as autonomy, recognition, management support and more, on a scale of 1-10. Based on this data, companies can see how they compare to industry averages and where they might make improvements.
"When you build a company based on a problem that you had yourself, one of the big questions you have is how many others are having this same issue. Luckily, it seems that engagement is top of mind for a lot of executives these days," says Hulthin.
And it's true: According to Gallup, nearly 70 percent of employees are not fully engaged at work. Call it a millennial problem (this group is the least engaged and will make up 50 percent of the workforce by 2020), or call it a shift in power from employer to employee — attraction and retention have emerged as major topics that are changing the ways companies manage teams. "I think with the new generations in the workforce, they have a completely different expectation about being heard than other generations had. Everyone wants to give input and be involved, and I think today's managers have to understand how to work that," says Hulthin.
The recipe for working it? It's called engagement. Here are the rules, along with how YEC member companies are helping other companies implement them:
Engage Early
One of the questions Peakon asks employees is how likely they are to recommend their company to others as a place to work. In a recent study by ManpowerGroup, 38 percent of employers reported difficulty filling positions. That number is expected to grow in the future, which means reduced productivity and competitiveness, and increased training and overhead costs for businesses.
While engaged employees are much more likely to recommend their company as a place to work, it's also about engaging candidates. Take for instance the company Brazen. Co-founded by Ryan Healy and launched in 2007, Brazen helps companies find new ways of attracting candidates by pairing qualified job applicants to recruiters at virtual job fairs for casual text-based conversations.
Understanding the communication styles of today's workforce helps companies know how to best reach potential hires. The Brazen team incorporates this into their product, as Healy explains: "People today want to use text to communicate with each other more and more. Sometimes it seems that's the only way they're communicating. They want it to be quick, they want it to be casual, and they want it to be live."
Providing candidates with access to real people during recruiting is key. Brazen applies this thinking internally as well by involving younger employees throughout the hiring process and training them on how to interview candidates. This does two things: It allows the candidate a glimpse into the culture, giving them a fuller picture from which to make a decision. And two, for the employee, it allows them to feel like a more integral part of the team while also providing them with greater meaning — which leads us to the next rule.
Give Employees Greater Meaning
Sounds pretty existential, right? Healy says a lot of times engagement is about showing employees where they can go from here. Even if where they are now isn't where they want to be forever, helping them see that it is one step in the process makes it more meaningful. David Semerad, founder and CEO of STRV, is a great example of this. His mobile app company went from 30 employees in a single office to over 100 employees in four offices across two continents in a single year. When asked if he anticipated the changes he would need to implement in terms of how he managed his team or if he learned the hard way, he laughs and says, "more like the super hard way." Employees at STRV can now participate in monthly "exchange
Employees at STRV can now participate in monthly "exchange programs," where four employees are flown to work at another office location for the month. It allows them to meet others, learn about other parts of the business, and even visualize a clear path forward.
Likewise, the company also offers what they call "Lucky Lunches," where two random employees are paired and treated to lunch on the company dime every two to three months. Semerad learned about this when he was an intern at a German company called Amiando and found himself eating lunch with the co-founder.
"[When you're running a small company] employees feel that their work is seen by all the managers. They are not as far from the goal of the company because they are included in it in a way they can see regularly," Semerad says. "But once you grow into a company of our size, there is a big disconnect between the employees and the management, because it is really hard to build the middle management layer fast." There is danger that those early employees no longer feel as important to the overall goals of the company.
To counter this, Semerad also offers open forum Q&A sessions, where employees are encouraged to ask any questions in a free forum-style event. Whether related to HR or the future of the company, nothing is off the table. Semerad says employees should always have the chance to feel close to what's happening at the company, not distant from it.
Show Employees You Care
When you feel cared about, an interesting psychological phenomenon occurs: You care back. Cultural anthropologists call this the "web of indebtedness," and it makes sense: Humans are more likely to survive if they work together and help each other. Employees who report feeling valued by their employer are 60 percent more likely to report they are motivated to do their very best work, according to the APA Center for Organizational Excellence. "Employee benefits are an exceptional way to demonstrate that you care about employees," says Jennifer Benz, founder of Benz Communications, a company that helps businesses better communicate their health and financial benefits.
Quite simply, you need a healthy workforce in order to have a productive one. But Benz also explains that when employees know they are taken care of outside of work, they feel more settled and relaxed at work. "There's incredible data about how much financial stress distracts employees at work, so when employers can help their employees feel more confident, they have more focused and productive employees."
Benz is right — take a look at data from PwC's 2015 Employee Financial Wellness Survey, for example, and you'll see that 39 percent of employees spend three or more hours per week dealing with personal finances while at work.
But it's not enough to simply offer benefits because you're "supposed to." "Most companies only communicate their benefits when someone is hired and during the annual enrollment period," says Benz. "Our client organizations that are really successful take a much more ongoing, hands-on approach to communicating their programs so employees know what's available when they need them."
Sharing about benefits should be done through as many communication channels as possible: website, email, webinars, videos and more. "The key is to communicate benefits the way you would a product or service. Companies invest a ton of resources in marketing their services externally and that same type of creative energy should go into communicating benefits internally," says Benz. "A lot of companies are really pushing the envelope to grab people's attention and make things humorous. We've also been having a lot of fun with what we can do at the workplace itself. We've decorated entire lobbies and installed floor decals and mirror clings, for example."
It's not just large organizations that should get people engaged in benefits year-round. Small and mid-sized organizations can seize this as an opportunity to differentiate themselves and retain the best talent.
Measure The Results
Your engagement strategies don't necessarily reach full value if you can't measure their effect on employee productivity. As Rogers says, "Most organizations wouldn't dream of making a finance or marketing decision without a swath of graphs, spreadsheets and presentations to support it, yet they make people-based decisions every day based on zero — or just anecdotal — evidence."
Rogers, whose early startup career at Songkick and Qype focused on customer/ user acquisition and growth, saw you can actually apply the same techniques you would use to acquire and retain customers to employees. Google is the obvious example. The company hired Laszlo Bock back in 2006 to "make data-driven decisions about people in the same way the company was making data-driven decisions about engineering," says Rogers, because it knew people management was what would ultimately drive innovation. Running regular experiments and collecting data from their 50,000 employees, Google's people operations department is more of a science lab than an HR department. The bigger a company becomes, the more it can benefit from engagement tools.
One of Peakon's clients, for example, noticed many employees reported not feeling as "close with everyone" anymore. With this information, they instituted a hot lunch program where everyone got to eat together. Initially brought on as a trial, the hot lunches turned out to be a roaring success. With feedback through Peakon, they found that over 60 percent of the workforce started speaking to more than five people they wouldn't normally have time to speak with, and 100 percent spoke to at least one person they wouldn't normally. The company even reported that implementing the lunches drove productivity across the business.
The ability to act on issues before they become full-fledged problems is the beauty of a product like Peakon. Peakon's clients have a choice as to how often they want to send questionnaires to employees, but Rogers and Hulthin both say that more often is better. "We believe that this is about trend lines more so than individual scores. The thing with trend lines is, if you do a survey once a year, it takes three years to get a trend line," says Hulthin. "The average tenure of an employee is 18-24 months, so then you only get two data points on an employee and it takes you three years to understand the trend."
The co-founders have big plans, too. Rogers sees the market of people management as having three different layers: At the bottom, you have traditional HR, in the middle, you have specific engagement solutions, and on top of that, you have people analytics software. "Google is on the top," says Rogers. "They take engagement and combine it with performance data. Just knowing who's engaged is not super valuable because, really, you want to know who is engaged and who's being productive." If you know this, then you can also start predicting who is in danger of leaving and take steps to prevent it. That's where Peakon is going, and that's where companies that want to be on top are realizing they need to go as well.
---
This feature originally appeared in YEC Quarterly, a print magazine for YEC members. All images courtesy of YEC members.