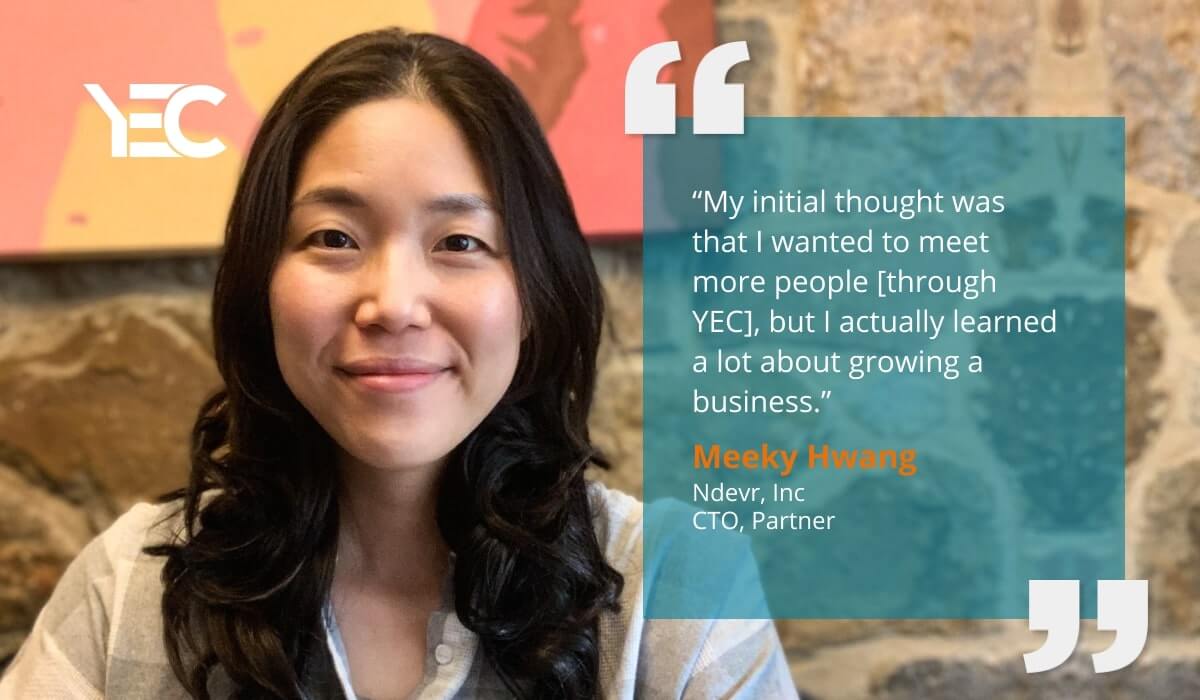 YEC Peers Give Meeky Hwang Business Advice and Exposure to a New Industry
Meeky Hwang didn't set out to become an entrepreneur. She had some clear ideas about what she wanted to learn, and worked in corporations that she felt could give her the experience she desired. While she didn't realize it at the time, those jobs prepared her well to start and grow her own company. She spent ten years at various companies before starting Ndevr, a technology services company, with a co-founder in 2015.
Drawn to the world of consulting, Meeky had landed a job at Accenture when she graduated from college. While she had a technical background, having studied systems and information engineering, she wanted to learn the business side of consulting in order to hone her sales and communications skills. But her love of technology soon drove her to learn more about programming, and she moved on to a startup where she became a web application and software developer. Then, after a brief stint at Hearst, where she learned about project management in the media industry, she joined NorthPoint Digital, a technology agency. That's where she met her co-founder. "We thought, 'maybe we can do things differently,'" recalls Meeky. "He pretty much recruited me, and that's how we started Ndevr."
Meeky had enjoyed the fast-paced agency work at NorthPoint but was motivated by the desire to build a more engaged and supportive work environment. "When you're an agency, people are pretty much one of your biggest assets," she says. She emphasized concise and transparent communication so that clients would understand up front the cost of a project and the value of the people involved. "You have to set the right expectation with the client so that your people are treated fairly," she says.
"I was doing research and I stumbled upon YEC. I thought, 'oh, this seems pretty cool. I think I can meet a lot of people who I can learn from and we can grow together.'"
Even before the pandemic, 100% of Ndevr's workforce was remote, which gave the company access to a larger labor pool and ensured that employees would have a better quality of family life. The company now has a mix of contractors and full-time employees who do website implementation, design, and technology development for a variety of clients, both large and small.
Drawing on her experience at Hearst, Meeky started out by targeting enterprise-level media companies but when she realized that the industry was in decline, she expanded to serve law firms and e-commerce companies. During the pandemic, Ndevr helped its existing clients become more efficient in managing remote workforces, and also took on new clients in other industries, such as cannabis. "We normally put a cap on how small our clients can be, but we expanded to take smaller companies," she says. "We lowered our minimum engagement and ended up getting more clients and found that they were easier to maintain than bigger clients." The company still serves numerous enterprise clients as well, often doing project work with web applications.
As Ndevr grew, Meeky realized that she would benefit by being part of a community of entrepreneurial peers. "I was doing research and I stumbled upon YEC," she says. "I thought, 'oh, this seems pretty cool. I think I can meet a lot of people who I can learn from and we can grow together.'" With in-person events suspended because of COVID, Meeky dove into virtual events and joined a variety of groups. "My initial thought was that I wanted to meet more people, but I actually learned a lot about growing a business," she says.
In the Buy/Sell group, for instance, she learned about how to structure a company so that it's well-positioned to sell — something she may do in the future. And through a YEC connection, Meeky was also able to dip her toes into a different industry altogether. She had been interested in real estate, so requested an introduction to fellow YEC member Avery Carl, whose company, The Short Term Shop, focuses on vacation and short-term rentals. "I ended up working with her to get started on that business," says Meeky. "I would not have gotten exposure to her if it wasn't for YEC."