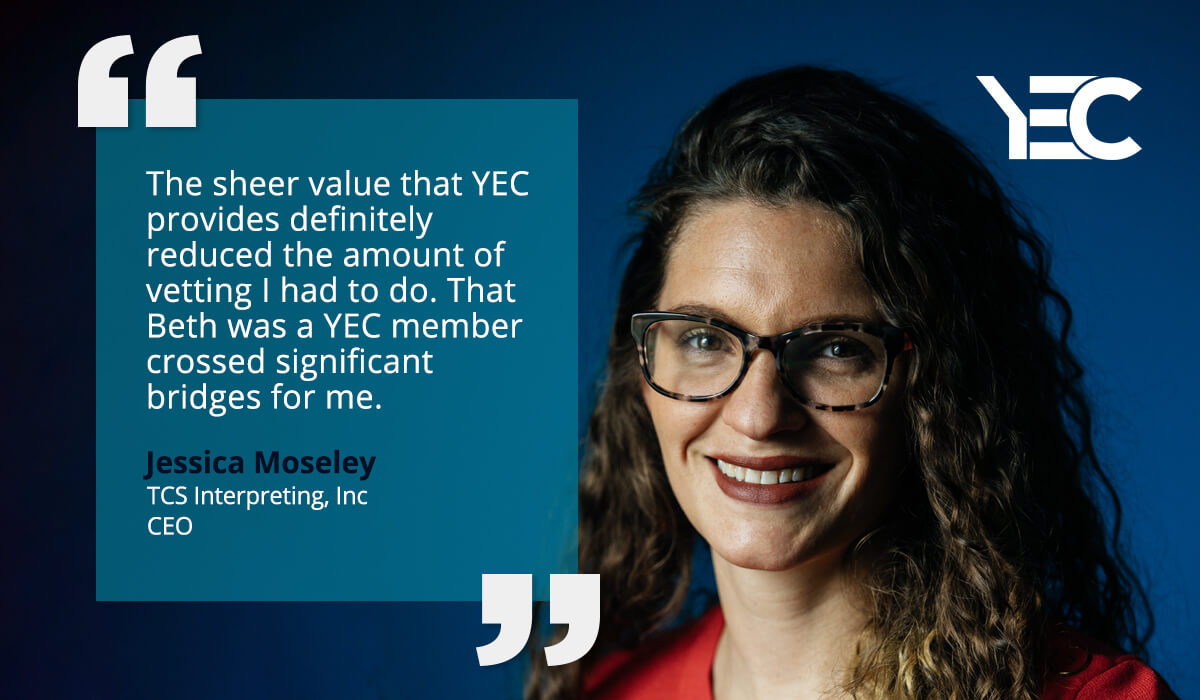 YEC Connections Pay Off for Jessica Moseley
Jessica Moseley, CEO of TCS Interpreting, had been noodling around the idea of building an online personal brand. She wanted to position herself as a speaker and thought leader, so she reached out to fellow YEC members on the private forum. "I didn't even know how to start vetting someone that does personal branding because I don't know anything about it," says Jessica. She got several responses on the forum, then received an email from YEC member Beth Doane, a co-founder at Main & Rose. There was synergy almost instantly.
They hopped on an after-hours call and chatted while getting their kids ready for bed. Jessica told Beth that she had recently been involved in the filming of a new TV show called Four Days To Save the World, which was based on the United Nations' Sustainable Development Goals initiative. The show airs this summer and Jessica wanted to get started on her personal branding project before the launch. As it turned out, Beth's firm had done branding work to help the U.N. create a youth-oriented social activism campaign in support of its sustainable development goals.
After a few more calls, Beth submitted a proposal. "It wasn't salesy — it was definitely a value presentation," says Jessica. "That she took the time to get to know who I was, and to really learn about the project, was awesome. I really felt that she cared." Jessica received ten other proposals from branding agencies, all of them less costly than Beth's. Nonetheless, she decided to hire Main & Rose. "They're building a website for me, a social media strategy, and an entire personal brand that will also generate a whole subset of new revenue for me," says Jessica.
"The sheer value that YEC provides definitely reduced the amount of vetting I had to do," says Jessica. "That Beth was a YEC member crossed significant bridges for me." Still, Jessica did her own bit of vetting. Before she reached out to members who responded to her forum post, she looked at their profiles and, most importantly, their level of engagement with the group. "Were they forthcoming with knowledge-sharing, are they helpful, are they posing questions? I pose a lot of questions, which means I'm open to feedback and ideas," says Jessica. She found that Beth was engaged with YEC in a way that made her feel comfortable and confident that the two could work together. "It's just been a really positive experience," says Jessica.