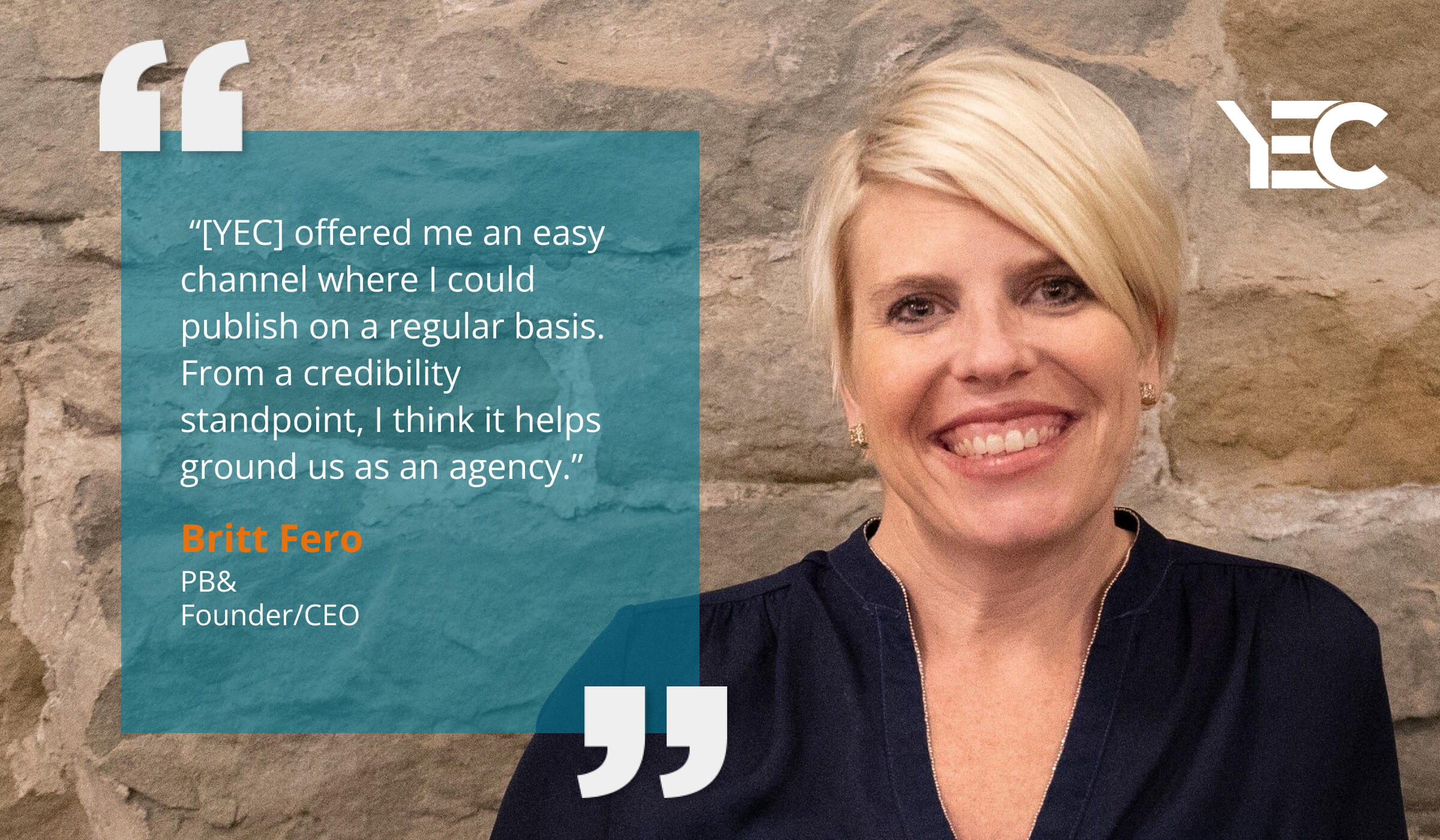 Through YEC, Britt Fero Gains Brand Credibility and a Valuable Support Network
Britt Fero had eighteen years of agency work under her belt before she took the plunge and started her own company, PB&, in 2016. In retrospect, her career trajectory was great preparation for her transition into the world of entrepreneurship.
Through her work in account management, business development, and strategy, Britt worked with clients such as United Airlines, the Bahamas, Starbucks, and Timberland. She got the full picture of how agencies operate. "I saw the agency model from lots of different perspectives," Britt says. "And I reached a point in my career where I thought, 'the world is changing so fast and clients' needs are changing so fast — there has to be a better way of working.'"
The advertising industry was turned upside down by social media; as culture evolved at a more rapid pace, so did the way consumers choose products. Brands needed to keep up or get left behind, and Britt noted that traditional agency models were often not conducive to the new speed to market. The siloed structure of most agencies, where one department passes the baton to the next, slowed down the workflow and often resulted in good ideas getting lost along the way.
"If you collapsed that whole model and got rid of traditional departments, your speed to market would be a lot faster," says Britt. "I decided I was going to leave my job and create a new model that paired thinkers with makers. If you can bring those two types together, magic really happens." She named her new agency PB& — a nod to the process of combining ingredients in new and surprising ways. By 2017, Britt had hired a "maker" partner, Pete Anderson, whom she had worked with at various agencies. Together, they landed their fist client, Visit Seattle, a destination marketing organization charged with growing the city's global profile.
"[Through YEC] I saw the opportunity to learn from some other folks. And I wanted to hear their stories, their challenges — things that maybe I hadn't thought about that I would need to figure out as time went on."
The client was Britt's proving ground. She helped launch an entertainment-based content channel called VisitSeattle.tv, which featured shows about various aspects of Seattle culture. "Through that, they developed partnerships with Sundance, Independent Spirit Awards, and Rolling Stone," says Britt. "And all of the sudden, the city was on a stage that it deserved. I think it showed what you could do with a really nimble model."
Britt has kept her team lean: she now has just seven full-time employees, but draws upon an extended community of directors, architects, and other professionals as needed, depending on the project. And her client base has expanded to include companies such as Providence Health, Anheuser Busch, and a number of others. "We have some really good experience across a number of verticals, but our sweet spot is mid-sized companies who need partners to help them scale," she says.
The pandemic presented challenges but also opened up new opportunities. "When one of your largest clients is rooted in travel, that creates a need to shift your business," Britt says, referring to VisitSeattle. "That opened us up to figuring out how to more aggressively grow ourselves." Britt found that her talent pool expanded to include more far flung geographies, and she was compelled to think about how she might scale over time with a hybrid team of local and remote workers.
COVID also brought her some new clients. For instance, PB& worked with a division of Carrier to market its contactless entry system for hotel room doors. "We helped them figure out a story for DirectKey and to take it to market through sales and marketing channels," says Britt. While hotels weren't keen on spending money during the pandemic, they were willing to invest in keyless entry, which they knew guests would value when business picked up.
Britt has been a member of YEC for three years and says she was initially drawn to the community by the publishing opportunities. "I knew that visibility was a big part of growing a business," she says. "[YEC] offered me an easy channel where I could publish on a regular basis. From a credibility standpoint, I think it helps ground us as an agency." And as a first-time entrepreneur, she was eager to connect with others on the same journey. "I saw the opportunity to learn from some other folks. And I wanted to hear their stories, their challenges — things that maybe I hadn't thought about that I would need to figure out as time went on."