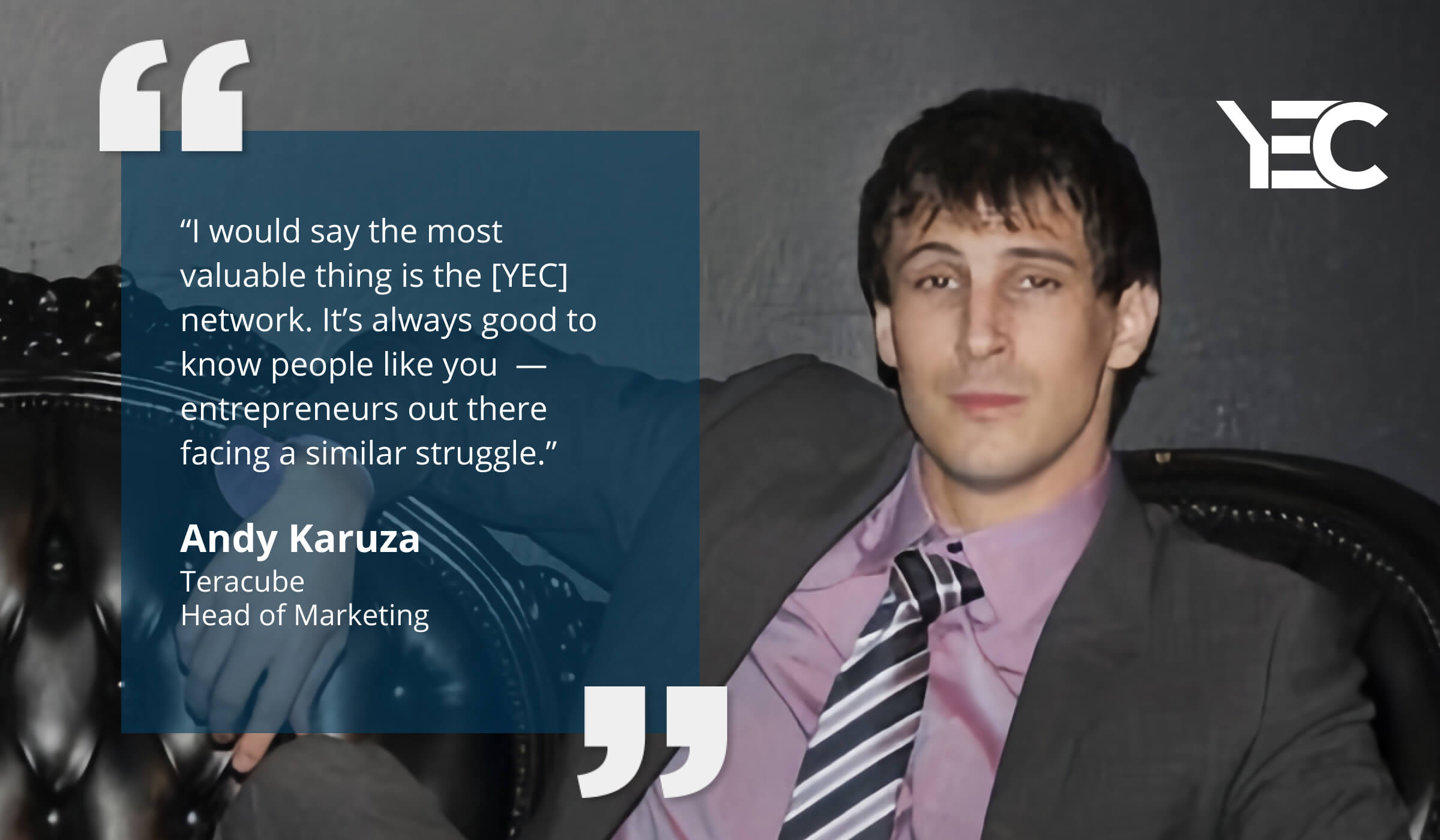 Andy Karuza Says YEC is a Valuable Network for Entrepreneurs Facing Shared Struggles
Andy Karuza started his first company when he was 19, organizing events on his college campus, and he's been going full-tilt ever since. As a product, marketing, and innovation specialist, he counted tech giants such as Google, Microsoft, and Amazon among his past clients at his first agency, The Agency. And he was ahead of his time with another company, Brandbuddee, an influencer marketing company.
"I'm a marketing guy, but I got into product as an aspect of marketing," Andy says. "I believe that a good product has marketing in mind from the beginning, in terms of understanding the consumer and the features they need to really solve their problems." Through his agency work, Andy observed that many companies missed the mark by developing products that really didn't meet consumer needs. He took a hard look at his own needs and, in 2015m, launched Fensens, an economical wireless backup camera built into a license plate.
"I wanted to create something that was an intuitive, easy user experience," he says. Anyone, he reckoned, could replace their license plate frame with a new one that connected to a smartphone, giving even older clunkers the same capability as newer, pricier cars. The product, he says, was successful in 100 countries and earned a "Best of CES" award. Andy even was selected to pitch Fensens on Shark Tank, although the episode never ran. He sold the IP in 2021 and says that the product is still being sold in Costco.
Andy's latest venture is Teracube, a social enterprise that makes eco-sustainable smartphones, founded by his friend Sharad Mittal. "There's a huge problem with e-waste," Andy says. "So we wanted to make a phone that was designed to last longer and would come paired with a warranty that's the best in the industry." The phone is sold direct-to-consumer for $299.00, is made with 25% recycled materials, and comes with a replaceable battery. "Sharad is really passionate about the product and I really wanted to help him get it out there," says Andy.
"[Writing through YEC] gets me to really think about what I've learned over the years, and how I can apply that to a story that might be helpful for other people. And it just further crystallizes the learnings that I've had over the years so it doesn't get lost on me."
This autumn, Teracube will launch a phone for kids aged eight to 17 — a device that's designed to help parents manage both the amount of time spent on the phone and the apps that can be accessed on it. Those controls, says Andy, can help reduce online bullying. "A lot of people are starting to become more aware of the problems with kids and smartphones," Andy says. "So it's an expanding market." He says the company will look to partner with major wireless companies to sell the phone as an add on for parents who are purchasing new phones for themselves.
His extensive experience with startups has given Andy some valuable insight into what makes a company successful — knowledge he uses to make investments in new ventures. "For me, it's about team, timing, traction, and technology," Andy says. He looks for companies that have unique business models, compelling technology, or IP that will give them an edge in the marketplace. "I'm also looking for a team that has a good balance of sales, marketing, and operational strengths," he says. And timing, he says, is everything — a lesson he learned with Brandbuddee (it was too early for influencer marketing, he says). And lastly, he wants to see traction, or evidence of product market fit. Does the company have loyal customers and steady revenue?
As a long-time YEC member, "I would say the most valuable thing is the network," Andy says. "It's always good to know people like you — entrepreneurs out there facing a similar struggle." He also very much values the opportunity to hone his ideas through writing content. "It gets me to really think about what I've learned over the years, and how I can apply that to a story that might be helpful for other people," he says. "And it just further crystallizes the learnings that I've had over the years so it doesn't get lost on me."