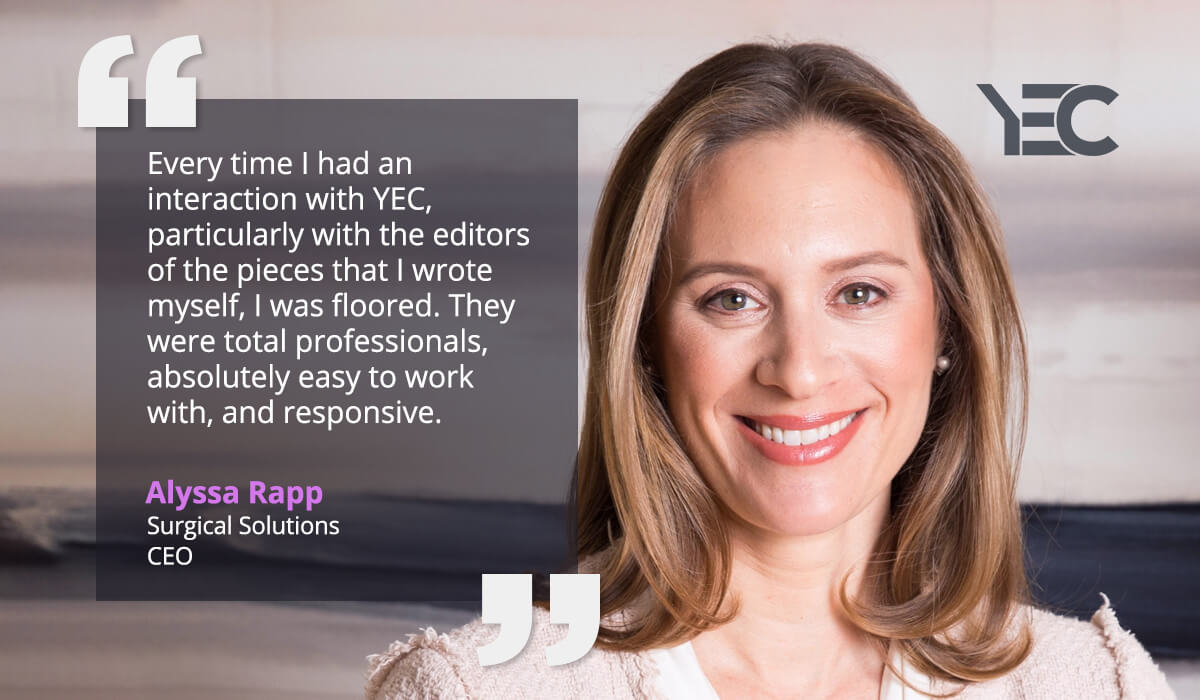 Alyssa Rapp Says YEC's Publishing Benefit Helped Her Land a Book Deal
At first glance, it's tough to find the common threads in Alyssa Rapp's eclectic career trajectory. To connect the dots, she's written Leadership And Life Hacks: Insights From A Mom, Wife, Entrepreneur & Executive (ForbesBooks, October 29, 2019), in which she writes about the lessons she's learned along the way.
Right after she graduated from Yale, Alyssa went to work for Hillary Clinton's Senate campaign before being recruited by Congresswoman Jan Schakowsky of Illinois to be her national finance director. But, as it turned out, a couple of years in politics was enough.
Alyssa felt a pull toward the world of entrepreneurship and decided to enroll in Stanford Graduate School of Business. "I thought I was going to get involved in the health and fitness industry like my stepfather," she says. Instead, a random set of circumstances piqued her interest in wine and she started a company called Bottlenotes with a fellow Yale alum. "We were striving to be the Netflix of wine," she says, "which was incredibly cutting edge and probably five to six years ahead of its time."
When the 2008 recession hit, the company pivoted to become a digital media company that ran large-scale interactive events. "We ended up exiting in the end to a hedge fund, but it was a great life lesson in pivoting strategies and making sure that we kept our team along for the ride," she says. "So it was a great entrepreneurial experience, as well a lesson in stick-to-it-iveness and digging deep.
Alyssa also believes that the thought leadership publishing she did through YEC was a strong factor in her ability to get a book deal with ForbesBooks. "I have major gratitude to YEC for that," she says.
While she was raising her two small children, Alyssa wanted more flexibility, so she started AJR Ventures to do advisory work for private equity firms and private equity–backed companies that needed help with direct-to-consumer e-commerce or digital go-to market strategies. "I loved the flexibility and having a couple of great people work with me," she says. "Then, right when my littlest was two, I was feeling ready to start looking for CEO opportunities again."
She decided that, rather than getting involved in another startup, she wanted to step into a role at a larger firm where she could leverage her business and leadership skills for growth and scale. As it turned out, a private equity firm in Chicago was looking for a new CEO for one of its portfolio companies, Surgical Solutions. Alyssa overcame some initial hesitation about entering the healthcare industry to step up to the challenge. "The journey has been a roller coaster ride," she says. "All turnarounds are."
The company provides hospitals with support services such as labor, equipment, repairs management, and disposable instrumentation for minimally invasive surgeries. "We are a highly skilled, highly trained labor force of almost 200 that provides a full set of activities around pre-operating room setup, intraoperative room support, and postoperative room breakdown," Alyssa says. Surgical Solutions helps increase clinical efficacy and gives hospitals an economic ROI by reducing fixed costs for staff and equipment. "We become a subset of their labor force and a subset of their equipment and repair management vendors."
Politics, wine, private equity, healthcare — what do they all have in common? "I love learning something new," says Alyssa. "I think, in many ways, tried and true principles of authentic leadership, holding people accountable, working your ass off, setting a vision and rallying around it — I think that industry doesn't matter. Good, strong leadership is consistent across categories." Other takeaways that she covers in her book: create bite-sized interim goals to achieve big results; always be mindful of the "why" behind your vision; get —and be — a mentor; use culture as a competitive advantage.
Alyssa says that she originally joined YEC because a couple of her Stanford classmates had joined and found it valuable. "I loved the idea that there were going to be questions posed in the online forums and that you had the ability to write articles with thought leadership and get them posted on [major media sites]," she says. "Every time I had an interaction with YEC, particularly with the editors of the pieces that I wrote myself, I was floored. They were total professionals, absolutely easy to work with, and responsive." Alyssa also believes that the thought leadership publishing she did through YEC was a strong factor in her ability to get a book deal with ForbesBooks. "I have major gratitude to YEC for that," she says. "I've had nothing but a positive experience."