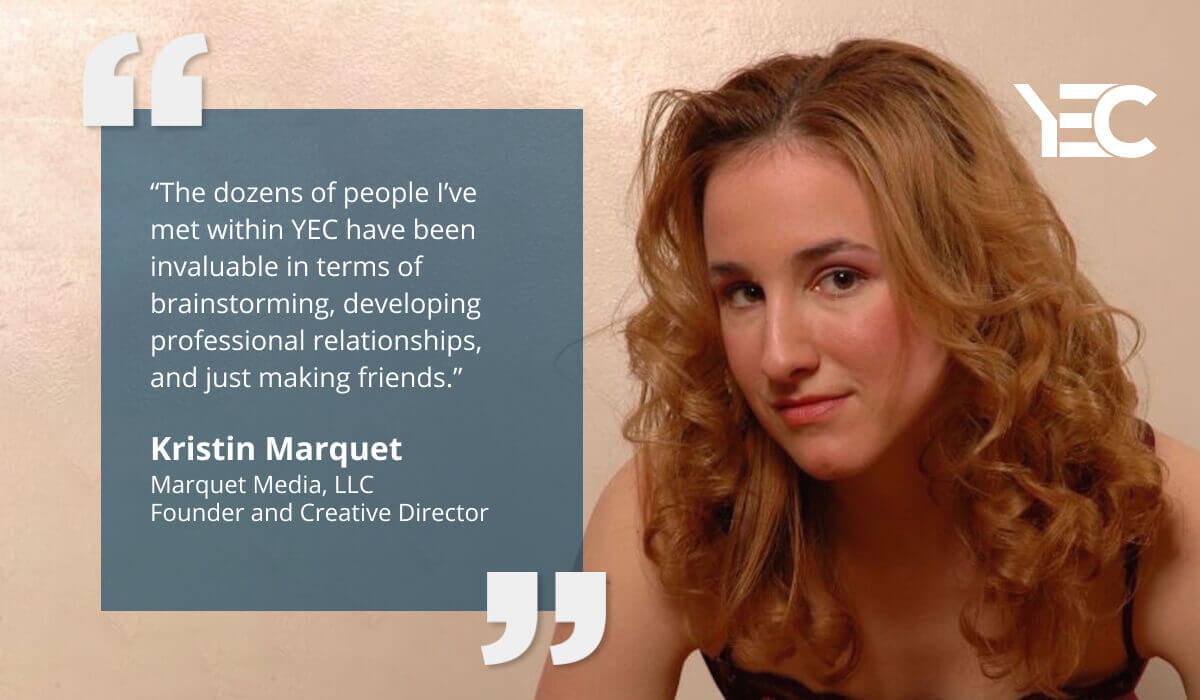 Kristin Marquet Leverages YEC for Brainstorming and Brand Building
When she first started her company, fifteen years ago, Kristin Marquet approached business development as many young entrepreneurs do — she regarded anyone and everyone as a potential client for her public relations and digital marketing firm, Marquet Media. Within six months, she had a full roster of 30 clients and a team of employees. "That transition was very difficult," recalls Kristin.
She started the company after being downsized from her management consulting job during the Great Recession. "I was in my 20s and I didn't have any entrepreneurial experience," she says. "When you don't have a handle on how to manage and control that kind of growth, things get very difficult and stressful." Kristin knew that burnout was just around the corner, so she decided to make a dramatic change.
Two years into her entrepreneurial journey, Kristin decided to focus on lifestyle brands and working with female entrepreneurs — sectors that are her sweet spot — and let other clients go by the wayside. "I really had to niche down and figure out who I wanted to serve and who my team and I could deliver the most value to," she says. She went from 30 to 15 clients and pared down her staff from 13 to five. It was a tough decision, Kristin says, but the right one. Now, she and her team work only with entrepreneurial clients in beauty and fashion, plus a handful of female authors who are launching their first or second books and are looking to build their platforms.
"Expert Panels have been great brand builders in terms of getting our name in the press and building credibility."
For founders that are unable to afford the retainers of companies like Marquet Media but are in need of advice, Kristin launched a media company called FemFounder. The site offers a wide range of startup and growth resources — from service articles to profiles of successful entrepreneurs — for female founders. "It's an educational resource and is based upon requests from people who wanted to work with us but either couldn't afford it or weren't the right fit," says Kristin. The site, which attracts hundreds of thousands of readers, also seeks to elevate the voices of underrepresented business owners. The secondary purpose of the site, says Kristin, is lead generation. "We've actually gotten a handful of really great clients throughout the years from FEMFounder," she says.
In pandemic years, Kristin says her company grew approximately 30%. Existing clients and new ones responded to COVID challenges and opportunities and needed her help executing their visions. A long time psychotherapist client decided to create an online course and write a book; a real estate investor made a plan to launch an online wealth-building platform, and a celebrity interior designer launched an e-commerce shop. "The pandemic wreaked a lot of havoc," Kristin says. "But on the flip side a ton of interesting and useful businesses have come out of it."
As a young entrepreneur focused on growing her company strategically, Kristin says that the biggest benefit of YEC for her is "a community of peers and being able to network with and meet other founders who are like-minded. The dozens of people I've met within YEC have been invaluable in terms of brainstorming, developing professional relationships, and just making friends." She has regular brainstorming sessions with two other members who she routinely uses as sounding boards. The best piece of advice she's gotten from her YEC peers: "don't dilute your value, charge what you're worth, and understand what your skill set can do for your clients."
Kristin is also a regular contributor of content via YEC publishing. "Expert Panels have been great brand builders in terms of getting our name in the press and building credibility," she says.