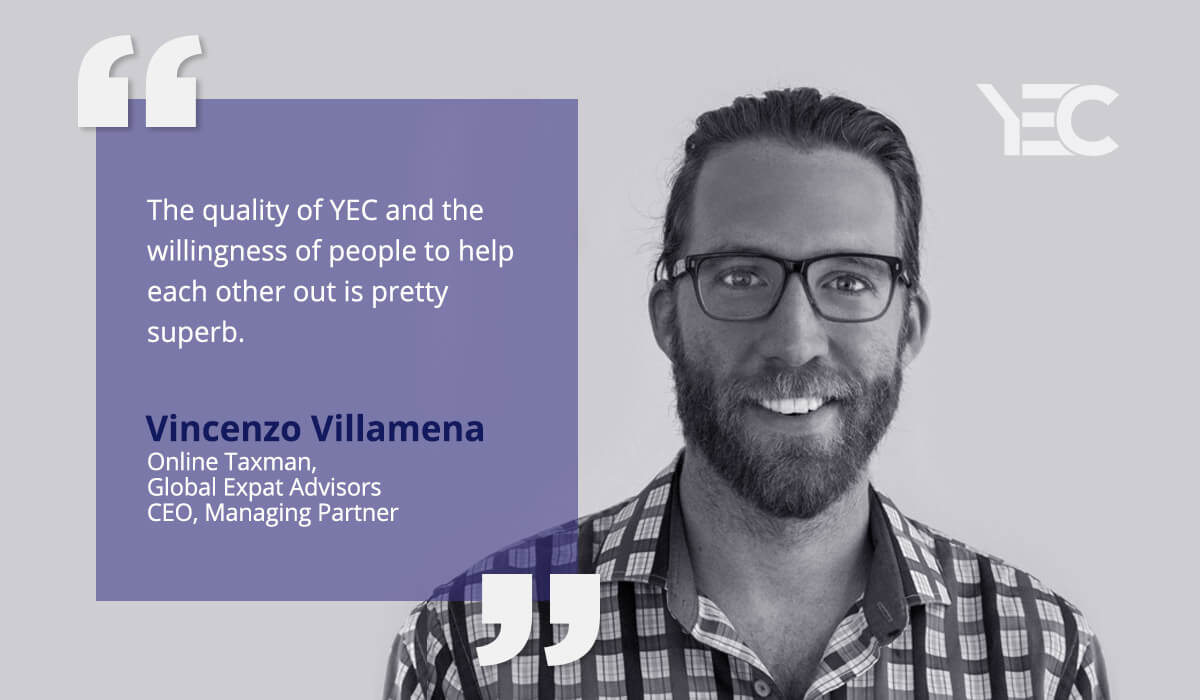 Vincenzo Villamena Lands a Huge Client with Help From YEC Connection
It was shortly after the 2008 financial crisis that Vincenzo Villamena realized that his dream job in private equity wasn't all he had imagined it might be. "So one day I woke up and I decided to move to Argentina," says the founder of Online Taxman, which specializes in accounting and tax services for expats. He had been to Buenos Aires and was drawn to the city's dynamic and cultured vibe. "I was at the point in my life where I didn't have any attachment to New York and I wanted a fresh beginning," he says. The move proved to be fortuitous, offering him a new entrepreneurial path that YEC has helped him navigate.
Before his private equity job, Vincenzo had worked for PriceWaterhouseCoopers, so he had some solid accounting skills. In fact, he had had a side hustle doing taxes for individuals to make a little extra money. After he got settled in Buenos Aires, he realized that his expat friends there "had no idea what they were doing with their taxes." And that was the pain point that inspired him to start his company.
"I had a little bit of savings so I put together a website and allocated some money for Google AdWords, targeting expats," he says. He began getting random clients and regarded that success as proof of concept: if expats in Argentina needed his services, the same must be true for expats around the world. And his side gig in New York had taught him an important lesson: most clients did not care about meeting their accountants in person — having taxes done online was not only adequate, but preferred.
In 2014, Vincenzo's business got a big boost when the Foreign Account Tax Compliance Act (FACTA) took effect. Designed to prevent U.S. taxpayers from evading taxes through offshore investments, the law imposed new filing requirements on expats. Demand for Online Taxman's services spiked. The company grew from a one-man show to its current stable of twelve full-time employees in Argentina, Spain, Ukraine, Costa Rica, Germany, and Las Vegas. And the business, which Vincenzo moved to Medellin, Columbia, has expanded from simply doing tax returns to helping startups and "location-independent entrepreneurs" with compliance and corporate structure.
Vincenzo estimates that the YEC-facilitated connection has resulted in recurring revenue totaling six figures.
As the business was evolving, Vincenzo heard about YEC through Louis Lautman, a YEC member who is also based in Medellin. Since he joined, in 2015, Vincenzo has been an active member who has helped other members while realizing significant benefits for his own company. He answers tax questions on the YEC forum and advised one member on moving overseas and setting up an offshore corporate structure.
At one point, he was looking for a contact at the online payments platform Stripe. A request on YEC's online forum yielded an introduction. "I'm now a preferred provider doing C-Corp work for [Stripe's] clients," says Vincenzo. He estimates that the YEC-facilitated connection has resulted in recurring revenue totaling six figures.
He's also tapped the forum for advice on managing a remote team; he's now running weekly team meetings via video per advice he got on the forum. And a YEC member coached him when he was considering buying a CPA firm.
Vincenzo says that YEC is his go-to sounding board when he needs high-level business and management advice from trusted peers. "I've made my rounds in quite a few entrepreneur organizations," says Vincenzo. "The quality of YEC and the willingness of people to help each other out is pretty superb."