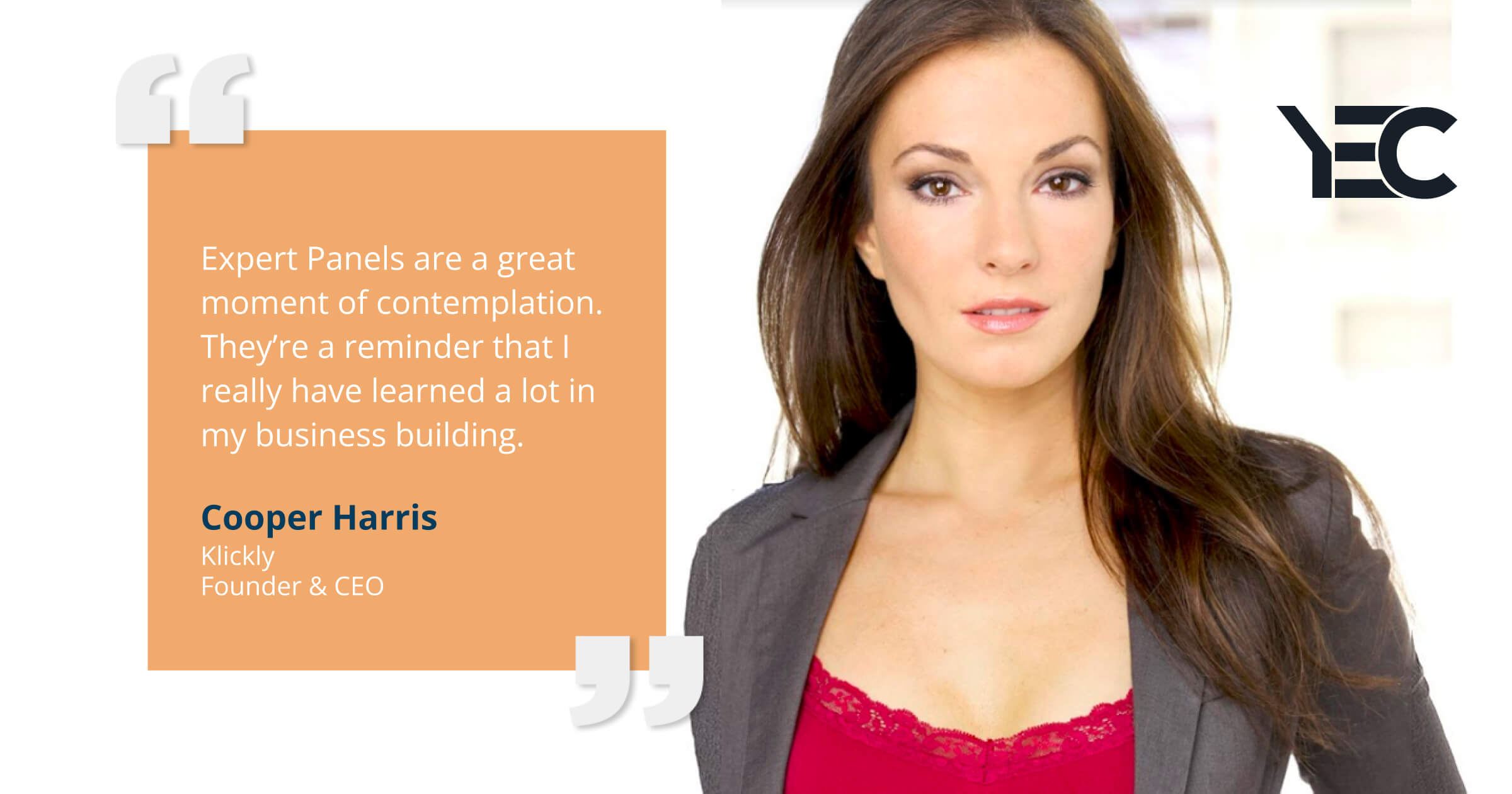 YEC Gives Cooper Harris Opportunity to Share Knowledge on Company Growth
For several years, Cooper Harris pursued her childhood dream of becoming an actor. When she graduated from college, she headed straight to New York and landed jobs in films and television, including a couple of recurring roles in soap operas. "It was so much fun and I loved it," Cooper says. And then genetics kicked in. "My dad is a serial entrepreneur and my brother is a software engineer," says Cooper. "So maybe the writing was on the wall that I would gravitate that way."
While she was still appearing on The Young and the Restless, Cooper discovered the world of hackathons and got hooked. "I started doing them compulsively," she recalls. She won an AT&T hackathon in Los Angeles and later built an Innovation and Tech Summit at Sundance Film Festival, and Hackdance, a social impact hackathon. She landed some cash prizes at hackathons and that validation helped steer her away from her acting career and into the world of entrepreneurship.
Cooper's first company, CPK Studios, created digital content for large consumer brands that were trying to reach the Millennial audience. It was 2012 and brands had discovered the power of social media marketing and were keen to tap into the buying power of young and influential consumers. CPK signed on high-profile clients such as Kimberly-Clark, 3M, and Post-it Notes. Two years later, Cooper sold CPK and started a second company called Action Adventures, an experiential marketing company that connected luxury brands such as Rolls Royce and Louis Vuitton with high net worth individuals at special events. After about a year and half, Cooper put that business on hold when she landed funding for her third company, Klickly. She had noticed that AI was becoming increasingly more mainstream and was eager to leverage the technology.
Klickly helps solve a thorny problem for direct-to-consumer companies: how do you acquire customers at a time when targeting is becoming more and more expensive and privacy restrictions are increasing? When Apple rolled out iOS14 in 2021, the update prevented brands from reaching their target customers via iPhone. "We help with that," says Cooper. Klickly is a customer acquisition platform that uses data and AI to connect what Cooper calls "challenger brands" — companies that are not yet industry leaders but seeking to disrupt the market — with the right consumers at the right time. "We use a huge amount of proprietary data and machine learning to help them compete and acquire customers," she says.
"It was really cool to be able to chat with an editorial staff member and have them coach us on what the publications were interested in. There is so much value in [publishing through YEC] if you use it properly."
The six-year-old company now represents approximately 2,000 brands and two million products. It analyzes its customers' product attributes from a data perspective, and auto-generates ads and marketing images on 25 million premium online destinations. Proprietary technology identifies promising consumers and allows them to purchase products within the ad.
"We make the best matches with our brands and the cool thing that's crazy different about us versus other platforms that do something similar is we only charge our brands when it works," says Cooper. "So when someone buys a product, we make money." Customers designate what commission or "bounty" they're willing to pay per sale. It's a tough and risky model, says Cooper, but one that ensures that Klickly is aligned with its brand customers.
Cooper says she raised money from traditional venture capitalists but also received capital from tech industry heavyweights such as the CTO of Stripe, Google's head of innovation, and members of the founding teams at Warby Parker and Bombas. "We got really excited about taking money from those players because of their expertise in the kinds of industries that touch us," says Cooper.
As a YEC member for several years, Cooper was initially attracted to the community's publishing opportunities. "It was really cool to be able to chat with an editorial staff member and have them coach us on what the publications were interested in," says Cooper. "There is so much value in it if you use it properly." She says that her frequent contributions to Expert Panels help establish her as a thought leader and are excellent for investor relations. "It's really helpful because it shows that we're getting out there and that has been really cool," Cooper says. "Plus Expert Panels are a great moment of contemplation. They're a reminder that I really have learned a lot in my business building."