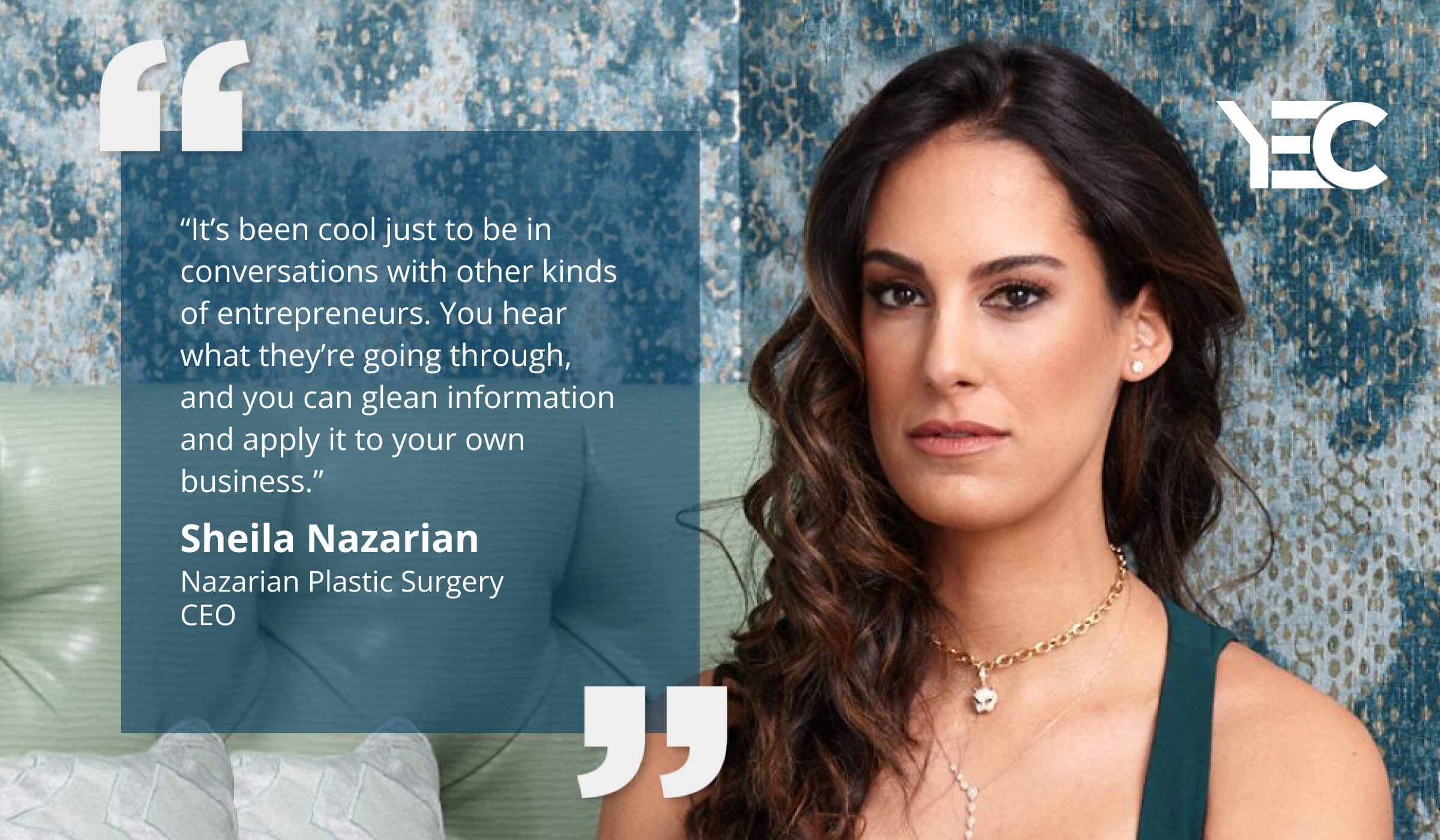 Sheila Nazarian Values YEC Publishing and Wide Variety of Entrepreneurial Perspectives
From the time Sheila Nazarian was a young girl with a passion for theater and dance, she dreamed of having her own show. But it's unlikely she could have envisioned how that would play out. Sheila, aka Dr. Nazarian, is a highly-rated Beverly Hills plastic surgeon with her own Netflix show, Skin Decision: Before and After. The show, she says, has given people a more accurate perception of exactly what she does. "Plastic surgery isn't about big lips and big boobs," she says. "It's about a burn victim, or it's about a woman who was shot by her husband, or a young, beautiful woman who's suffering from horrific acne scarring."
In a town where you can barely swing a cat without hitting a plastic surgeon, Sheila leveraged all of her competitive advantages in order to stand out. When she completed her residency in 2013, she immediately began creating YouTube videos on various plastic surgery topics. "When the press needed an expert, they would Google and my videos would show up," Sheila says.
To give herself immediate local exposure in Beverly Hills, Sheila bought 40 billboard ads for Nazarian Plastic Surgery, all with her picture prominently displayed. "All the things that felt like weaknesses — being female, being brown and an immigrant — ended up being huge differentiators," she says. At age six, Sheila had fled Iran with her sister and mother, escaping the repressive post-Revolution regime.
Initially, Sheila attracted patients whose skin tone was similar to her own; they identified with her and assumed that she would better understand their specific problems. It was an important demographic that had been underserved. Today, local advertising is less important for Sheila since 70% of her patients are not from California — they fly in for consults and procedures. Her practice offers both spa treatments and surgery. "We go minimally invasive if we can," Sheila says. "But if you're not going to get the desired results, we don't hesitate to offer surgery."
"I think the publishing [through YEC] is really great. That, in and of itself, is worth the membership."
During the first two months of COVID, Sheila's business was completely shut down. She used that time to get a better handle on systems and procedures and also launched an e-commerce site called The Skin Spot. The site sells highly curated medical-grade skin care products from a variety of respected brands, including her own brand, Nazarian Skin. "It went through the roof because people were buying skin care products and devices to maintain their results at home," she says.
Sheila's medical practice also came roaring back as the world opened up a bit more. "It was called the Zoom Boom," she says. "Everyone was rushing to get plastic because no one was traveling and they weren't really spending money on clothing or throwing parties." Her Netflix show, which features before and after plastic surgery stories, also gave her practice a huge boost. "It was like a monsoon," she recalls. "For a while, we actually had to hire a call center just to handle the amount of incoming leads."
In addition to her surgical practice and skin care business, Sheila founded Nazarian Institute, a non-profit that teaches branding and business mindset to healthcare providers. Pre-pandemic, she organized a yearly conference featuring speakers such as Tamara Mellon, Bethenny Frankel, and Kris Jenner. Now, the events are organized as virtual masterclasses and are subscription-based.
As a member of YEC, Sheila says her Expert Panel contributions add to her online visibility. "I think the publishing is really great," she says. "That, in and of itself, is worth the membership." She has also connected with other YEC members through the community's online events. "It's been cool to be in conversations with other kinds of entrepreneurs," she says. "You hear what they're going through and you can glean information and apply it to your own business. Every time you expose yourself to any activity, there's at least one pearl that you take away."