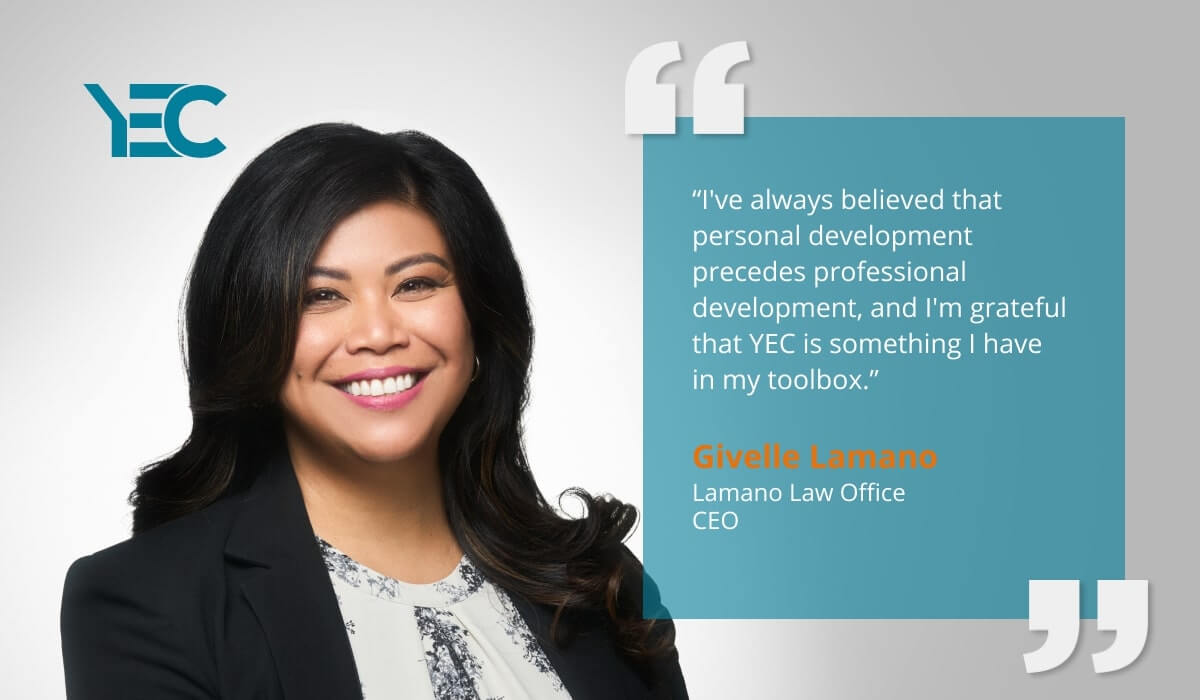 YEC's Network is a Valuable Personal Development Tool for Givelle Lamano
When Givelle Lamano graduated from law school in 2010, she found it tough to land a job in the highly competitive Bay Area. So she worked for free at a few law offices, fetching coffee and making photocopies in exchange for the opportunity to shadow attorneys when they went to court, and learning about the legal world. Two years later, she opened up Lamano Law Office and initially specialized in appearing in court on behalf of other attorneys, who would outsource their less complex cases to her. "It gave me experience learning how to navigate the court system in a way that I would have learned at the public defender's office," says Givelle. In her first year, she continued to work as a restaurant hostess to make ends meet.
While she had originally planned to focus on social justice work, Givelle landed in criminal law. "It was a very attractive sector for me, because I grew up in lower middle class neighborhoods where I saw a lot of my friends fall into the court system," she says. It was important for her to see her clients not merely as case numbers, but as individuals who had complex reasons for doing what they did. It felt more like customer service than law, and that suited her.
A year after starting her practice, Givelle's passion for social justice motivated her to launch a not-profit initiative called Three Strikes Justice Center. California had recently passed a law that allowed repeat offenders who were serving life sentences to petition the court for resentencing if their third offense was not serious or violent. "When I learned about this law and looked at the statistics, I realized that there were thousands of prisoners all over California who could refile to get released, and have another chance at life," Givelle says. She reached out to others who were working to prevent mass incarceration, and fundraised to finance operational costs. As word spread of the initiative, so many incarcerated individuals reached out for help that Givelle needed to enlist help from volunteers to respond to them all.
"I realized [YEC] was a nice way to really get to know people who have been in your shoes and can help you so you don't have to reinvent the wheel. And so I found that the value outside of getting publishing opportunities was really just the network."
When her social justice work wound down, after the two year window for petitioning closed, Givelle refocused on her legal practice. A business coach had advised her to stop doing everything herself, to begin hiring, and to be more strategic about her practice. She hired a legal assistant and paralegal, and then additional attorneys — all women. She had observed that many attorneys were not skilled at communicating the intricacies of the law to clients. Women were better at that and more likely to have "the compassion to speak to somebody with kindness," says Givelle. "I found that when I hired women, they were more prone to listening and were less judgmental. And I later used that as a guide to identifying what our company values were."
Givelle's practice attracts four kinds of clients: professionals who have been charged with low-level offenses and have never before been arrested; laborers, such as restaurant employees; parents of young adults who were recently arrested; and young adults themselves. During the pandemic, she's seen an uptick in domestic violence cases, and also an increase in clients who want to clean up their arrest records before job seeking during great resignation. Sometimes, she has the great satisfaction of representing a client who has been accused of a very serious crime and who is innocent, such as a teacher accused of sexual assault. "I remember visiting him in jail and just knowing within a matter of five minutes that he was innocent," Givelle recalls. "In the end, his reputation was restored."
Givelle was first attracted to YEC's publishing opportunities and joined hoping to get exposure on major media brands. But while she came for the articles, she stayed for the people. "I realized [YEC] was a nice way to really get to know people who have been in your shoes and can help you so you don't have to reinvent the wheel," she says. "And so I found that the value outside of getting publishing opportunities was really just the network." Through Expert Panels, she noticed that she and Libby Rothschild were frequently quoted in the same articles, so she asked for an introduction; the two have since become friends and frequently share insights with each other. Givelle says "I've always believed that personal development precedes professional development, and I'm grateful that YEC is something I have in my toolbox."