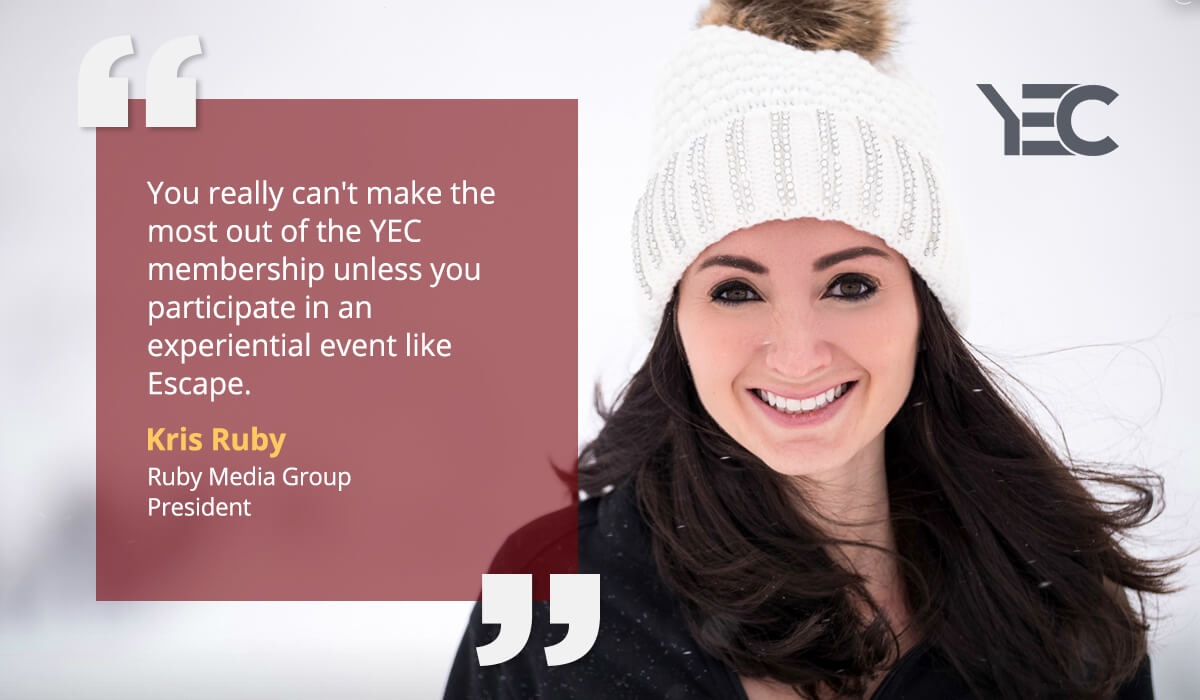 YEC Escape Fosters Entrepreneurial Community Connection for Kris Ruby
After Kris Ruby graduated from Boston University, she landed a public relations job almost immediately. But after just a week, she discovered that working for someone else really wasn't in the cards. She was asked to send out a press release, but Kris felt the timing of the release was off, so she scheduled it for a different time to go out through the wire. "In the traditional corporate hierarchy, no one wants to hear that your way is better than theirs. They just want you to do what you are told to do, no questions asked," she recalls. A week later, she left, confident that she was much better suited to strike out on her own.
Kris started her company, Ruby Media Group, in 2009, focusing on the nascent social media sector. She landed her first client after striking up a conversation at a yoga class. "I mentioned that I could do social media and he said, 'well, I have a business, maybe you could do that for me,'" she recalls. "And then it just snowballed from there." But, she notes, she's learned a lot since those early days and her business has changed dramatically.
"To be a founding member of YEC made me feel that there were other people out there who were also on this similar path and entrepreneurial trajectory. That has been the greatest value of YEC for me."
For instance, she has shifted her focus away from offering only social media and is now targeting a very specific type of client. "I work with a lot of medical practices and we specialize in healthcare PR for doctors," she says. "It's challenging to stay on top of breaking news in multiple verticals, so I think that niching down benefits clients and the agency in a number of ways." Healthcare, Kris says, is now very competitive, and doctors who want to attract new patients and continue to establish trust with existing ones need to think about content marketing and personal branding.
"People are getting all of their information from social media, from online forums, and from different digital media vehicles," Kris says. She's found that millennial consumers are particularly inclined to do research online and gravitate toward practitioners with an online presence. So doctors find themselves competing with peers who have a strong media presence and are getting quoted in national media outlets consistently. "I talk about this all the time with the doctors I work with — that they have two jobs. One is to be a doctor, and the other is to be out there in the media."
The pivot from generalist to specialist suits Kris well since she has a personal interest in healthcare. "Aligning your mission and your personal interest makes you that much better at what you do," she says. "I think that PR can be something that is actually used for the greater good." For instance, a reporter recently reached out to her to see if she had any medical sources available for a story on vaping. "I work with four different doctors that can provide expertise for that article," says Kris. "The psychologist can discuss the addiction impacts; the dentist can talk about what it does to your teeth; the cardiologist can talk about what it's doing to your heart, and the primary care physician can talk about everything else."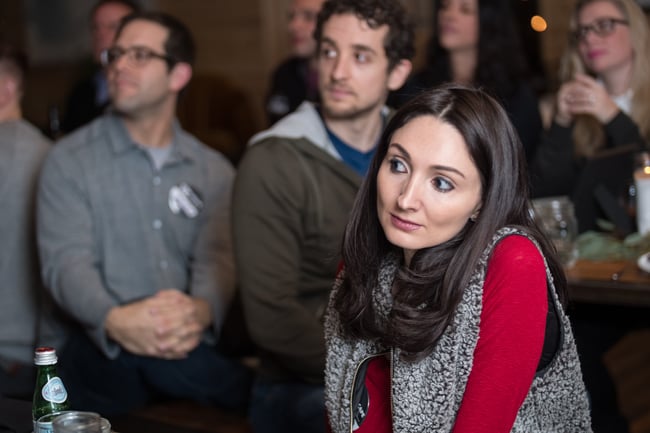 Kris was one of the first members of YEC, which she joined shortly after starting her company. "It was 2009, the height of a recession, and I had branched out on my own when many of my peers were scrambling for employment opportunities," she recalls. "To be a founding member of YEC made me feel that there were other people out there who were also on this similar path and entrepreneurial trajectory. That has been the greatest value of YEC for me. Connecting with a community of like-minded entrepreneurs has made the entrepreneur journey less lonely."
Kris is a frequent national television commentator on topics ranging from politics to big-tech bias, and gives the impression of being comfortable in a crowd because she frequently appears in front of millions of viewers. However, she says that nothing could be further from the truth; she is actually highly introverted. "When I am on camera, I think about it as a one-to-one conversation between myself and the anchor," Kris says.
Initially, going to YEC Escape did not appeal to her. Until, that is, last year when she was going through some personal challenges and felt the need to shake things up a bit. "I really had to push myself, and then once I started talking to people I began to feel more comfortable." She even got into a somewhat heated political debate with a fellow attendee, who then ended up hiring her for Public Relations work for his company. "I think that YEC Escape changed my perception of YEC in general," Kris says.
She's been an active participant in the online forum for many years but notes that "it's just so different being around members in person for two or three days at a time. I feel like I am now part of the community in a whole other way. You really can't make the most out of the YEC membership unless you participate in an experiential event like Escape."