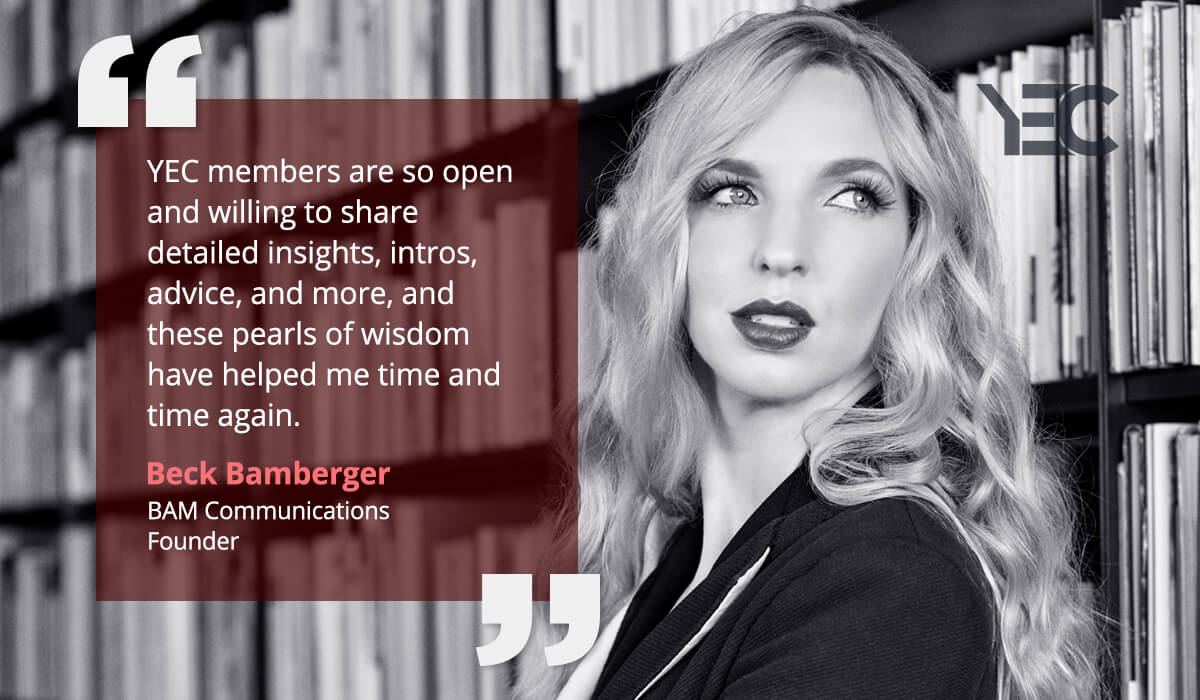 Beck Bamberger Values YEC's Pearls of Wisdom as She Grows Her Company
Beck Bamberger was in her early twenties when she sat down at her mother's desktop computer in the laundry room and created the first logo for her new PR firm. "I remember saying "Mom, mom, I'm gonna start this PR company. I'm going to call it BAM," she recalls. She had worked as an associate producer at an NBC affiliate in San Diego, then started her own television show, where she interviewed local CEOs. But at some point, becoming an entrepreneur seemed more interesting than interviewing them.
"I was working on the show out of the office of a public relations person who had an agency of around 15 people at the time," Beck says. "I thought, wow, this seems interesting, and just being in that office, that was my whole training via osmosis. If you were good at writing, if you had a knack for communications, and if you liked building relationships, you were probably going to do well in public relations." And she did.
"Growing technology companies that are having their own wild rides — there are challenges and constraints that come with that territory. We think it's super exciting."
Beck found the first client for BAM Communications in an unlikely place — Craigslist. A technology platform in the greeting card space was looking for PR help, so Beck emailed them, landed a meeting, and, much to her surprise, got the business. "I was shocked that someone actually paid me money to help them achieve their goals of getting on local TV," she says. From there, she says, her startup grew through referrals, and she found herself with an expanding stable of clients, many of which were local restaurants. She even started a side business, BITE San Diego, a food-centric walking tour company that she's since sold.
Over the past several years, Beck has shifted BAM's focus and the company now works primarily with venture capital–backed technology companies that have already raised at least a Series A round of capital. "Growing technology companies that are having their own wild rides — there are challenges and constraints that come with that territory," she says. "We think it's super exciting." She says that BAM distinguishes itself from the competition in three ways:
Obsession with data. "We have the best tools in the industry at our disposal that we use collectively," Beck says. "It's called BAM Insights. We have a full-time data scientist on our team who is looking at all the data from our clients to get the best stories that are probably buried in their data." BAM's data strategy team not only identifies content that helps build brands, but also provides analysis on the bottom-line impact of the client's earned media coverage.
Venture capital contacts. "I don't know that there's another agency that can make and does make venture capital introduction for their clients," says Beck. BAM has a head of VC relations on staff and Beck personally spends a lot of time nurturing relationships with venture capitalists. "We have 400+ who we actually know and have had dinner and coffee with," she says. The company doesn't make money on those intros. "It's just us being a good partner to our clients," she says.
Understanding the VC/startup world. "This is more of a soft one, but it's quite important," says Beck. "We understand and only work with this crazy world of startups and venture capital." Funded companies work at a fast pace, often need to pivot and adjust goals and timetables, and require partners who understand that and are willing to accommodate them. "That's a rare breed," says Beck. "Not everyone can hang with the pace of that."
In addition to BAM, Beck has another company called One Pitch, a platform that connects tech media professionals with tech PR and communications people. It's a pitch clearinghouse where journalists can post their interests and PR people can upload pitches. "We have coaches who are journalists and they review every pitch that comes through to make sure they're interesting, viable, well-written, and compelling," says Beck. "And then the journalists get one email a day with all the pitches that match their criteria."
Beck has been a YEC member for several years. "The online community board is truly one of YEC's best assets," she says. "YEC members are so open and willing to share detailed insights, intros, advice, and more, and these pearls of wisdom have helped me time and time again." As an entrepreneur, she faces an array of challenges, she says, and YEC membership provides her with a community of peers whom she can rely on to chat about and help her overcome whatever obstacles she may be facing.