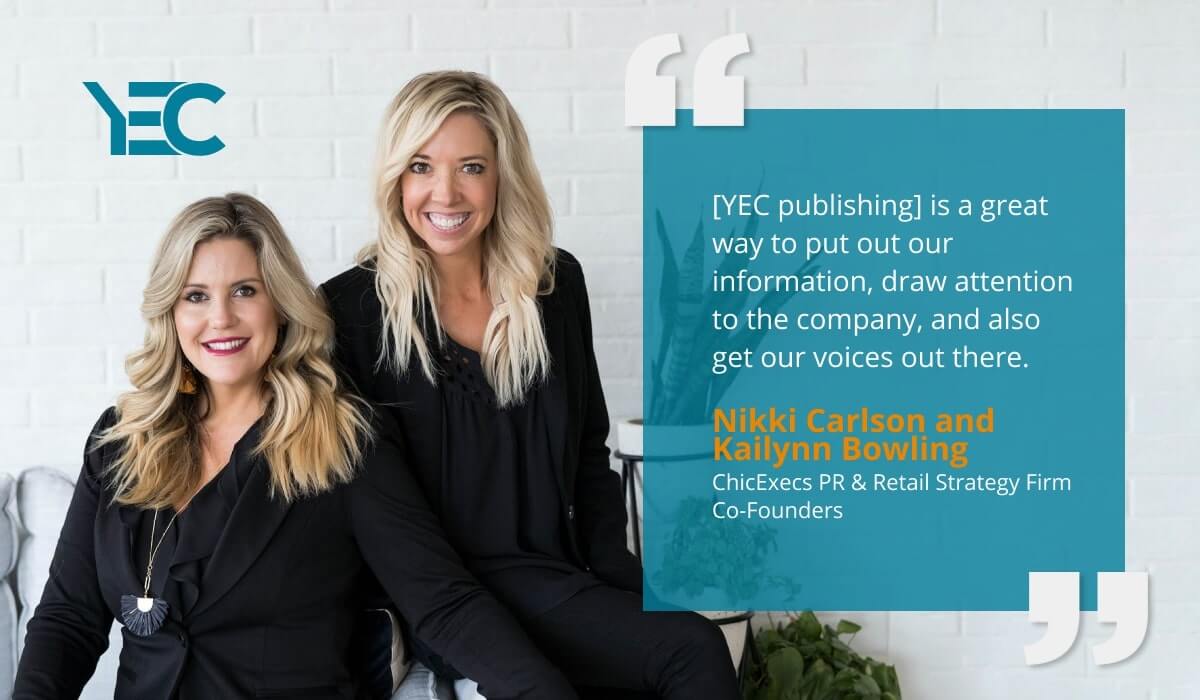 Nikki Carlson and Kailynn Bowling Use YEC Publishing to Amplify Their Voices
For 17 years, Nikki Carlson and Kailynn Bowling have been an entrepreneurial team making their mark in publishing, consumer electronics, and public relations. Their current company, ChicExecs PR and Retail Strategy Firm, is the latest chapter in a story that began in 2004 when the two, both ready to leave their corporate careers, decided to start a social media company called ChicBlvd. It was an email marketing venture and online magazine that targeted women and featured entertainment and product reviews.
"We would ask questions about what products women were looking for," says Kailynn. "And one of the things we heard quite often was that they wanted fashion combined with function." That was in 2005 and the iPod was still new, so the partners decided to create headphones with a decidedly female vibe. "Within six months we were in more than 50 magazines, and it just took off from there," says Kailynn. Major retailers such as Banana Republic; Bed, Bath & Beyond; PacSun; and Nordstrom carried the earbuds, which had the distinct advantage of being the first woman-owned and woman-targeted product of its kind. "We grew very large in the span of maybe seven years," says Nikki. "And we've since sold that company."
Along the way, Nikki and Kailynn attracted the attention of other entrepreneurs who were impressed with their ability to market and get press for their product. "We were doing our own PR and other companies started coming to us and asking who was doing our PR and how we were getting in front of celebrities," says Kailynn. "And so in 2006, we developed ChicExecs, which is a retail strategy and PR company." After selling ChicBuds, they focused their attention on their agency.
Early on, the partners had created an online platform that clients could access to help manage their own PR efforts. Those first technology innovations would prove important as the company grew. "We were fortunate that the company started out as a computer platform," says Kailynn. "Although that platform is not fully running any more, we had the full structure set up to where the company could work within our platform without having any issues when the pandemic hit." ChicExec's employees and its clients were able to communicate seamlessly within the platform and co-founders immediately pivoted to figuring out how the company would operate during COVID and how it might serve existing clients and help manage their own challenges during the pandemic.
"With the brands we're working with, it helps for them to read our perspective and to get tips from us through the [YEC] platform. It's been really great for us."
In fact, says Nikki, business doubled last year for ChicExecs. "We added new clients and developed strategies around products that were doing well, such as hand sanitizers." For instance, the company helped a spirits company that had started making hand sanitizer enter the retail market. And it worked with fitness and food brands to help them reach consumers who weren't eager to venture out to the gym or the grocery store. "Kailynn and I are both entrepreneurs so we're used to having to pivot," says Nikki.
To meet increased demand for their services, Nikki and Kailynn hired 25 new employees during the pandemic; they now have a staff of 75. And they treat all of those employees as "intrapreneurs." Says Kailynn, "they have the security and all the benefits of a company, but we really give them the platform to come up with ideas and be creative, and they're compensated in that way." With both partners coming from corporate environments where 3% raises were the norm, it was important for them to create an environment where employees could create their own "business within a business." Employees are also given the flexibility to decide how many clients they want to service depending on how many hours they want to work and how much money they need to make.
While most of their time is spent on ChicExecs, both Nikki and Kailynn are involved in entrepreneurial activities outside their companies. Kailynn is involved in her family's ranches, which grow avocados and exotic flowers; Nikki is passionate about the hospitality industry and helps her husband with his catering and food truck business, Food Smackdown. They manage their company and juggle their outside interests, they say, with good systems and plenty of delegation.
Both Nikki and Kailynn have been YEC members for three years. "[YEC publishing] is a great way to put out our information, draw attention to the company, and also get our voices out there," says Kailynn. "Nikki and I are so busy that it's hard for us to do a lot of media interviews, but this way we can be strategic and really think about what we want to put out there." The partners both contribute content to YEC's media partners on a regular basis. "With the brands we're working with, it helps for them to read our perspective and to get tips from us through the [YEC] platform," says Nikki. "It's been really great for us."