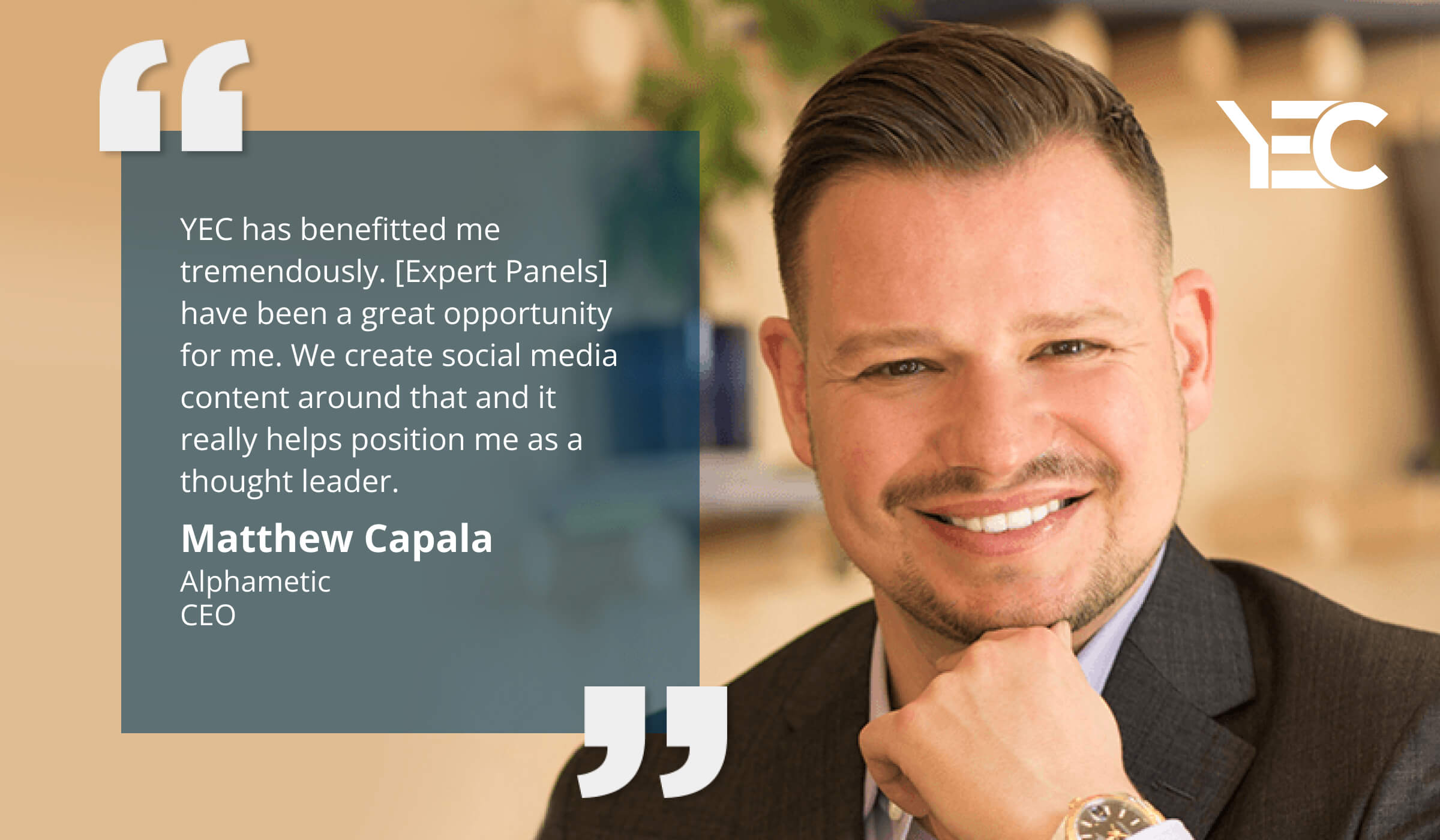 Matthew Capala Leverages YEC for Connections and Publishing Opportunities
When Matthew Capala first came to the U.S. as a Polish immigrant, his first job was in construction. "I remember hanging on construction scaffolds, looking into those beautiful offices on Madison Avenue, and dreaming about having an office job in America," Matthew recalls. That dream came true, and then some.
His transition from scaffolds to a cushy office on Madison came after he earned an MBA in marketing from Baruch College. That credential landed him a job at a New York ad agency, and he would spend a few years working for a variety of firms, specializing in search engine optimization. Along the way, he was diligent about building his own brand by speaking at conferences, writing books, blogging, and developing a sizeale network.
When Matthew first struck out on his own, it was as a solopreneur. For a year, he lived what he calls a "nomadic lifestyle," picking up consulting gigs as he traveled in Europe and the U.S. But he soon realized that he wasn't ideally suited to work on his own. "It wasn't for me," he says. " I really value a team and I value building a company — something much greater than myself."
So he decided to settle down in Miami and take his business to the next level. He launched his own agency, Alphametic, and began hiring staff.
When he was working on Madison Avenue, Matthew had major clients such as Dell and Smirnoff. And when he first started his independent consulting practice, he provided brands such as L'Oreal with high-level SEO audits and workshops. These were project-based engagements that required Matthew's personal attention and he soon realized that he'd have to pursue a different kind of client if he wanted to grow a company. "What really matters when you're trying to build a company that is bigger than yourself is that you need recurring revenues and you need to create processes and systems that you can replicate over time so that you can scale," he says.
"There were instances where I would travel to a place I didn't know and I would look in the directory to see if there was [a YEC member] in the city for me to connect with. So I've leveraged some of that networking opportunity."
Always stellar at sales, Matthew was able to land a surplus of mid-market clients and began hiring freelancers to help him handle the work. That allowed him to spend more time speaking at conferences and promoting the Alphametic brand. "I took the approach that as long as I had a role that was 50-70% billable, I'm okay hiring a full time person," he says. "The remaining time, I think of as an investment." He currently has ten employees.
To distinguish Alphametic in the vast marketplace of digital marketing agencies, Matthew decided to position the company as an expert in a few areas, rather than as a generalist. "We have experts that have 10 to 15 years experience in Google analytics, SEO, managing Google ads, Facebook ads, and creating content strategy," says Matthew. "Companies come to us because they know they will get service at a much more advanced level." Also, he notes, his team stays ahead of the pack when it comes to new technologies, such as what Google is doing with its algorithm, artificial intelligence, and machine learning. "We're really plugged into all the innovation that's happening and we try to be a beacon of knowledge for our clients and our community," he says.
The strong bond that Alphametic forges with clients helped the company during the pandemic. Fees were reduced, but clients were largely convinced to stick with the agency. To make up revenue from clients that were lost — some of them in the hospitality industry — Matthew pursued e-commerce clients. "Every crisis creates new opportunities," he says. "We were able to grow despite the really tough economic climate."
Since he settled in Miami in 2014, Matthew says he's benefited from the city's growing reputation as a startup hub. During the early years of COVID, many professionals were drawn to Florida because it was less restrictive; lower taxes and wages also made the state attractive. "Everybody who works for me is in Florida," Matthew says. "You have a lot of talented people who will ultimately take lower salaries compared to someone who lives in New York or California."
Matthew joined YEC when he started his company and says, "YEC has benefitted me tremendously. [Expert Panels] have been a great opportunity for me. We create social media content around that and it really helps position me as a thought leader." Connections with other members of the community have also been fruitful. "There were instances where I would travel to a place I didn't know and I would look in the directory to see if there was [a YEC member] in the city for me to connect with," he says. "So I've leveraged some of that networking opportunity."