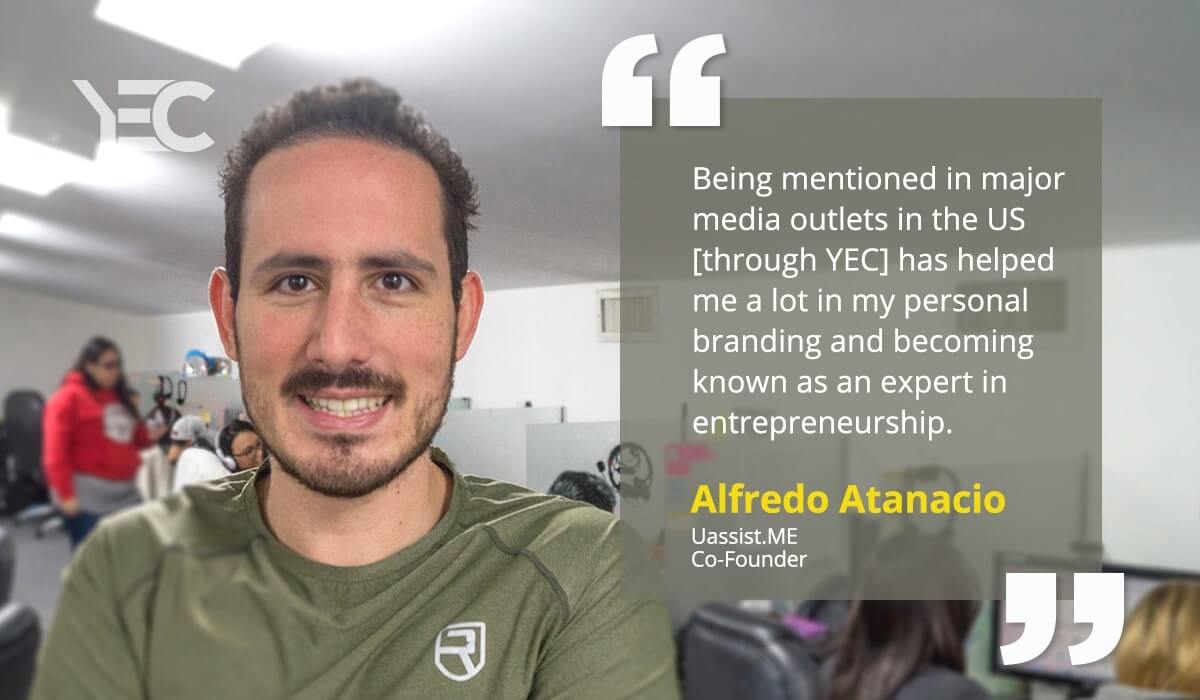 YEC Media Exposure Helps Alfredo Atanacio Become a Role Model For Entrepreneurial Success in El Salvador
When Alfredo Atanacio was working for his family's manufacturing company in his early 20s, he traveled frequently between his native El Salvador and Miami. As his schedule grew more hectic, Alfredo found he needed help organizing his calendar, flights, and life in general.
When virtual assistants in India and the Philippines didn't work out due to language and cultural barriers, a light bulb went off. So in 2009, he decided to start his own virtual assistant company in El Salvador, and Uassist.ME was born.
With his co-founder, Rodolfo Schildknecht, who is also a YEC member, Alfredo has grown Uassist.ME to a 240-employee company with an annual growth rate of 15–20%. The secret sauce: listening to customers' needs and creating a dynamic and supportive workplace for his team, all of whom are full-time employees.
"Most of our competitors use freelancers," says Alfredo. "But we decided that having employees makes more sense because we're very interested in retaining them, making them feel part of the company, and sharing our values. And it makes sense for clients as well."
His employees, 85% of whom are women, get bonuses, flexible work hours, access to training, paid maternity leave, and access to an in-house therapist. There is also a daycare center in the works. The philosophy behind it all: take care of your employees and your employees will take of your clients.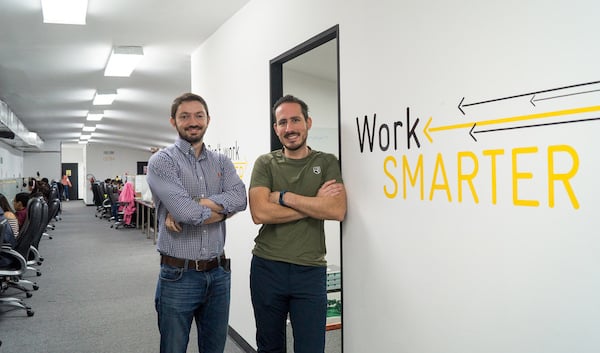 Over the past several years, Uassist.ME has evolved to meet more customer needs. While the company started out with providing virtual assistants, it now offers a wide range of business services.
"Right now, about 85% of our clients are small businesses and entrepreneurs who are looking for help to expand their businesses," says Alfredo. So the company began offering assistance with customer service, vendor relations, bookkeeping, and ecommerce management.
"We're super flexible with solutions," says Alfredo. "If a company needs someone with a law background, we do that. If they need finance, we can find that. We also started a creative department that was not actually in our plans, but about seven years ago, a client of ours asked if we did graphic design and that's, that's how we hired our first graphic designer. And we've grown that team to about 35 people."
Being attentive to market needs and responsive to customers has enabled Uassist.ME to grow its business with its existing stable of customers. Alfredo says that some of the company's largest clients started out with virtual assistants, and now work with 10–15 virtual team members who specialize in various disciplines.
As the company grows, Alfredo has been spending more time on organizational structure and systems — putting quality control in place, hiring supervisors, project managers, and human resources professionals. His YEC membership has been invaluable in supporting him as he builds the organization.
"In El Salvador, we are a bit geographically challenged. YEC has connected us with a lot of entrepreneurs all over the world and I feel part of a community."
"Whenever I have a doubt about something or I need a sounding board, I go to the online forum." For instance, fellow member Liam Martin, the CEO of Time Doctor, responded to Alfredo's inquiry about productivity tools, and UAssist.ME now uses the platform to manage productivity for remote teams.
Alfredo has also taken advantage of supplier discounts through YEC and has reaped PR opportunities by publishing with YEC's various name-brand media partners. "I tweeted about [my article] on my Twitter account and a local newspaper picked it up and they wrote a story about the advice I gave," he says. And that led to more media opportunities.
"Being mentioned in major media outlets in the US [through YEC] has helped me a lot in my personal branding and becoming known as an expert in entrepreneurship," he says. Several YEC members have also become Uassist.ME clients. "We don't market our services, but when someone asks for advice on remote work or virtual assistance, we chip in and give our advice, and clients come naturally."
For Alfredo, there's a larger purpose behind Uassist.ME's growth. He's become a bit of a poster child for entrepreneurial success in his country, and he takes that very seriously. "If we provide good jobs, high paying jobs, and we provide opportunities for people in El Salvador, they won't have to leave." he says. "I feel like we have such a great responsibility to our country. It makes me feel that we need to be doing our best job possible in order for this to happen."