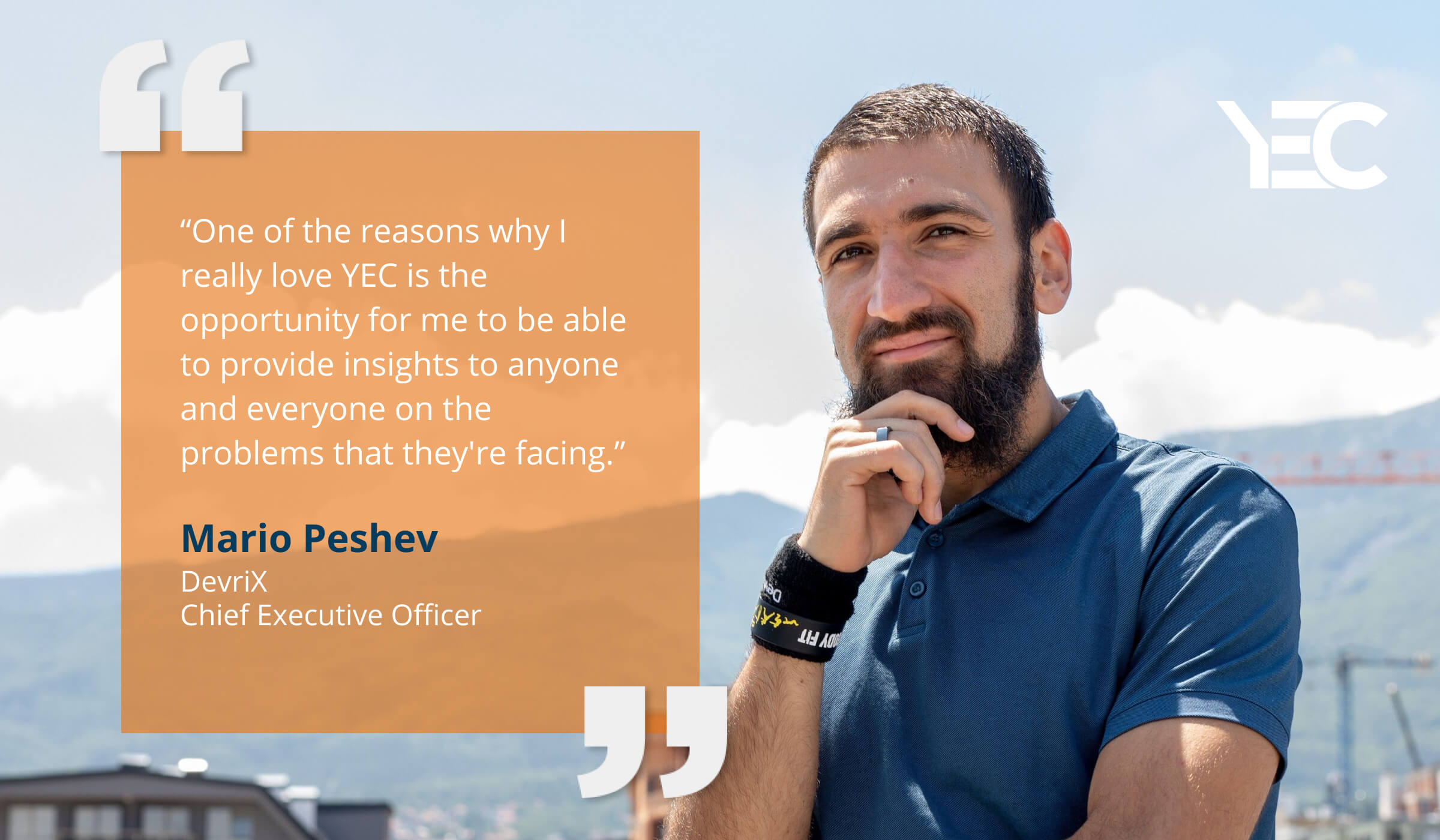 For Mario Peshev, YEC Publishing Broadens Audience and Expands Influence
Like so many tech entrepreneurs, Mario Peshev built his first website when he was still a kid. "I got really passionate about it and studied tech in school and in college," Mario recalls. He worked freelance gigs and had a few full-time jobs before he decided to pursue his own business, DevriX, full-time. The company's stock in trade is all things WordPress — building and managing WordPress platforms as well as helping clients optimize their sales and marketing efforts.
Currently, says Mario, approximately 44% of all websites run on WordPress, compared to 11% when he first started out more than ten years ago. "It just keeps growing and growing," he says. DevriX now has a full-time staff of 50, most of whom are based in Mario's native Bulgaria. And while there's a lot of competition for WordPress-related work, Mario says that DevriX distinguishes itself by operating a bit differently.
Most shops focus on one of three segments, Mario explains. They build one-off solutions; they offer outsourced resources, such as half-time developers; or they provide maintenance services. "It's fairly impersonal," Mario says. "We have coined the term WordPress Retainers, which is a combination of those three segments. We provide a personalized consultancy based on recurring revenue solutions. We care about the business." In addition to building and maintaining WordPress sites, the company also does market research to come up with ideas to help clients improve conversion rates, unlock new revenue opportunities, and improve SEO.
"Every month, I have three hours booked on my calendar and that's YEC time, period. I don't care what's going on — that's my time to check out Expert Panels and, whenever I have time, to submit articles."
When he first launched the company, Mario targeted publishing companies but now serves small and medium sized companies across a variety of industries. Those clients, who are often not tech companies, but want to leverage technology to grow, use DevriX as an outsourced technology partner. "They consider our services like the marketing department — everything related to building new landing pages, connecting to HubSpot or Salesforce, or providing other marketing automation solutions," Mario says.
Mario also has a second company, Growth Shuttle, an advisory firm that specializes in advice for small and medium-sized companies in non-technical industries that need help with digital transformation. He launched the company in 2018 after a blog post he wrote about the 31 biggest business challenges of the year went viral. "It became such a hit that it's currently used as a resource in MBA programs in more than 40 universities," Mario says.
In September of 2021, Mario took on a third professional role as CTO of DevriX client Brainjolt, a media company with an ecommerce element. "They were growing and they needed strategy and fast scale," says Mario. "And I was uniquely positioned to support them in that journey." It was also an opportunity to validate the concepts that he'd been exploring through Growth Shuttle and to be part of a high-growth business once again. "Running a business for 12 years, you kind of miss the thrill of 'let's rebuild,'" he says.
With more than fifteen years of blogging experience, and more than a decade as an entrepreneur under his belt, Mario has a wealth of knowledge to impart. "One of the reasons why I really love YEC is the opportunity for me to be able to provide insights to anyone and everyone on the problems that they're facing, which may be marketing, sales, recruitment, management, or operations," he says. While he had a long history of publishing his thought leadership, YEC's connection to major media brands appealed to him as a way to broaden his audience and his impact. "Every month, I have three hours booked on my calendar and that's YEC time, period," he says. "I don't care what's going on — that's my time to check out Expert Panels and, whenever I have time, to submit articles."