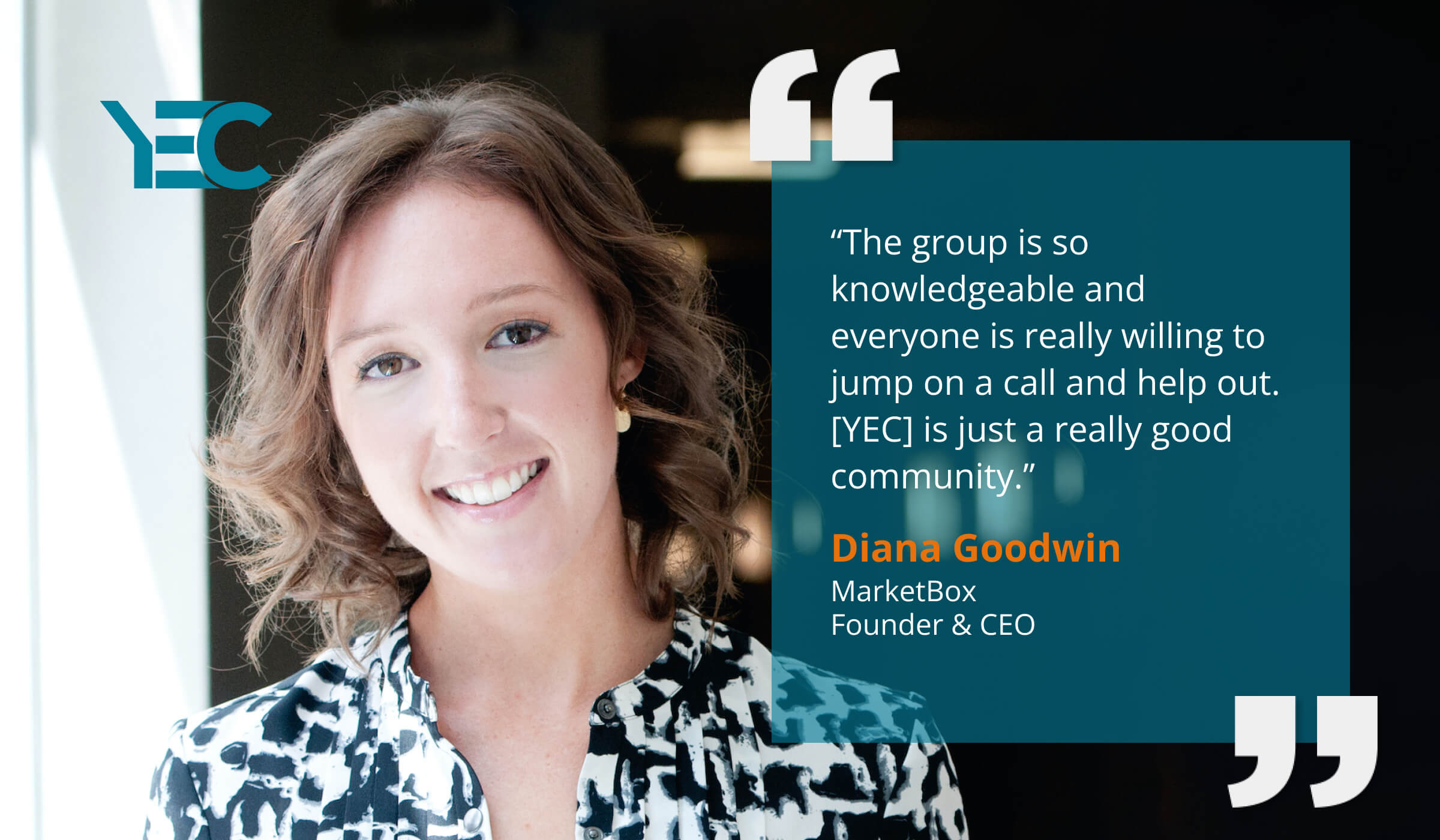 YEC Gives Diana Goodwin a Generous and Smart Community of Advisors
Diana Goodwin had been a swim instructor and lifeguard for years when her passion for aquatics led her down an unexpected path: she's the founder of MarketBox, a SaaS company that helps service businesses automate their processes.
While working for Bain and Company, Diana also ran a modest side-hustle — she had hired some swim instructors to take on her clients. "I was putting a couple of hours a week into the business but I really enjoyed seeing it grow and helping people build their confidence and learn how to swim," Diana says. In 2010, she followed the traditional consulting path and took some time off to get her MBA. And while the understanding was that she would return to Bain with her newly-minted MBA, that never happened. Diana found herself taking courses that would help her turn her side business, AquaMobile, into a full-time gig.
The company focused on in-home swim lessons, with instructors traveling to client's private homes or condominiums to give one-on-one lessons. "I saw how much progress students made with one-on-one time, so a handful of clients helped me validate things," Diana recalls. She knew she needed technology solutions to help scale the company, but her desire to bootstrap meant that she built her systems slowly. "As the business generated more cash, I would upgrade or automate something else in the business or bring on a new hire," she recalls.
Diana's technology challenges were complex: she needed a way for clients to self-book and pay online, but she also required a mobile app for instructors who might travel to several locations in a day. "There was no system that existed to do all of this because a lot of the scheduling solutions were focused on one static location," Diana says. "We've spent tons of money building our own technology."
"YEC has been a great way for me to get my thought leadership out there so that maybe other people can learn from my mistakes and accelerate growth for their businesses."
By the time she appeared on Dragon's Den (the Canadian equivalent to Shark Tank) in 2018, Diana had more than 700 certified instructors on her platform, with approximately 80% of her business in the U.S. She got a deal for $200,000 in exchange for a 10% equity stake. But during the due diligence process, Diana won a business competition that came with a $100,000 award — free money that meant she'd no longer have to relinquish equity.
Diana's appearance on Dragon's Den yielded an unexpected benefit. As part of her presentation, she had done a brief demo of her technology, which sparked interest among entrepreneurs in other industries. Diana began getting emails from mobile beauty services, tutoring companies, and music instructors, and they all wanted to know the same thing: "Where did you get your software?" That was her aha moment. "I started to realize, 'wait a minute, the bigger opportunity here is the software,'" she recalls. "That's how we can help more businesses grow and avoid a lot of the pain points and sleepless nights that I went through having to build this ourselves."
In 2019, Diana launched MarketBox, which she describes as "Shopify for services." She's pulled out of day-to-day operations at AquaMobile (which is now a MarketBox customer) and is now focused on building her SaaS platform, and growing her sales and marketing team to help scale the company.
When the pandemic hit, Diana was still building her software product, so she made sure to build in a virtual appointment capability. That helped her original clients — tutoring and personal training companies — keep their businesses going during the early days of COVID. "One of the benefits of the pandemic is that businesses now understand the importance of allowing customers to self-serve online, and providing a great digital experience for their customers," Diana says.
As a long-time YEC member, Diana has garnered valuable advice from fellow members as her companies have evolved. "The group is so knowledgeable and everyone is really willing to jump on a call and help out," she says. "And YEC has been a great way for me to get my thought leadership out there so that maybe other people can learn from my mistakes and accelerate growth for their businesses." When she travels, she seeks out other YEC'ers. "It's a really great way for me to meet interesting entrepreneurs," she says. "It's just a really good community."