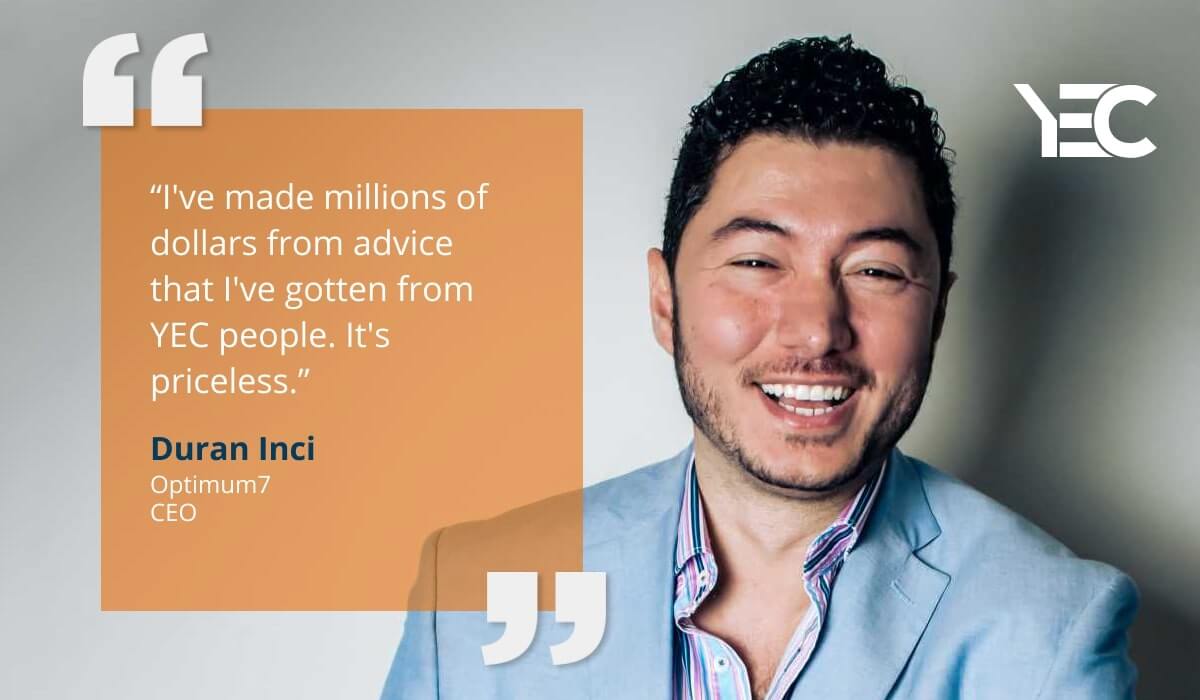 YEC is Personally and Professionally Priceless for Duran Inci
When Duran Inci came to the U.S. from Turkey in 2000 to attend Florida International University on a soccer scholarship, he knew he'd have to find a way to make money. So he decided to sell some products from Turkey — rugs, silverware, and such — on eBay. It was a great introduction to e-commerce, and an important stepping stone into Duran's future career.
After a few years at e-commerce companies such as Brandmalls and Makesgoodscents, and at Netspace, a digital marketing franchise, Duran had an opportunity to start his own company. In 2007, Netspace was in financial trouble so Duran and a franchisee formed their own company, Optimum7, to serve existing clients. "We started out as a digital marketing agency," says Duran. "We did SEO and marketing and we did it for anyone, like doctors and lawyers."
That changed seven years ago when Duran and his partner, whom he bought out in 2019, realized that more than half of their clients were e-commerce companies. They decided to focus solely on that sector and stopped taking other clients. Shortly thereafter, Duran began working with business coach Charlie Gaudet, who runs YEC's coaching program, to further identify Optimum7's niche. "We used to say we're a digital technology company, but nobody understands that," says Duran. With Charlie's help, he nailed down a simpler, more digestible description that set the company on a more specific and profitable path: "we're an e-commerce agency that helps small and medium-sized businesses compete with giants like Amazon."
"The number one value of YEC is like minded people who are in similar stages of their lives. I can go to any city in the U.S. and I'll know somebody. That's pretty freaking cool."
Duran says that while Optimum7's sweet spot is both B2B and B2C clients with five to $100 million in revenue, he also handles web services for large clients such as Intel. The pandemic, Duran says, sparked fear and uncertainty at first; he lost a couple of clients almost immediately. So he cut back expenses, got rid of the company's office and transitioned his team to remote work. But Charlie Gaudet gave him some solid advice that helped allay his fears. "When everyone was freaking out, Charles said 'this is an opportunity,'" Duran recalls. "I followed his advice. I didn't cut back on the ad spend, I didn't cut back on my messaging or on blog posts, and I didn't make core cuts." When things began to calm down and PPE money started coming in for clients, business began to pick up and Optimum7 was ready to ramp up; from 2020 to 2021, the company grew by 41%.
While competing against e-commerce giants like Amazon can often seem next to impossible, Duran has two very solid pieces of advice for smaller players:
– "You have to be on the right e-commerce platform," he says. "You want the order to go through and you don't want to have bugs in your checkout." Larger platforms like Shopify, for example, offer integrations with Google, TikTok, and Facebook — a necessity for serving e-commerce customers who are accustomed to such capabilities.
– "This has changed in the past few years," says Duran, "but now, you have to be a brand." Otherwise, he says, consumers will buy commodity products on Amazon. He uses YEC member Ian Blair's new company, Laundry Sauce, as an example. "He came in as a brand as the world's best-smelling laundry detergent, he did the videos, he did nice shots, and he controls manufacturing," says Duran, who is an investor in the company and also helped Blair with his launch.
Duran is a longtime member of YEC and a raving fan of the community. As a first-generation immigrant, he had no network or family in the U.S. In YEC, he found both. Now, he has a reliable posse of fellow YEC members whom he regularly taps for advice and who are like family to him. "The number one value of YEC is like minded people who are in similar stages of their lives," Duran says. "I can go to any city in the U.S. and I'll know somebody. That's pretty freaking cool." When he was in the earlier stages of his business, he routinely tapped YEC members for advice. "I've made millions of dollars from advice that I've gotten from YEC people," he says. "It's priceless."