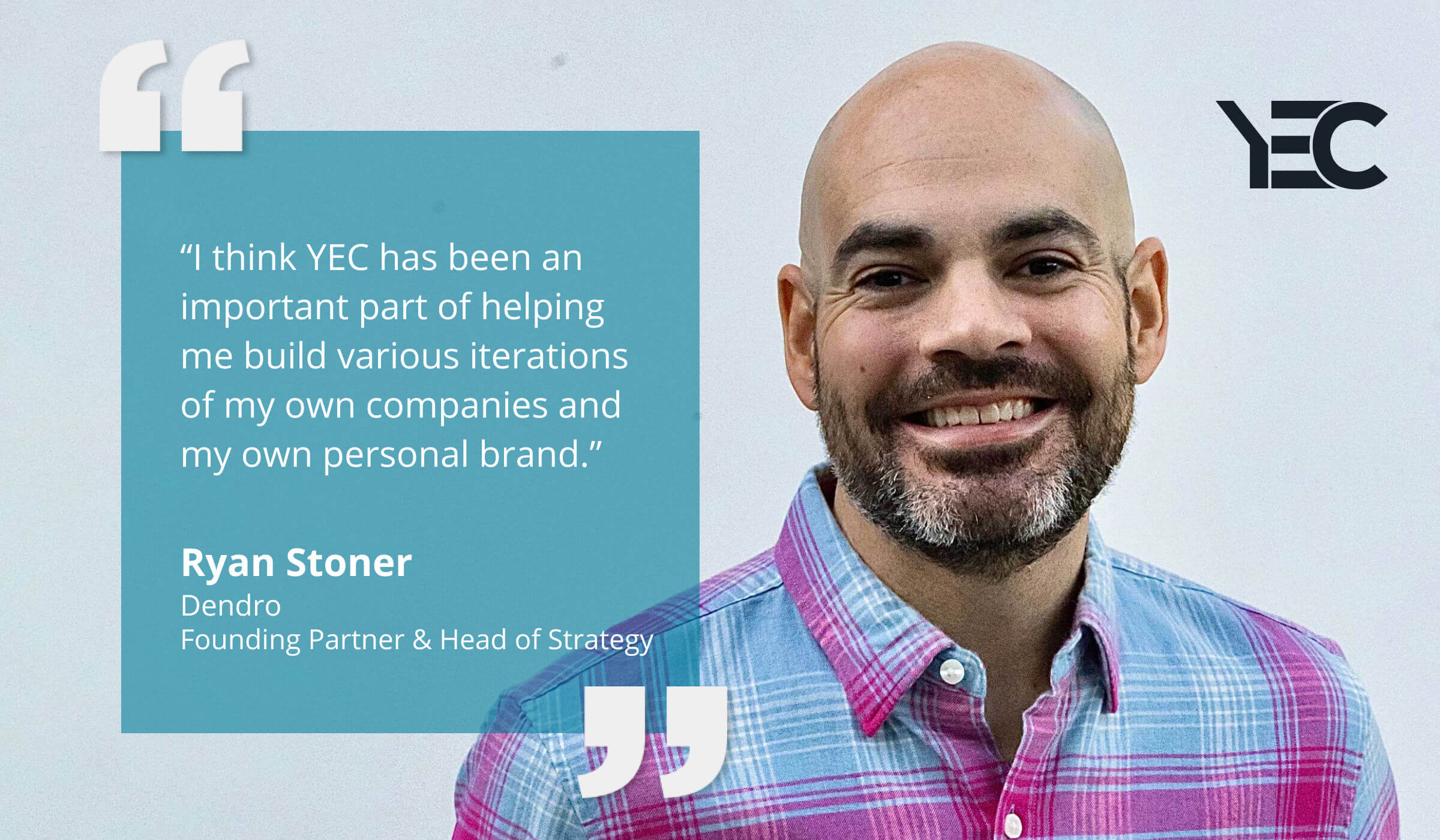 For Ryan Stoner, YEC Offers Knowledgeable Connections and a Strategy to Amplify His Brand
As co-founder of Dendro, a strategic brand consultancy, Ryan Stoner leverages 18 years of experience working with big brands at both agencies and his own companies. "I started Dendro with my co-founder because we recognized the gap between management consulting-type projects and executions that advertising agencies do," says Ryan.
Big consultancies like McKinsey and Bain are great at conducting research but the deliverable is frequently a PowerPoint deck that someone else must translate into strategy. "We fill that gap," says Ryan. "And we do it with the belief that brand drives business. It's a tool for both startups and Fortune 500 companies that can drive sales and decision making."
Dendro was founded during the pandemic and is a part of an employee-owned holding company called Guided by Good, which also includes two other companies — a full-service creative agency and a content shop. "We work in partnership with our other two companies to execute a vision, whether that's a marketing campaign, or a new app or products," says Ryan. "We like to say that we're the largest employee-owned holding company in the world in terms of advertising."
All of the company's owners rallied around the concept that advertising and marketing could be a force for good. "We're trying to help clients envision different potential futures, in terms of how they might fit into their world," says Ryan. "And we're trying to make sure that they're impacting and aligning to their customer needs in a positive way."
Frequently, Ryan says, Dendro is hired to fulfill the role of "fractional chief brand officer" — a position that often doesn't exist in emerging growth companies. Additionally, the company helps clients with growth segmentation. Particularly during the pandemic, he notes, many brands discovered that their audience had changed and they needed help understanding their customers. Dendro conducts research to help its clients identify audience segments with the greatest potential for growth and parse out their core needs. Lastly, Dendro works with clients looking to create new products or services, helping them benchmark against competitors and determine how much to spend to grow market share.
"Like most entrepreneurs, I realized the role of content and how important it is to have a channel [like YEC] that allows you to get your opinions out there."
Recently, Dendro worked with a Fortune 500 insurance company that wanted to evolve its business away from its legacy products and into the financial services space. "We took a holistic look to understand the growth in the category, and where the cultural and consumer headwinds and tailwinds were," says Ryan. That marketing investment analysis was used to inform the company's strategy for shifting its business into fintech.
Another typical engagement for Ryan involves working with companies that are going through mergers and acquisitions. For example, Dendro was hired by a hospital group that had recently consolidated 40 different hospital brands and was in the process of consolidating them into one cohesive network brand. "That work was really about aligning disparate organizations around a unified vision within a brand that everyone can rally behind," says Ryan. "So it was both brand strategy and organizational strategy."
Ryan is long-time member of YEC; he joined the community in 2012, shortly after he launched an online independent film distribution called MoPix. As a newcomer to the startup world, YEC was an attractive way for him to quickly connect with his entrepreneurial peers. "It was a new company and I was new to the startup world," he recalls. "And it was great having a network of people who could help me and filter through the various kinds of decision making."
As he has evolved as an entrepreneur, Ryan has leveraged other YEC benefits as well. "In the past five years, I think YEC has been an important part of helping me build various iterations of my own companies and my own personal brand," he says. "Like most entrepreneurs, I realized the role of content and how important it is to have a channel that allows you to get your opinions out there." He is a consistent contributor to Expert Panels and also has written a number of by-lined articles that focus on branding. "I love finding the magic of what a brand stands for," says Ryan. "And over the past two years, all of my writing is through that theme."