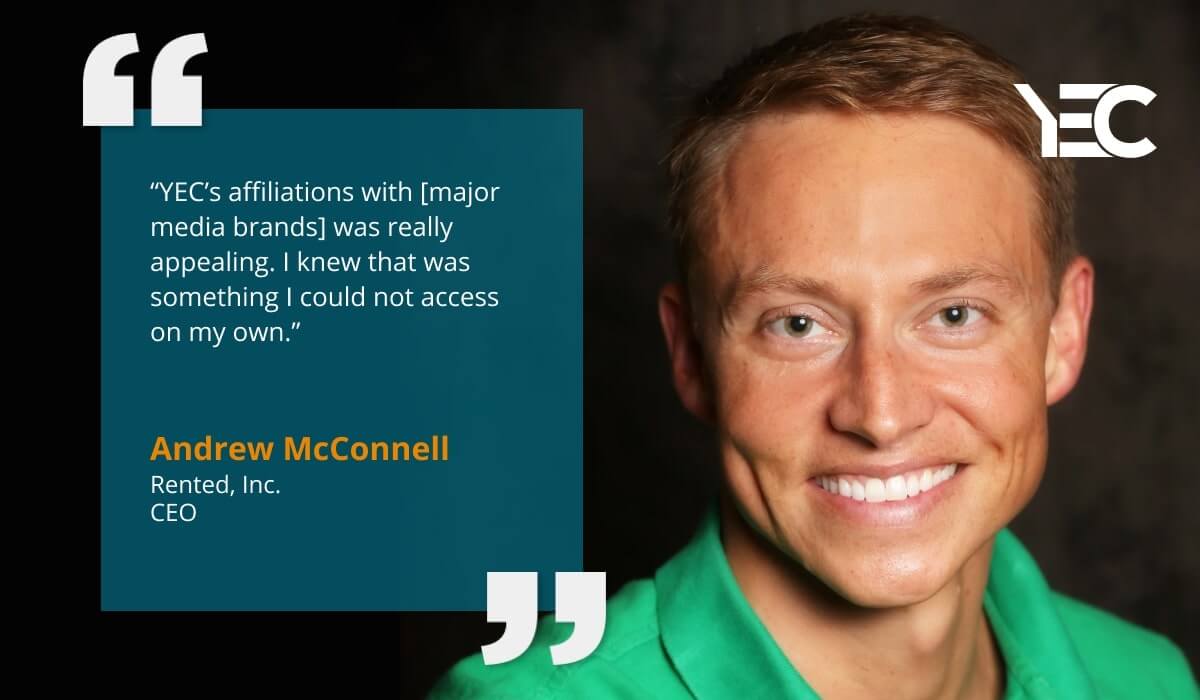 YEC Gives Andrew McConnell a Publishing Platform That Leads to a Book Deal
Andrew McConnell's company, Rented, is the culmination of almost nine years of entrepreneurial pursuits in the vacation rental industry. In 2012, Andrew quit his corporate job to start VacationFutures, an online marketplace that connected vacation rental owners with local professional property managers. Sites like Airbnb and VRBO were filled with properties owned by successful professionals who, Andrew reckoned, probably did not change their own oil or mow their own lawns, but were managing their own rental properties. He asked his father's friends who were property owners why they didn't hire professional managers. "They said, 'because they charge too much, and they don't have skin in the game,'" Andrew recalls. He spent ten months researching the industry and came up with a winning concept: property owners would band together and ask management companies to bid against each other to win business. In order to secure the management contracts, they'd have to guarantee owners a specified occupancy rate. Property managers would benefit by growing their number of clients.
By spring of 2013, Andrew had been accepted into a local Durham, North Carolina, accelerator program and had enough investment capital to bring on a partner for his new venture. "We were doubling revenue every month, went out and raised venture capital, and then we hit a plateau," says Andrew. The problem: property managers who were financially sophisticated and geographically diverse signed on right away, but most companies in the industry were mom-and-pop operations that did not see the value. "We had a good business, it just wasn't a venture scale business," says Andrew.
One of Andrew's salespeople suggested a solution that would attract smaller property managers: what if the company leased properties directly from owners, guaranteeing them a fixed income, then hired property managers on a commission basis and took the spread? "We signed more than 2,000 properties around the world," says Andrew. "It was providing more than 70% [rate of return] within five months.
"[YEC groups have] been very helpful in building out a new skill set and in providing access to experts."
However, Andrew and his team discovered that while property managers were good at guest communications and keeping homes clean, they were not so good at revenue management. Airlines and hotels, for example, have pricing down to a science, adjusting rates constantly according to the season, time of month, and day of the week. The team reckoned that they could make more money for property owners if they offered sophisticated revenue management tools that calculated the same kind of dynamic pricing. "We thought we could get a five or six percent revenue lift," says Andrew. "And within three months, we were seeing a 30-100% revenue lift. It was the same properties, the same managers, we were just doing the pricing and it was fundamentally different."
Before long, property managers were asking if they could purchase the revenue management solution. "So we started doing that and we started growing faster than any previous business," says Andrew. By early 2019, he had shifted focus away from the lease arbitrage model to concentrate on revenue management technology, and started a separate company, Rented. In the process, he decided to sublet his office space, sell all the furniture and go fully remote in February of 2020. "It had nothing to do with COVID," Andrew says. "I think sometimes it's better to be lucky than good."
But it was not exactly great luck to start a company in the vacation rental industry at the outset of a pandemic. In March 2020, Rented told all of its clients that their bills would be cut in half until June, but that the same level of service would be provided. Andrew recalls "we told them, 'we don't know when things are going to open back up, but when they do, you're going to need us more than ever because you can't rely on historical pricing. There's no historical basis for what's going on.'" The strategy worked and, in 2020, Rented retained its customers and signed on new ones. "We had clients that, by September, had made more money in 2020 than they had in any prior year," says Andrew. This year is shaping up to be equally lucrative.
Andrew was initially attracted to YEC for the publishing opportunities. "YEC's affiliations with [major media brands] was really appealing," he says. "I knew that was something I could not access on my own. It inspired me to write more and it actually ended up leading me to write a book." Andrew landed a book deal to write Get Out of My Head, which is about finding modern clarity using ancient wisdom. Andrew has also found value in YEC's groups, such as YEC Speakers. "It's been very helpful in building out a new skill set and in providing access to experts," he says.