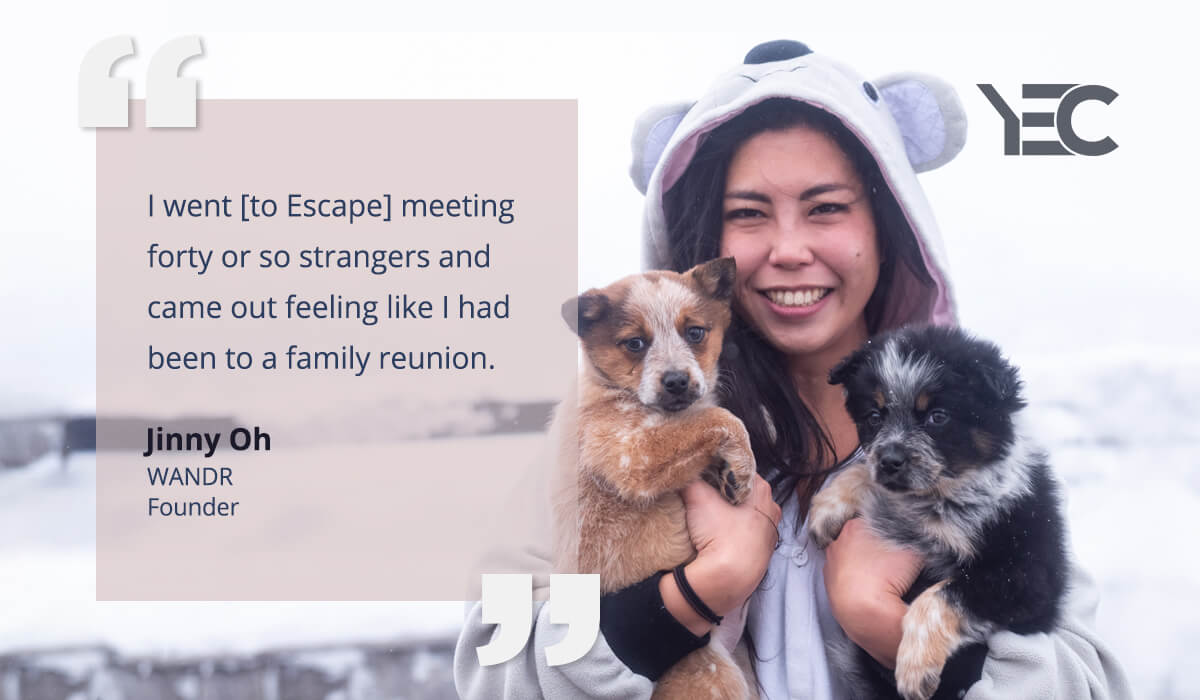 For Digital Nomad Jinny Oh, YEC's Escape Feels Like a Family Reunion
Where in the world is Jinny Oh? Everywhere, actually. The founder of WANDR, a product strategy and UX design firm, has spent the past year living just a few weeks at a time in locations such as Bali, Australia, Spain, California, Belize, Chile, Mexico, Portugal, Miami… and the list continues.
Being a nomad, she says, "is very much rooted in my lifestyle and upbringing and how I wanted to build the foundation of the company as well." She values diversity and the different mindsets and perspectives that a globalized team brings to the table. "You can find amazing talent from around the world, and you shouldn't be bound by the parameters of where your office is located," she says. She manages a distributed team of 13 and meets with key leadership approximately every 45 days in Miami or Los Angeles.
Wherever she happens to be, Jinny aims to gather fellow YEC members for informal dinners approximately once a month. She's hosted ten gatherings so far this year and says she values "being able to connect with other people and knowing that whatever problem I'm going through, someone else has also experienced it. People ask me if I miss home… but it almost feels like I don't need a home if I see my support group on a pretty regular basis."
"Everyone was so open and welcoming...I came out of [Escape] absolutely loving every moment of the weekend."
Jinny calls WANDR "an organic accident." She had been working on various startup projects including a fintech mobile app that aggregates receipts digitally and a marketplace for fashion industry freelancers. When those ventures didn't pan out, Jinny was hesitant to get a full-time job working for someone else, so she started freelancing as a user experience consultant to pay the bills. Eventually, she became so successful that she needed to hire other freelancers to help with her projects. So in 2016, she founded WANDR and hired her freelance helpers as full-time employees.
Initially, WANDR catered to the kinds of startup companies that Jinny worked for when she was freelancing. The company built websites, worked on branding and copywriting, helped create minimum viable products, and did anything else a startup needed to get up and running. While the company still serves startups, Jinny says the focus has recently shifted to mid-sized and enterprise companies that already have customers and platforms. WANDR performs audits to help them "optimize their user experience so that they can reduce their churn and increase engagement." In other words, if a company is having trouble with, say, a new feature or product offering, WANDR gathers insights from users and devises solutions to increase user engagement and retention. The company might then also design and implement user experience solutions.
The shift from startups, which need a variety of services, to larger companies means that WANDR can focus on what it does best — user experience auditing and testing. A more niche focus also allowed Jinny to shrink her staff from 30 employees to 13, vastly reducing the company's overhead.
In addition to connecting with YEC'ers at private dinners, Jinny went to the group's annual retreat, Escape, last year and plans to attend this year as well. She says she was a bit nervous before last year's event. "I've always battled with imposter syndrome," she says. "When I meet successful entrepreneurs, I always feel like I still have a lot of work to do." But instead of being intimidated, Jinny found that Escape was a catalyst for what she calls a mindset change. "Everyone was so open and welcoming," she says. "I came out of it absolutely loving every moment of the weekend."
Part of her nomadic journey, Jinny says, has involved trying to identify the things that make her happy. "When I went to Escape and met people who are like-minded and who were very supportive, it gave me this big mindset change that, wow, all I have to do is find people like the members of YEC who are really adding value to my life. I went in meeting 40 or so strangers and came out feeling like I had been to a family reunion."