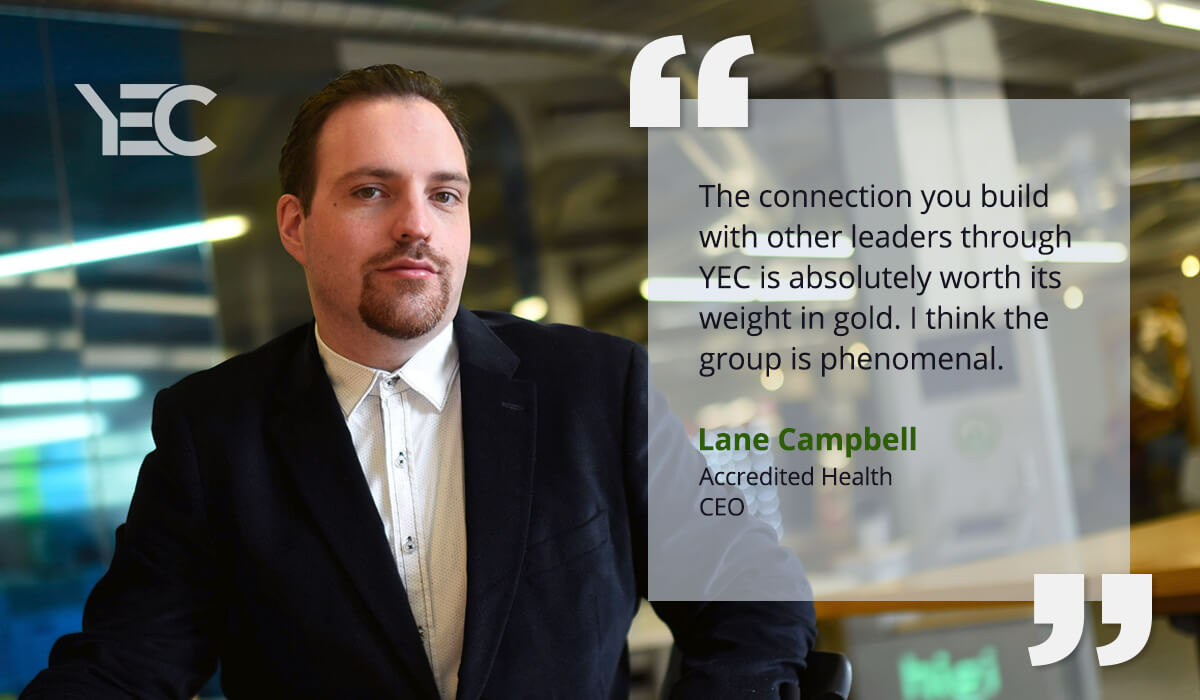 Lane Campbell Finds a Co-founder Through YEC
Lane Campbell is a classic serial entrepreneur. At age 11, he started babysitting and later leveraged his relationships with parents to also provide them with computer repair services. "I always gravitated toward technology," says Lane. At University of Cincinnati, he studied computer engineering but his passion for tech did not translate into enthusiasm for attending classes. "I found myself learning a lot on my own," he says. "I'm what you might call an autodidact." One of his accomplishments: foiling the campus network security. In those days, that skill made him very popular.
Lane graduated in the early days of the recession, but that didn't dampen his passion for entrepreneurship. He moved to Chicago, where there was then very little support for startups, and launched a telecom company. "There was no mentorship, no template, no Lean Startup, nothing," he says. "I got started in telecom without any training, experience, or knowledge."
What he did have was the insight into building a company around VoIP just as the technology was becoming more widespread. He exited the company after four years and moved on to start a consultancy company, Syntress, that built data centers and call centers while also working with the big telecoms. "While I was running that company, I turned it into one of the 250 fastest-growing tech companies in the country for two years in a row," Lane says.
"I think people in YEC are drawn to each other initially because of our affiliation to the organization," says Lane. " Hopefully, I'm a member for the rest of my life because it's a fantastic organization."
But while Lane ultimately realized exits from five companies in seven years, it wasn't always smooth sailing. "I decided I could conquer the world, so I went into the world of building software, which I'd never done before. And it didn't go as well as we'd hoped." A friend whom he had brought on to help build the software burned out and left before the software launched. Lane felt he had done a poor job of setting expectations for the new team, and says they didn't really understand startups. When the product/market fit was not quite right, half of the team quit in one week. Lane says, "I failed to lead properly and I let the team down in the process." While the company, which is in the HR and recruiting industry, still exists, Lane has almost entirely moved on to other pursuits.
"I needed to figure out what I was going to do, so I got into consulting and helping other companies, and just volunteering time," Lane says. "Over the next four years, I helped over 1200 CEOs, co-founders of startups, and other business leaders. It was the world's best MBA! I now had a glimpse into every vertical at every level of every kind of company you can imagine. And I built a great community of people who I enjoy working with."
Lane loves helping other entrepreneurs and says that YEC is "the perfect community for me to express that passion. The majority of my interactions are incredibly positive, and I've made lifelong friends because of it."
Lane is a long-time member of YEC and, earlier this year, he and fellow YEC member Parveen Panwar co-founded Accredited Health, an early-stage medical technology company that Lane says "uses deep learning artificial intelligence to provide better risk analysis for payers and providers." The two have a third partner, Mark Plaskow, who is a specialist and "a very early pioneer in computer vision and artificial intelligence," according to Lane.
"I think people in YEC are drawn to each other initially because of our affiliation to the organization," says Lane. He and Parveen met when Lane, who is based in Manhattan, posted on the YEC online forum that he was traveling to San Francisco and was interested in meeting other YEC'ers. Parveen responded, the two had coffee, hit it off, and kept in touch. "Parveen possessed persistence and understanding of the entrepreneurial process, which is very difficult and stressful and has a lot of bumps in the road," says Lane. "He wanted to partner with us and we're grateful that he did."
Lane loves helping other entrepreneurs and says that YEC is "the perfect community for me to express that passion. The majority of my interactions are incredibly positive, and I've made lifelong friends because of it." And, he adds, "the connection you build with other leaders through YEC is absolutely worth its weight in gold. I think the group is phenomenal and hopefully, I'm a member for the rest of my life because it's a fantastic organization."