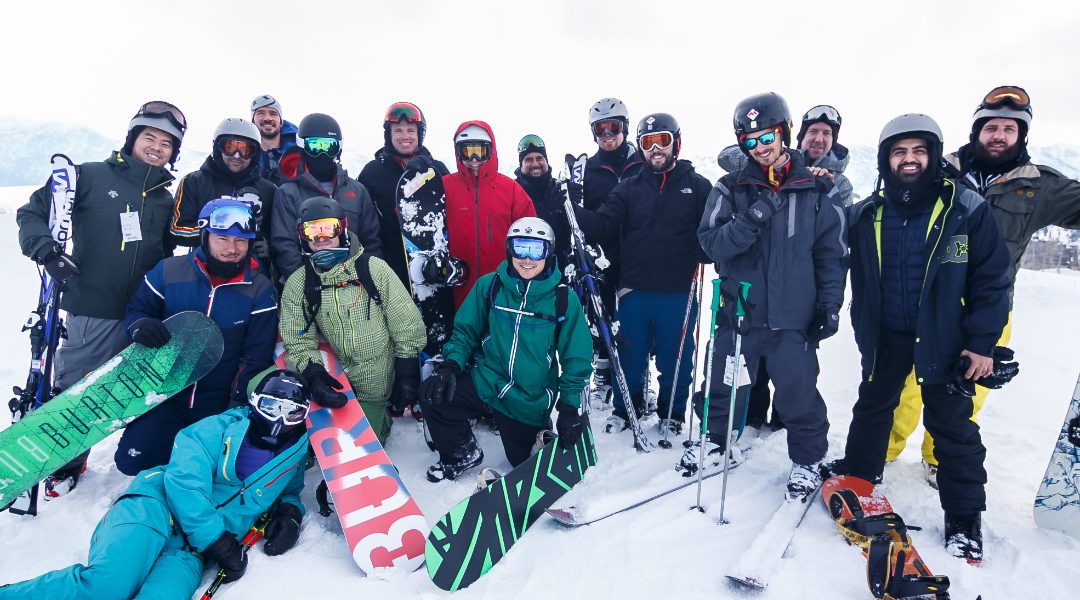 YEC Escape to Powder Mountain: Winter 2017 Recap
In what has become an annual tradition, just over 60 YEC members spent time at Powder Mountain in Eden, Utah recently for the third YEC Escape. It was a weekend full of fun events, great food, deep conversations, and connections that will last a lifetime.
YEC Escape is a three-day retreat designed to inspire members and build deeper connections than can be created in just one evening. The long-weekend event is limited to a set number of members to allow for meaningful conversations during meals, skiing, workshops, and throughout the weekend as a whole.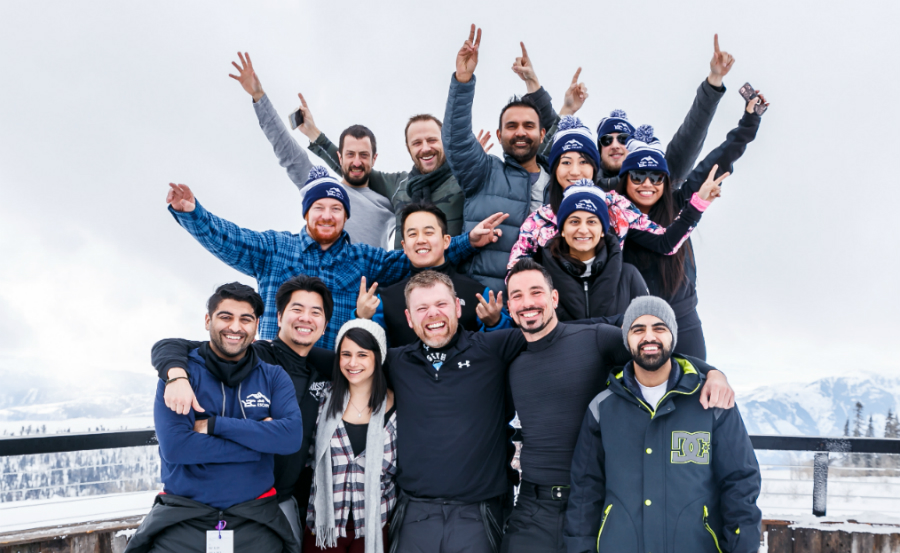 A few YEC members joined the group for the third year running, including Michael Dash, Rebecca Bamberger and Joshua Golden, and roughly 50 percent of folk who were with us in 2016 came again this year (including Will and Laura Land, Bobby Emamian, Betsy McHugh, Jeff Cayley, Ian Blair, Jesse and Lindsay Kolber, Patrick Barnhill and more). Newcomers included Laura Mignott, Corey Hoffstein, Melinda Nicci, Zain Hasan, Kate Hancock, Rebecca Devaney, Colt Parsons, and Andrew Krebs-Smith. Everyone who joined team YEC – including co-founders Ryan Paugh and Scott Gerber – on the mountain provided a new and interesting perspective on life and business.
Gallo Winery (Dark Horse Wine, La Marca, New Amsterdam Vodka) and Beam Suntory generously provided drinks and sponsorship for the weekend while joining everyone on the slopes. Celebrity Chef Kat Turner created exquisite menus for each meal throughout the weekend as well, crafting dinners including miso marinated salmon, pork belly and polenta, roast leeks and more. YEC member Ian Blaire's company Buildfire even built an app specifically for the weekend – a YEC Escape event app used by members to stay informed and connect.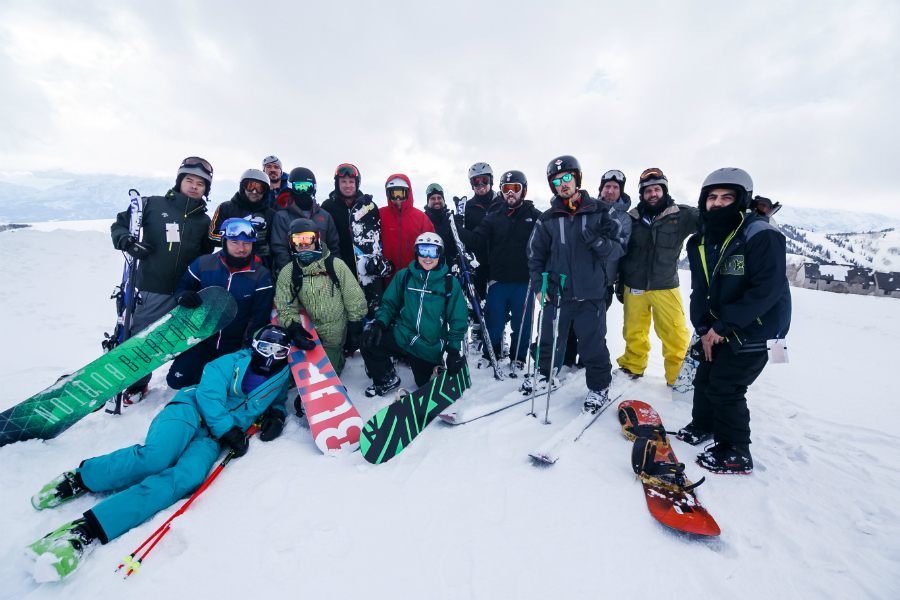 The weekend was divided into three parts, with advanced skiers and snowboarders arriving early on Friday in order to settle in and hit the slopes. Programming that night started at 6 p.m., with Gallo Winery hosting a wine and cocktail hour featuring their Dark Horse wines along with La Marca Prosecco.
Day One
As event alumni reunited and welcomed new guests to the strong bond that each #YECEscape creates, members made their ways to curated table assignments to begin programming. To kick off dinner, YEC co-founder Scott Gerber welcomed guests, thanked our partners at Dark Horse, and introduced Chef Kat Turner who presented the family-style menu for the evening. (You can see pictures from the delicious meal, which included sliced rib eye in chimichurri sauce and Asian pear, fennel and celery slaw along with full-bodied Dark Horse wines, here.)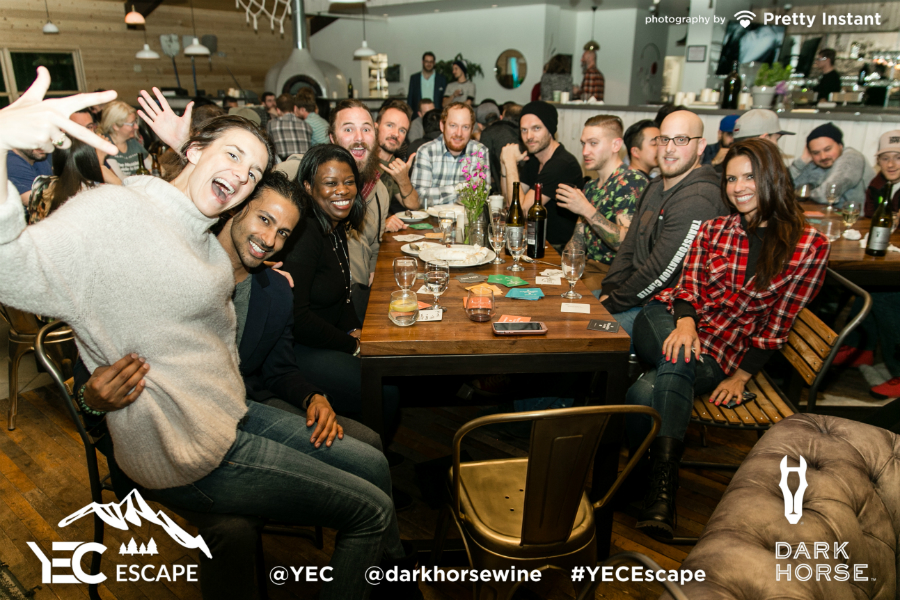 As dinner finished up, member and speaker Corey Blake of Round Table Companies spoke about the personal side of business,and how taking risks, being vulnerable, and sharing these experiences with others can create a true opportunity to connect. After his speech, the group then practiced the philosophy by participating in the story-driven card game Vulnerability Is Sexy to dive deep into both good and bad experiences of the peers around the table.
Day Two
On day two, guests rose early to either hit the slopes or relax in the breathtaking Sky Lodge, which delivers 360-degree views of Utah mountains. An amazing breakfast spread was paired with La Marca mimosas to jumpstart the festivities.
Toward the afternoon, members gathered in the sunken yurt at Sky Lodge. There, the "Giftology: Top Ten Relationships" fireside chat featured author and entrepreneur, John Ruhlin. Scott facilitated the chat by covering topics such as the do's and don'ts of gifting, and how to greatly affect your business by following these proven strategies.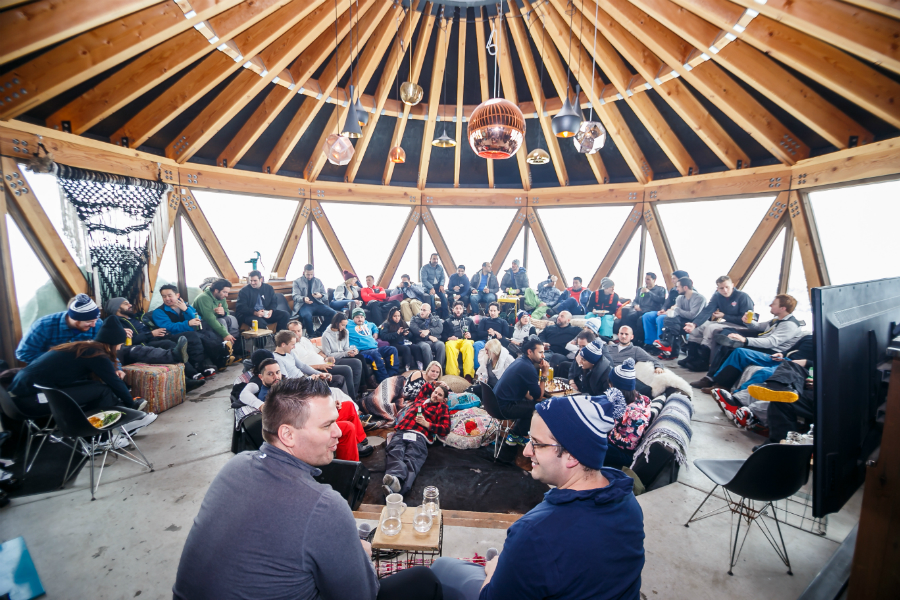 The chat covered the following tips from John, founder of a gift strategy and logistics company, including the fact that timing is everything; the gift is for the recipient or their inner circle of family, friends, or employees, so don't brand it with your logo or anything that has to do with you (think about them and personalize it that way); and a reminder to be genuine in your motive (although ROI can be measured in gifting, it should begin with a genuine interest in and connection with the person rather than simply a business gain).
This fireside chat was followed by a venue switch to the stunning lake house below the mountain. The main floor boasted a high-end chef's kitchen, large window seating, an outdoor hot tub, and more upstairs. Downstairs members mingled in a large entertainment space featuring a full bar and a performance stage, as well as a sauna and ashram yoga studio.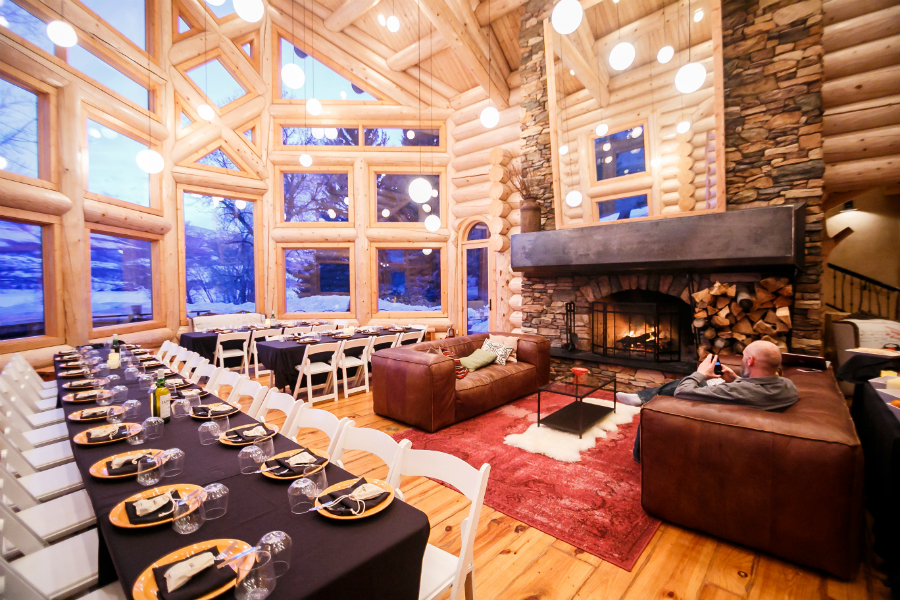 While guest took part in various wellness activities outside and in the yoga studio, the lake house was transformed into the ultimate evening venue for dinner. A flight whiskey tasting and dinner was hosted by our partners at Beam Suntory, where whiskey ambassador Gardner Dunn worked with Chef Kat Turner to pair their Maker's Mark with miso pork belly, scallops, and beet pickled cauliflower over a coconut curry cauliflower puree.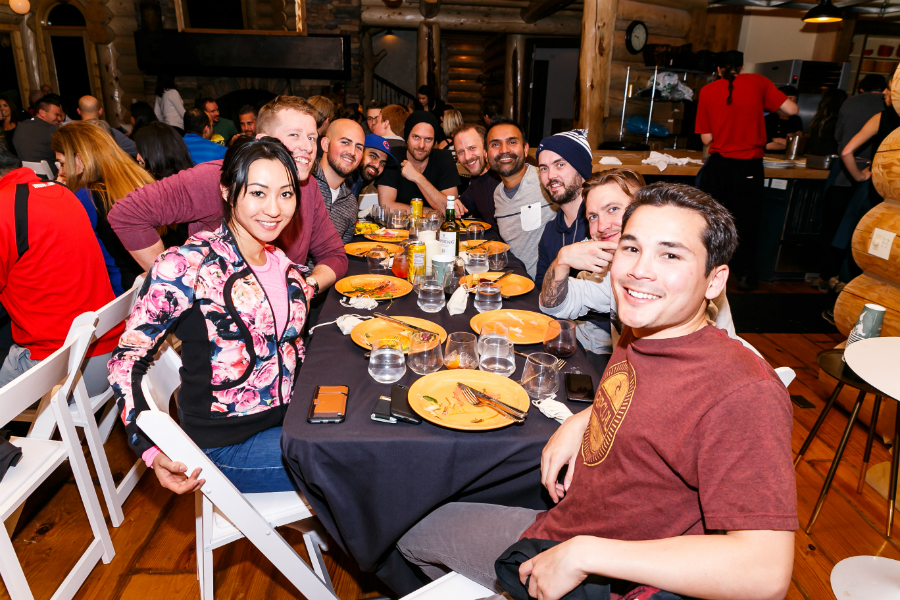 The meal was closed with a spoonful of fresh chocolate with salted sprinkles to complete the curated spread.
After the exclusive tasting, the group relocated downstairs where local indie pop band Spirit City began their original and cover sets. While some guest gathered in front of the band, others were by the Beam Suntory bar choosing from a wide array of specialty cocktails such as Hornitos Paloma, Makers and Ginger, Hibiki Hot Toddy, Auchentoshan Lemon Tell You Somethin' Honey, and the Laphroaig Penicillin.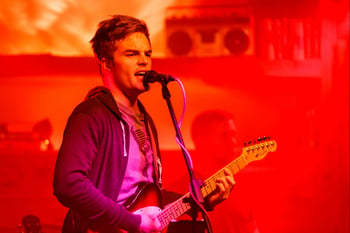 Day Three
On day three, members enjoyed a breakfast bar up at Sky Lodge. While some hit the slopes to ski and ride, others simply relaxed among the beautiful scenery.
Since pre-event surveys indicated that many members were interested in writing a book about their experiences, the content selected for the day's Fireside Chat was about why every entrepreneur should write a book with Zach Obront of Scribe Media. YEC Founder Scott Gerber facilitated again, touching on the reasons why one should write a book, how to go about it, and what your strengths are when it comes to content creation, which can give you inspiration for the topic of your book.
Afterwards, members headed outside for Beam Suntory's exclusive Whiskey Run. Beam offered a mini bottle of 12-year old Suntory Hakushu Single Malt Whiskey for guests who volunteered to participate in this competitive fun.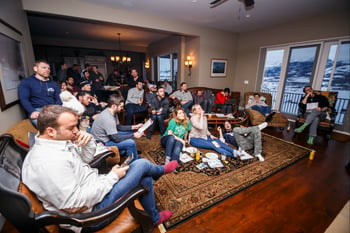 Members were then invited to team YEC's multi-level house, which was comprised of several seating areas, a theatre room and all of the game day snacks one could hope for during Super Bowl LI. As Patriots and Atlanta fans debated the gameplay, others enjoyed views of the mountains, the warmth of the hot tub, and the connections that had grown throughout the weekend. The party lasted well into the next morning as the weekend-long retreat came to and end.
The final morning saw members exchanging info and saying goodbye over the farewell breakfast, back where it all kicked off at the beautifully designed Bower Lodge. Guest checked-out, and could either use this day to hit the mountain for one last time or begin their travels home. This was the end of #YECEscape, but the beginning of many new, lasting connections.
For all of the pictures from the weekend — taken by our wonderful partners over at Pretty Instant — visit photos.yec.co. You can also read about last year's YEC Escape here.