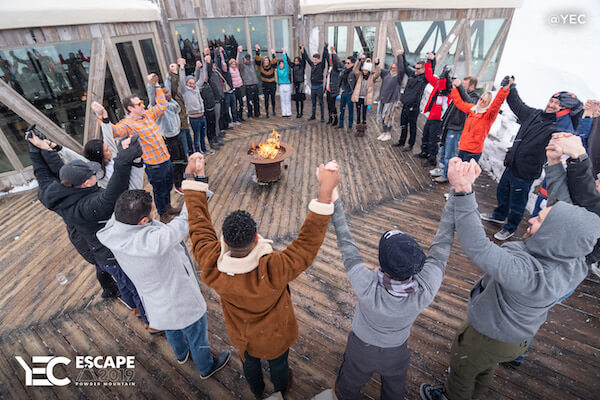 YEC Escape to Powder Mountain: Winter 2019 Recap
YEC Escape is our biggest event of the year — a retreat where members share ideas, solve business challenges, and forge friendships. This year marked our fifth annual Winter Escape. We retreated to a private mountain in Utah to focus on four pillars of wellness: financial, mental, physical, and spiritual. Check out our recap of the weekend, from which YEC members left as better leaders, family members, friends, and individuals.
Friday - Arrival
YEC Escape kicked off as members arrived at Skylodge, a ski-in, ski-out venue with a stellar view of the mountain landscape and a communal vibe.
Each guest received a name badge with stars to indicating how many Escapes they have attended. We had newcomers, alumni who have never missed an Escape, and every number in between. For the first time, the majority of the group were new to Escape! Some hit the slopes right away, while others hung out in the lodge getting to know one another.
The weekend's programming began with a welcome dinner. YEC co-founder Scott Gerber spoke on the importance of community and wellness for entrepreneurs. Scott introduced the YEC team, the Summit Powder Mountain team, and Finn Kelly, member liaison, facilitator, and one of the wellness speakers for the weekend. Dinner was accompanied by live music from Sarah Degraw.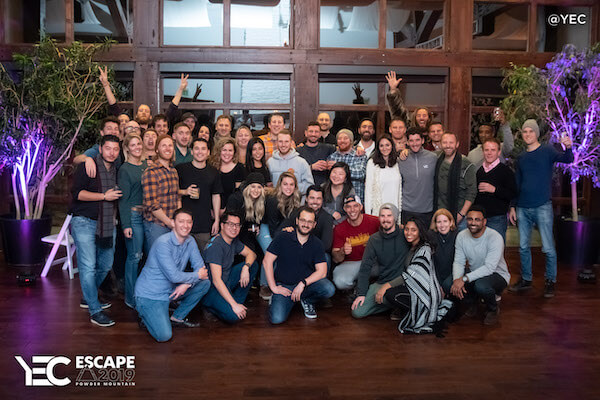 Saturday - Financial & Mental Health
Saturday commenced with breakfast and time on the slopes skiing, snowboarding, or snowshoeing.
Afternoon and evening programming focused on the importance of paying attention to financial health and mental health. When you are a professional at the top, with company, family, and friends all counting on you, it's important to face, share, and conquer challenges alongside others who can relate.
Finn led the financial content in the afternoon. He spoke about financial freedom and how it affects health, how to prioritize and create purpose for your money, and making the most of time.
In the evening, Reid Tomassi led a breathwork class, helping the group to focus on presence and control for stress relief and relaxation. Then, just before dinner, a panel of YEC members (Michael Dash, Erin Valenti, Max Coleman, and Finn Kelly) discussed mental health issues. Topics included addictions (to work, social status/ego continuity, substances, etc), burnout, drawing on community strength, and maintaining a positive mental state.
After the panel and dinner, Simply B (Brandon "B" Barker) provided live music during dessert, drinks, and connection-building.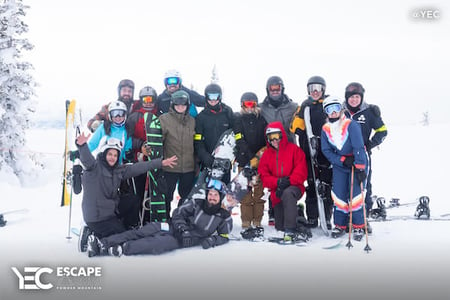 Sunday - Physical & Spiritual Health
Sunday included a choice of activities: more time on the mountain, or some engaging animal encounters. Members could choose to interact with and admire the calm of owls and hawks, or to play with and cuddle puppies from a local adoption center.
Afternoon content focusing on physical health and spiritual awareness was led by Jacy Cunningham. Throughout the weekend, Jacy established a powerful space for authentic human connection. He put participants through some physical workouts and meditation, creating moments for vulnerability which led to some emotional breakthroughs.
After letting it all go, members chose among rejuvenating experiences at the Wellness House including massages, reiki, and yoga.
During Sunday dinner, we celebrated our appreciation for all the members who make YEC the amazing organization it is. Everyone sat together at one table — yes, one very, very long table — strengthening friendships formed over the weekend.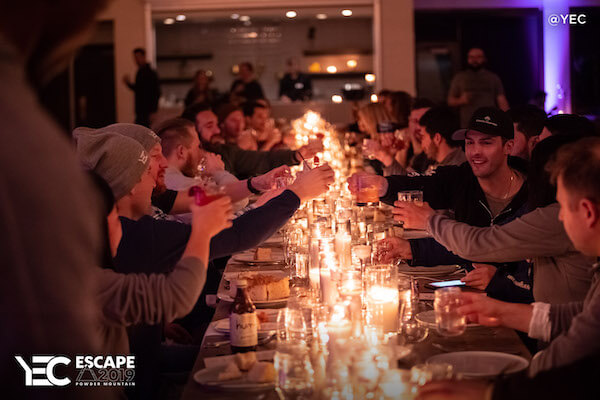 Monday - Departure Day
Monday's informal farewell breakfast concluded another successful YEC Escape, and members headed back to their respective cities, businesses, and families to continue on their journeys as entrepreneurs and as humans.
Check out all of the amazing photos from this event here, and plan to join us next year at YEC Escape!