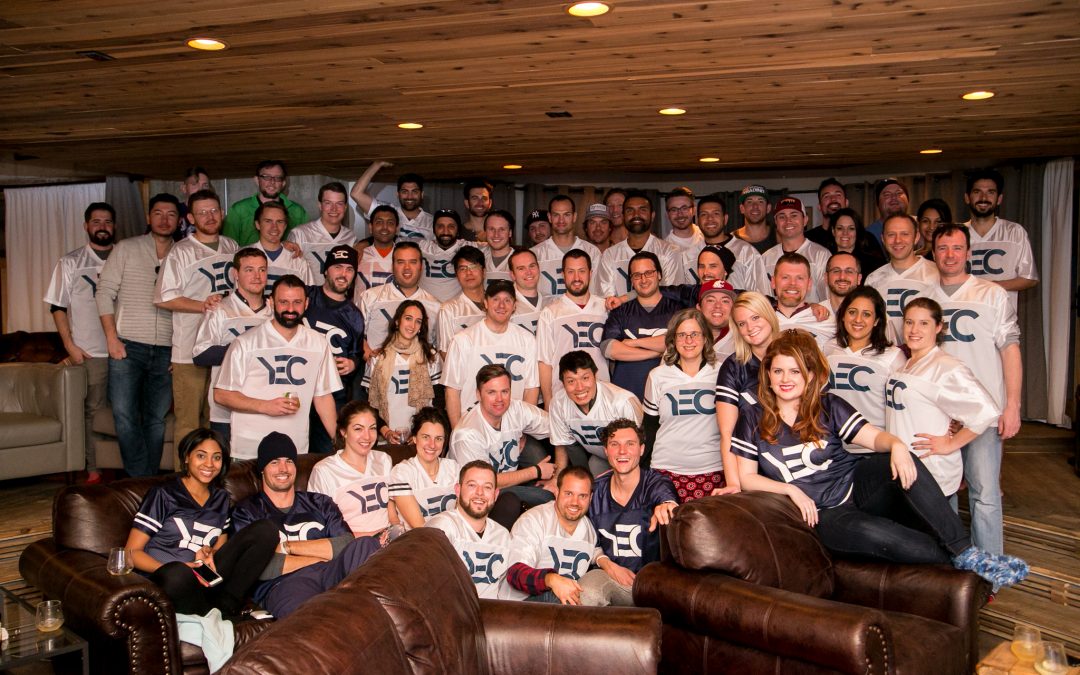 YEC Escape to Powder Mountain: Winter 2016 Recap
In early February, 53 YEC members gathered in Eden, Utah for the second annual YEC Escape. A weekend full of winter adventure, members had the chance to build both personal and business relationships -- and more importantly, cultivate authentic friendships over good food and great scenery.
"It was dreamlike to be in such an amazing place with such amazing people. I have a permanent smile thinking about the trip and the people I was able to get to know and spend time with," said Jeff Cayley, CEO of Worldwide Cyclery.
The weekend opened on Friday February 5th, with many of the Escape crew arriving early to settle in and hit the slopes of Powder Mountain. Guests were welcomed in at Valley Lodge, where they received their YEC Welcome Swag Bags. These contained YEC branded items and customized gear for each member. All swag was sponsored and provided by YEC member AK Kurji's company, BrandNex.com.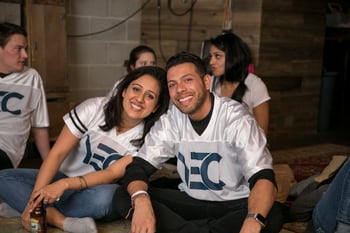 Following check-in was the opening event, a cocktail hour and dinner where YEC Founder and CEO Scott Gerber welcomed everyone to the weekend retreat. The mood was excited -- when else are amazing young entrepreneurs running successful companies really able to let go amongst themselves in such a setting? Members in attendance included YEC Escape alums Matthew Moisan, Nina Ojeda, Beck Bamberger, Daniel Matishak and first-timers Charles Gaudet, Jeff Cayley and Mona Patel among others.
Saturday started early, as many members woke ready to ski and snowboard. The majority of the day was held at the Sky Lodge, a uniquely constructed, modern yurt overlooking the entire mountain. When people weren't out on the slopes they were inside the lodge listening to featured speakers. Speakers were fellow YEC members talking about important issues in entrepreneurship and business.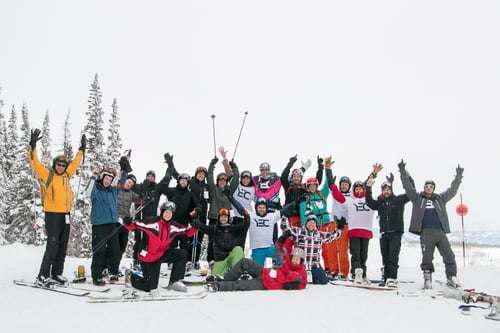 The first was Sumi Krishnan, President and CEO of K4 Solutions. She spoke about women and diversity in business, an issue close to the hearts of everyone in YEC. The second speaker was Patrick Ambron, Co-founder and CEO of BrandYourself.com. Ambron spoke about security and preventative measures that high-level executives can take to lower risk.
Along with educational content was healthy food, rides on the Cat through the snow, and hanging out with birds of prey in the Sky Lodge. As well, there was a surprise visit of puppies to encourage smiles and laughter among the guests.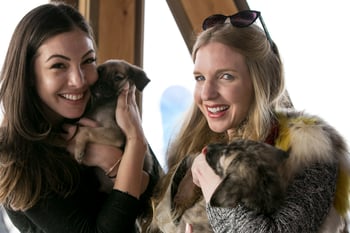 Dinner was served at Timberline lodge by the YEC team as a token of appreciation to members for being a part of the YEC family and this magical weekend. After the healthy meal, the up-and-coming band Spirit City took over the PowMow bar, Powder Keg. The band -- which has opened for Third Eye Blind -- performed both well-known covers such as popular hits by Talor Swift and original material just for the Escape group. They were a huge hit, playing more sets than originally anticipated by hard demand from the crowd. As a nightcap, YEC members enjoyed drinks and s'mores over a bonfire, and some continued the night by congregating at their cabins in game rooms or hot tubs.
Sunday the 7th was SuperBowl Sunday. The sunny, powdery day began with a delicious breakfast spread and mimosas, and continued with in-depth fireside chats. Speakers included Gerard Adams, co-founder of Elite Daily, who walked us through his journey of selling his company for $50 million, and John Hall, CEO of Influence & Co, who spoke on the new landscape of media.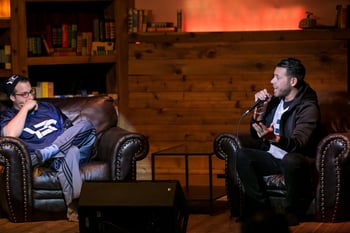 Up next was Super Bowl 50, where the Dever Broncos beat the North Caroline Panthers and no one looked better than the YEC group. Everyone showed up to the game in their individually customized jerseys emblazoned with the YEC logo and their names. As well, each jersey featured the number 10 to symbolize the founding year and birth of YEC.
YEC members modeled white jerseys and the YEC team stood out representing the company's main color, navy.
Following the SuperBowl, YEC members played the "Newlywed Game," in which married co-founder pairs -- along with co-founders Gerber and Paugh -- were quizzed to see who knew their partner best.
Monday was the final day of YEC Escape. Fellow YEC 'ers -- now also friends -- met up for the last time to close the weekend at The North Fork; a one-of-a-kind Powder Mountain restaurant. Rather than say goodbye, people said "see you later" and made plans to meet up again soon. A few members even stayed a while longer, squeezing in one last day on the slopes before dispersing around the country.
Overall the event was a success, with members making lasting, deep connections. The phrase "life changing" was being used emphatically by a few, and next year's retreat can't come soon enough. For more pictures from the event, check out photos.yec.co.
"What a wonderful weekend. Thank you YEC for an amazing experience. I know the personal connections and friendships developed over the weekend will continue to impact my life for years to come. Can't wait for next years event," said Joshua Jeffries, Principal of Arkin Youngentob Associates, LLC.