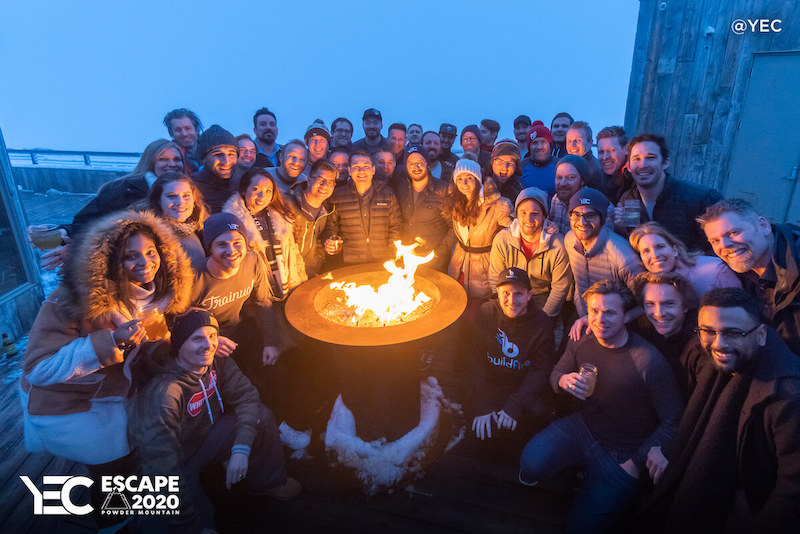 YEC Escape to Powder Mountain: Winter 2020 Recap
For our sixth annual YEC member retreat at Powder Mountain, we gathered over 50 member entrepreneurs for a winter getaway — to "Escape" for a weekend of learning, camaraderie, growth, and fun.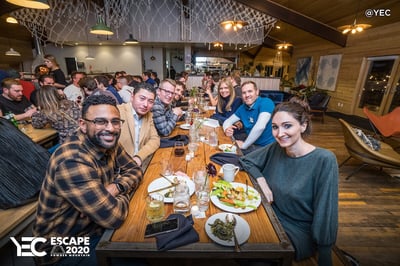 Thursday – Mountaineers Arrive
For members who wanted extra time to hit the slopes or connect with others, the "Mountaineer" package allowed early arrival on Thursday. Some of the early arrivals connected for the first time, while Escape alumni reconnected, as they do year after year. While many were ready to take on the powder, others preferred a day in the lodge, so the YEC team was there to welcome everyone and offer first access to appointment slots for business consultations, massages, and more opportunities throughout the weekend.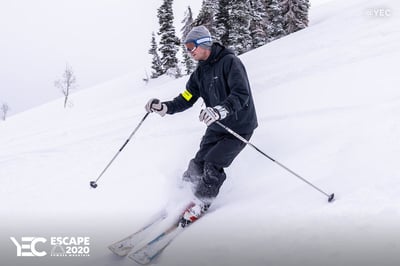 After a day of mountain activities and bonding, the group gathered for a "Pizza and Pints" dinner featuring a live band; a delicious variety of custom flatbread pizzas, wings, salads and fresh vegetables; and an open bar with local varietal beers, wine, and signature cocktails. This first dinner provided a casual and friendly atmosphere to jumpstart the weekend.
Friday – Official Retreat Start and Welcome Dinner
Friday marked the official start of YEC Escape. The welcome reception was held at Bowder Lodge, a community-friendly venue designed to be open, comfortable and inviting. Each member donned a name badge with stars indicating the number of YEC Escapes they had attended. Then, in a rousing name of "Blackout Bingo," each guest attempted to find out which facts on their bingo cards matched whom, while meeting as many of their fellow attendees as possible.
The first three winners to fill their boards won a surprise experience — partaking in a "shot ski" that carried "Dark and Stormy" shots.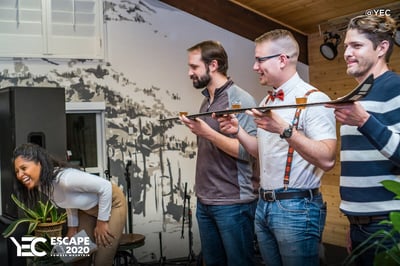 To formally begin the weekend, YEC co-founder Scott Gerber welcomed the group. He spoke on the importance of community for entrepreneurs, how to navigate all the content-focused offerings throughout the weekend, and the value of YEC as an extended family devoted to the continued success of each member. Scott also introduced the rest of the YEC team; the co-organizers at Summit Powder Mountain; our YEC coaches and lawyer; and the highly respected executive chef for the weekend, Harutaka (Haru) Kishi.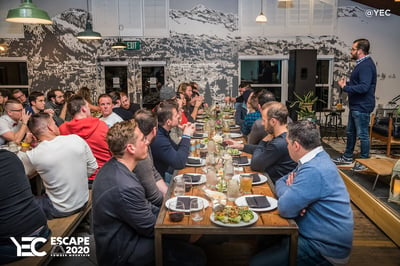 Haru and his team prepared family-style dishes that were health conscious and delivered abundant flavor and indisputable presentation. The culinary team took our guests' dietary restrictions, aversions, and allergies into consideration and provided a varied, thoughtful menu. As the group enjoyed each course, members used ice-breaker topic cards to spark conversations before retiring to their lodgings.
Saturday – Getting Down to Business, Powder, and... Snakes?!
Saturday began with a variety of choose-your-own-escape options after breakfast. From mountain activities to massages to an animal experience (handling six-foot-snakes!), there was something for everyone. Members could also meet with a YEC coach to discuss business pain points or our attorney for legal consultations.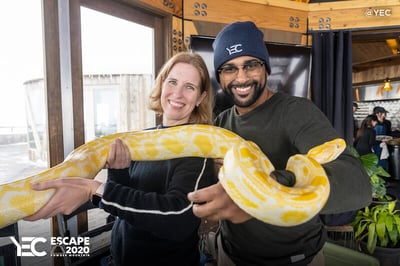 Saturday afternoon was dedicated to thought-provoking sessions held in the stunning Sky Lodge, a multi-yurt space with floor-to-ceiling windows, views overlooking the mountains, and lounge pillows galore.
Prior to arrival, members participated in a personality trait survey to reveal unconscious motivators. The first session of the afternoon was spent in discussions of each motivator and its effects on leadership style, the ability to communicate with a team, and the overall success of a business.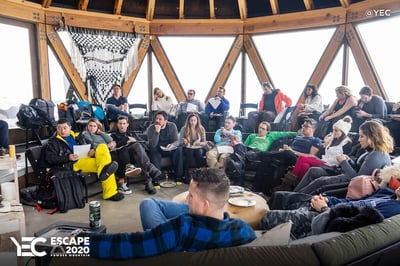 Once each member understood their motivators, YEC coaches Charlie Gaudet and Stephanie Vaughan led a session entitled, "Scaling to your Next Million and Beyond." This focused on how most entrepreneurs face at least one of the following three problems, and provided action items to combat each one:
The business is too dependent on you and you need to scale beyond yourself;
The business isn't growing fast enough;
The lack of consistency in business growth; the need to increase predictability.
After the afternoon's focus on business, Saturday evening was all about entertainment.
Haru's culinary team provided a pop-up bar experience featuring local whiskey cocktails and offered their staple bone broth as a teaser before dinner.
While the sun set over the mountains, the group gathered outside on the Sky Lodge deck around a grand fire pit, celebrating newfound fellowship after a successful day. Dinner was served at intimately grouped tables to encourage deep conversations.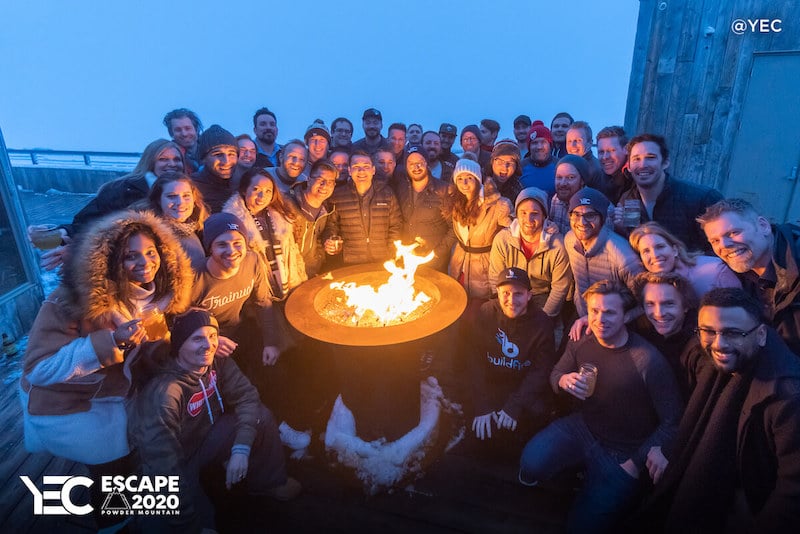 Before the conclusion of dinner, the YEC team and members Amy Stellhorn and Michael Dash ensured that the life of the late Erin Valenti was remembered and honored, with a tribute and toast to all that she stood for. In her memory, the group enjoyed an evening of free-heartedness, dancing the night away to a live DJ in the Powder Keg lounge as Erin had done just last year.
Sunday – Brunch, Content and Bounce
On Sunday, members were poised to return to their businesses and lives as 2.0 versions of themselves. But first, they gathered for a comprehensive brunch spread and another session packed with valuable information on a topic imperative for every entrepreneur – Recession-Proofing Your Business.
Prior to a recession, people aren't aware of where the challenges or problems that may exist in their business. However, once a recession hits, buyers become far more discerning, and companies need to be more strategic. Sunday's morning session discussed the changes needed to ensure that a company survives when the market changes. At the beginning of 2020, there are already early signs of a potential economic shift. Each entrepreneur was asked how they're preparing to weather and grow during a different economic climate, and our coaches provided proven strategies for thriving through a downturn in a collective and contributable fashion.
After this final content session, members began to head home, but relationships continued to brew, even during rideshares from the mountain.
YEC Community
Each year members come together for a variety of reasons and with a variety of backgrounds and experiences. YEC aims for all to leave with one common takeaway: Community is as powerful as you empower it to be, and whether you are encountering a challenge in life or in business, your community often holds the key to a solution.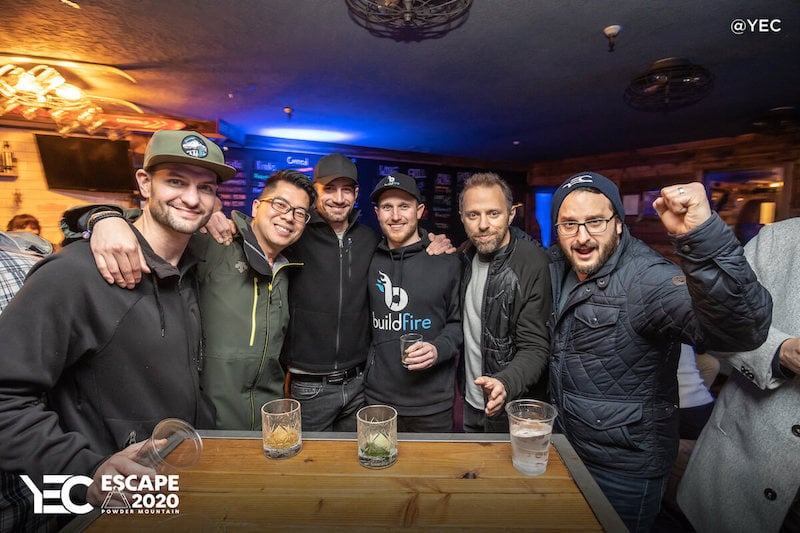 Check out more amazing photos from YEC Escape 2020 by Pretty Instant here. If you're a YEC member, pre-register to be kept in the loop for our next winter Escape here!