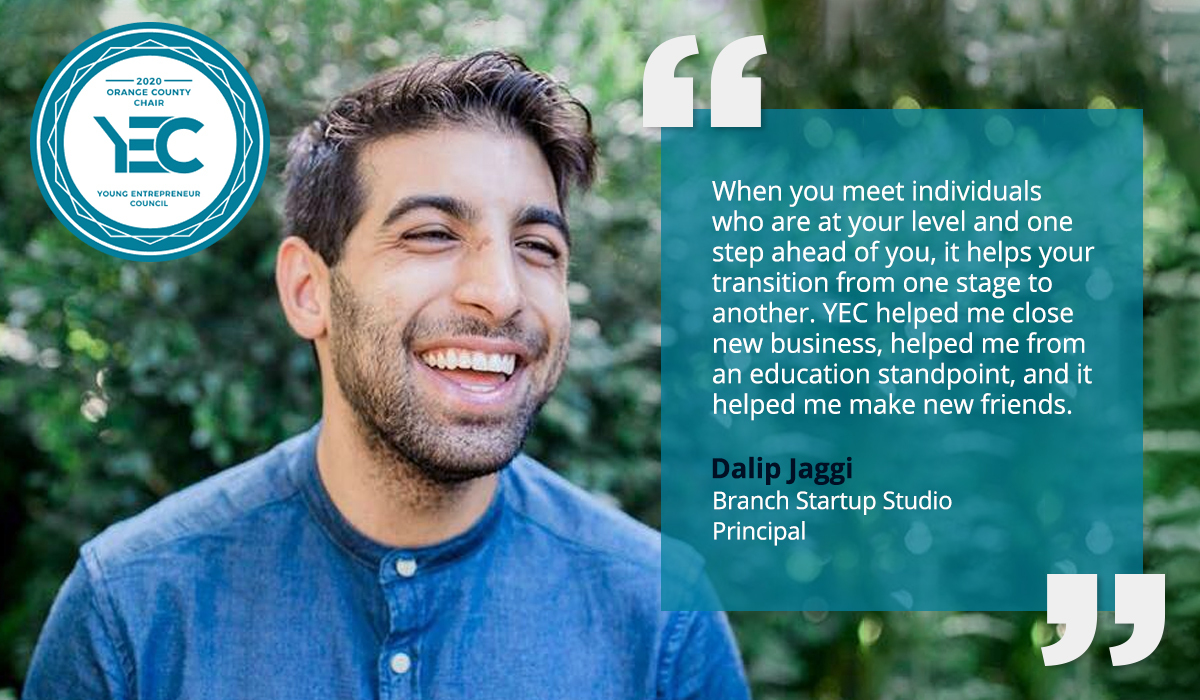 Dalip Jaggi is the YEC Orange County Chair
Young Entrepreneur Council is a highly selective membership community of entrepreneurs under 45 whose companies have revenues or funding of at least $1M. The YEC Groups program is a new initiative designed to better connect and engage members through the creation of micro-communities based on location, industry, identity, and interests.
Each group is led by a volunteer chair, hand-selected by the YEC team for outstanding leadership in the community during his or her membership tenure. All chairs share one common trait that we believe makes them exceptional: a people-first mentality with regard to relationship building, heavily invested in giving more than is expected in return.
---
Even before he was selected as YEC chair for Orange County, Dalip Jaggi was committed to gathering and nurturing the YEC community in his area. As part owner of a farm-to-table restaurant in Anaheim, he often hosted dinners because "I like bringing people together and I like the idea of networking. So when I heard about the chair opportunity, I thought 'why don't I channel that energy in a way that serves YEC well?'" When in-person gatherings become possible, he's considering an event at local speakeasy where attendees can learn how to make cocktails. "If we're able to bring individuals together in a setting where we're doing something interactive, connections get formed at a very intimate level," Dalip says. "I would love to accomplish that."
In December 2018, Dalip sold Devise Interactive, a brand-focused engineering studio that he founded and ran for five years. A year later, after fulfilling his commitment to the acquirer, he was eager to start the next phase of his entrepreneurial journey. "I started Branch Startup Studio," Dalip says. "We partner with existing CEOs who see an opportunity in the market — who see their clients' pain points — and we partner with them to build a whole new company to solve that problem." The partner CEO provides startup capital and industry expertise, while Branch operates the new company and shares revenue and ownership.
Branch's first venture is a real estate finance company called Revive, started with an Orange County real estate professional. "We're five months into it and I'm really trying to make this a good case study, and then I'll be showcasing Branch in my local market."
"I like bringing people together and I like the idea of networking. So when I heard about the chair opportunity, I thought, 'why don't I channel that energy in a way that serves YEC well?'"
To find the right CEO partners, Dalip says "there are three different workshops that I take every client though to validate their idea. And there are 21 questions I ask to make sure I'm the right fit for them. We want to maintain and manage all business functions and run with it for 12 months." The partner, he says, plays an active advisory role in the new business. The idea is to build a revenue-generating business quickly, while reducing risk.
Dalip has also leveraged his entrepreneurial know-how in the non-profit sector. In 2013, he co-founded Forge54 with fellow YEC member Torrey Tayenaka. It's an annual skilled giving weekend that gives a selected non-profit an entire marketing makeover by leveraging the expertise of 150 professionals over 54 hours.
"We're able to do video, commercials, PR campaigns, social media, logo websites, mobile apps, you name it," Dalip says. They get all this collateral, and generally it's been about a half million dollars in donated services over that weekend. We've done it seven years in a row and it's the most amazing experience." Among the recipients of Forge54's program are a local food bank, a non-profit that builds wells in Uganda, and an organization that provides services for the homeless.
It was Torrey who put YEC on Dalip's radar several years ago. "He was part of YEC and has always mentored me and been a great friend," says Dalip. "He would rave about it, so right when I hit a million dollars in revenue one of the first things I did was apply to YEC." His fellow members have helped him grow his businesses. "When you meet individuals who are at your level and one step ahead of you, it helps your transition from one stage to another," he says. "YEC helped me close new business, helped me from an education standpoint, and it helped me make new friends."