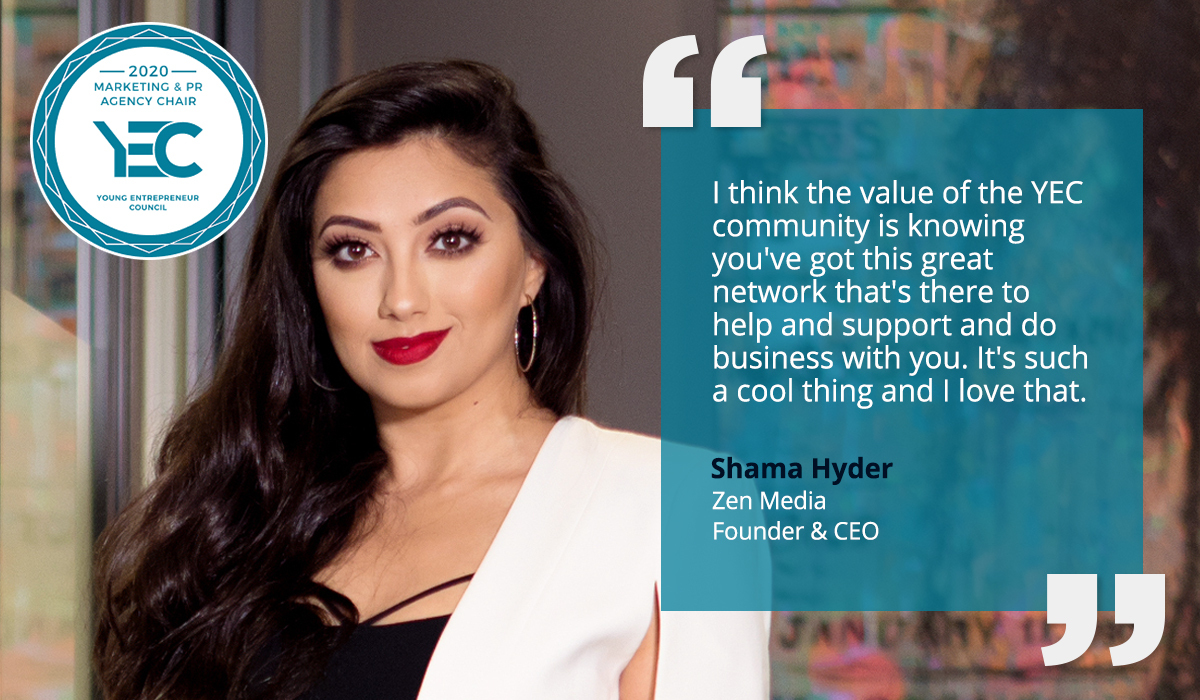 Shama Hyder is the YEC Marketing and PR Agency Group Chair
Young Entrepreneur Council is a highly selective membership community of entrepreneurs under 45 whose companies have revenues or funding of at least $1M. The YEC Groups program is a new initiative designed to better connect and engage members through the creation of micro-communities based on location, industry, identity, and interests.
Each group is led by a volunteer chair, hand-selected by the YEC team for outstanding leadership in the community during his or her membership tenure. All chairs share one common trait that we believe makes them exceptional: a people-first mentality with regard to relationship building, heavily invested in giving more than is expected in return.
---
As YEC's marketing and PR agency group chair, Shama Hyder says she's "excited about fostering more alliances among YEC companies. In uncertain times, alliances matter more than ever." Virtual events are already scheduled, but Shama looks forward to the time when she, along with husband Partick Barnhill (YEC's Miami Chair), can host live events at their home.
A pioneer in her industry, Shama wrote her graduate thesis on Twitter back when the platform had only 2,000 users, and then founded one of the world's first social media marketing companies, Zen Media, in 2008. "We have a lot of credibility in the industry, and a lot of experience, so there's almost no challenge we haven't tackled," Shama says. Her company's sweet spot, she says, is "the idea that if a company has a moment — whether it's a leadership change, closing a round of funding, or someone wants to exit — we're amazing at providing momentum and making that go viral."
Shama says that the key to Zen's success is what she calls the SAM method, which stands for story, amplify, and measure. "We help our clients get crystal clear on their story," she says. "Then we amplify that using social and new media platforms, and then we measure so that we know what's working and where we need to pivot."
As YEC's marketing and PR agency chair, Shama Hyder says she's "excited about fostering more alliances among YEC companies. In uncertain times, alliances matter more than ever."
"One of the things I've always been good at is being able to see beyond the bend," says Shama. Just as she saw that social media would ultimately become an integral element of how we work and live, she also predicted that the virtual workplace would become more prevalent. Zen, which now has 25 employees, has always had a remote work policy. So when the COVID-19 crisis hit, "we didn't miss a beat because our infrastructure was already in place," Shama says. "We're actually busier than we've ever been. Where digital may have been nice to have, now it's becoming primary and I think that many industries are recognizing this as a moment that separates companies from their competitors." She suggests that companies:
Consider virtual events. Some of Zen's clients have pivoted from live events to virtual events and are increasingly the attendees tenfold. Top-notch speakers are easier to land, she says, because people aren't as busy and don't need to travel. "We're able to get influencers for clients that otherwise would just not be available," Shama says.
Rethink priorities. "Focus on the things that you always put on the backburner, because you will never have a better moment than this," says Shama. For instance, that brand rehaul that's been on deck for months could now be a priority.
Reevaluate resources. "I've had clients say that they're freaking out because they can't attend trade shows," says Shama. "But why do they go to the trade shows and who's the audience? When you dig a little, you find the answer is 'because we've always done it that way,' and not necessarily because it was the best ROI. So now is a really good time to revisit what's important.
Shama was one of YEC's first members. "I think the value of the YEC community is knowing you've got this great network that's there to help and support and do business with you. It's such a cool thing and I love that." The ROI of membership has been very high for Shama. "I met my business coach, Charles Gaudet, through YEC and he really helped me change a lot of things in my business," she says. Her closest friends are YEC members and she even met her husband at YEC's Escape event. She's also active on the online forum. "No matter what question you have, that community is there for you," she says.