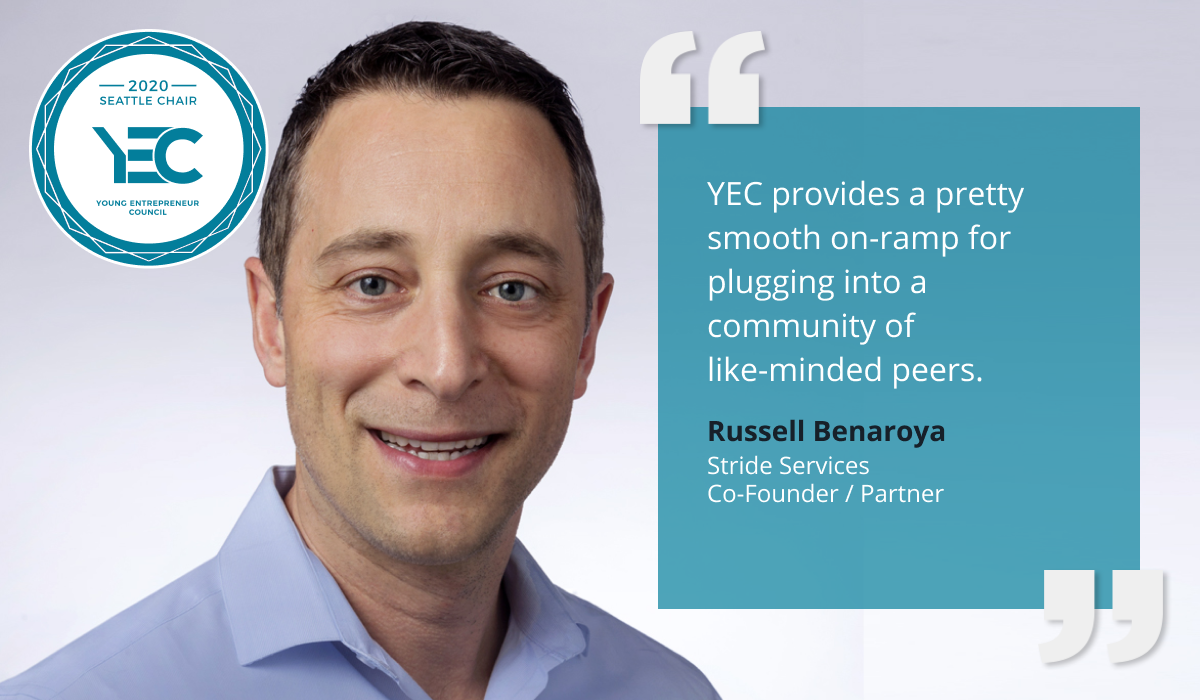 Russell Benaroya is YEC Seattle Group Chair
Young Entrepreneur Council is a highly selective membership community of entrepreneurs under 45 whose companies have revenues or funding of at least $1M. The YEC Groups program is a new initiative designed to better connect and engage members through the creation of micro-communities based on location, industry, identity, and interests.
Each group is led by a volunteer chair, hand-selected by the YEC team for outstanding leadership in the community during his or her membership tenure. All chairs share one common trait that we believe makes them exceptional: a people-first mentality with regard to relationship building, heavily invested in giving more than is expected in return.
---
Russell Benaroya is ready to hit the ground running as YEC's Seattle chair and is eager to "start building some energy around the group." A partner at Stride Services, Russell joined YEC because a friend who is a fellow member, Shirin Oreizy, kept telling him that she thought the community would be of tremendous value to him. "My goal as chair is to create a bit more connectivity locally so that we get comfortable knowing each other as human beings, not just what we do professionally," he says. "And I'd love for this to be the nucleus of starting to attract more YEC members, whom we can support through value-added events that are fun."
A serial entrepreneur, Russel was involved in several healthcare-related startups, including a chain of sleep disorder clinics, before he and two partners, Eric Page and Raja Kapadia, purchased the company that would become Stride. The company provides outsourced bookkeeping, accounting, and HR services to entrepreneurs — back-office functions that are essential to every growing company, but ones that tend to be neglected because they're not particularly exciting. "We had all been operators and entrepreneurs for the past 15 years and we really wanted to get into a business where we felt we could be of service to helping other entrepreneurs focus on growing their businesses," Russell says. He and his partners purchased a 15-year-old-company called Keeping Your Balance, and retained its founder, Becky Brown, as an equal partner in the new enterprise, which they renamed Stride Services.
"My goal as chair is to create a bit more connectivity locally so that we get comfortable knowing each other as human beings, not just what we do professionally."
Not only did Russell have a new business, he also had a new life. Three months before purchasing Stride in August of 2018, he and his wife had moved to Costa Rica with their two children — an international family adventure they had long discussed. "Technology has enabled us to create geographic independence as entrepreneurs," he says. "You have the ability to find something that you love to do, be able to do it anywhere in the world, and still achieve your economic objectives. It was a realization for me of what is possible, and being able to break out of the self-designed cages we put ourselves in." He and his team gained plenty of experience working remotely, which has proved valuable during the pandemic.
"We have about 100 clients, and we had a lot who were impacted [by the pandemic]," Russell says. "We ended up having to do some restructuring with some clients and worked really hard to be productive with them." Russell and his partners decided to be proactive rather than reactive and initiated a program called STARS (short term action recovery solutions), designed for clients who were most likely to be vulnerable to the effects of COVID-19. "When you are overcome with fear and uncertainty, your instinct is to slash and burn," says Russell. "We went to them and gave them a choice — they could defer for a period of time, or we could rescope the work we do for them." The idea, he says, was to retain as many clients as possible by offering to "cut to the bone with the least amount of services we could provide so that as they evolve and make progress, we aren't starting from scratch."
The strategy worked and the company is now starting to add clients. "I'm feeling hopeful," Russell says. It helps that, pre-COVID, he put in place information systems that gave a more consistent and transparent view of the quality of service that the company provides to clients. "I really want to build a business that is about a system, not about a person," he says. "The greatest entrepreneurial sin is to keep yourself in the center of the business. How do you ever scale?" He says the company also gained clarity about customer segments. "We were serving a lot of disparate clients," he says. "So we started diving into where we can best perform and best provide value." Stride now focuses largely on servicing marketing companies.
Regarding his role as a YEC chair, Russell says that "Seattle is such a rich ecosystem of entrepreneurial talent and YEC provides a pretty smooth on-ramp for plugging into a community of like-minded peers. I think it's just a matter of letting people know that these on-ramps exist and who can help steward them."