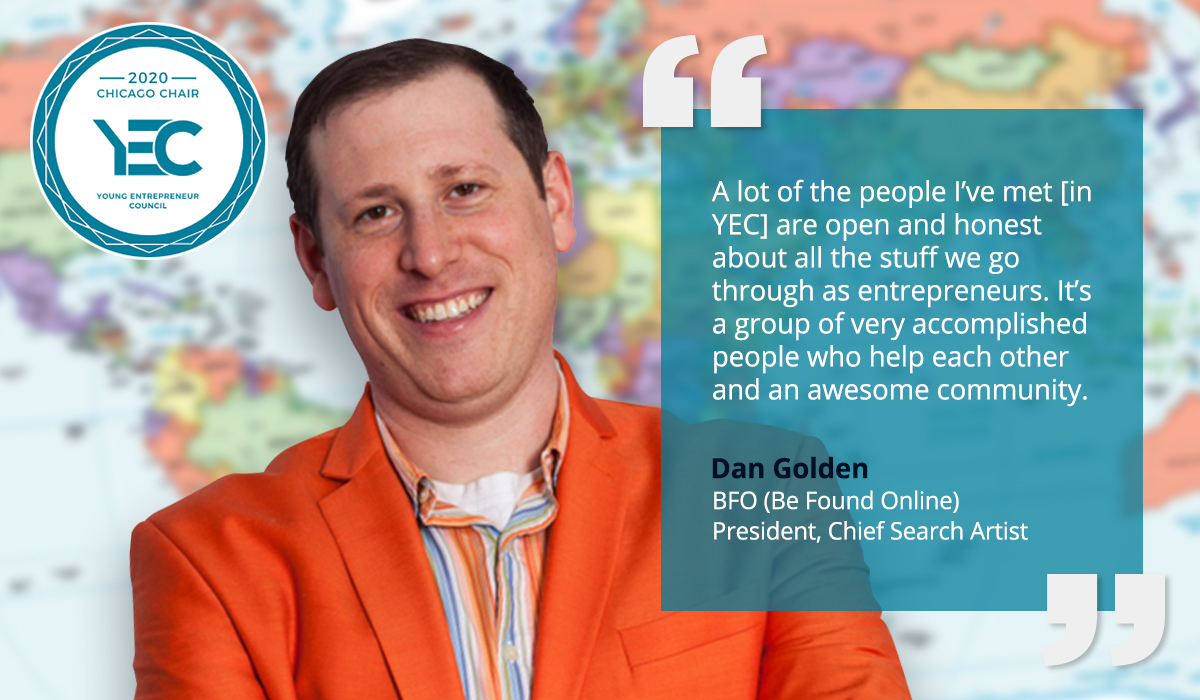 Dan Golden is YEC Chicago Group Chair
Young Entrepreneur Council is a highly selective membership community of entrepreneurs under 45 whose companies have revenues or funding of at least $1M. The YEC Groups program is a new initiative designed to better connect and engage members through the creation of micro-communities based on location, industry, identity, and interests.
Each group is led by a volunteer chair, hand-selected by the YEC team for outstanding leadership in the community during his or her membership tenure. All chairs share one common trait that we believe makes them exceptional: a people-first mentality with regard to relationship building, heavily invested in giving more than is expected in return.
---
Dan Golden, president and chief search artist of Be Found Online (BFO) and YEC's Chicago chair, says he's looking forward to bringing together fellow members from a variety of industries so that the community can exchange ideas and gain new perspectives. "We're doing another quarantine event in the next couple of weeks, and I'm going to focus this time on a specific topic," says Dan, a longtime member of YEC who has reaped the benefits of valuable connections.
A six-time Inc. 5000 honoree, Dan started Be Found Online in 2009, but he was a bit of an accidental entrepreneur. "I was touring with a band, which was my real plan after college," he says. "I decided to get a side gig to pay some bills and ended up taking a search marketing internship." In addition to that day job at a big agency, Dan started Be Found Online as a side project to help his brother launch some startups. "His business took off from all the leads I was driving," says Dan. One thing lead to another and he began getting referrals.
The business accelerated when he and his partner, Steve Krull, stumbled across an agency that needed digital marketing and search optimization services for a client they were pitching. The agency won the business — the Pep Boys account — and outsourced the digital component to Dan and Steve. "And three weeks later, we got Ashley Furniture," recalls Dan. "We had these massive clients and that was the catalyst for me to say, 'we should turn this into a real company.'"
Dan first discovered YEC during a happy hour event at a conference in Raleigh. There, he met fellow member Bob Glazer of Acceleration Partners and made an immediate connection. "Quarterly for the past several years, Bob and I have what I call 'agency owner therapy sessions,' where we talk about some of our challenges."
The company has grown tremendously over the past several years and now serves major consumer brands, as well several B2B clients. Pre-COVID-19, Dan says "we'd been beating ourselves up on our breadth. We felt we were too wide and not deep enough. But over the last two months, I'm glad to have diversity in our portfolio." Prior to the onset of the crisis, the company had already begun to take advantage of opportunities in the B2B space, says Dan. "So our pivot was really just us running faster in the direction that we were already going."
While the SEO industry has become more competitive over the past several years, Dan says that the company's success is largely due to "differentiating who we are and not just what we do." Be Found Online has always been an "open book management" company, meaning that it shares financial information with employees. And the company was number one on Ad Age's Best Places to Work list in 2016. "I think a big part of this business comes down to wanting to do business with people you like," says Dan. "Keeping a happy, engaged team that is challenged and has a lot of freedom has a lot to do with that." As the company has grown, he's been mindful about balancing the need for systems and structure with the desire to maintain autonomy and an entrepreneurial culture for his 70 employees. In addition to its home base in Chicago, the company has offices in Belize, London, and Singapore.