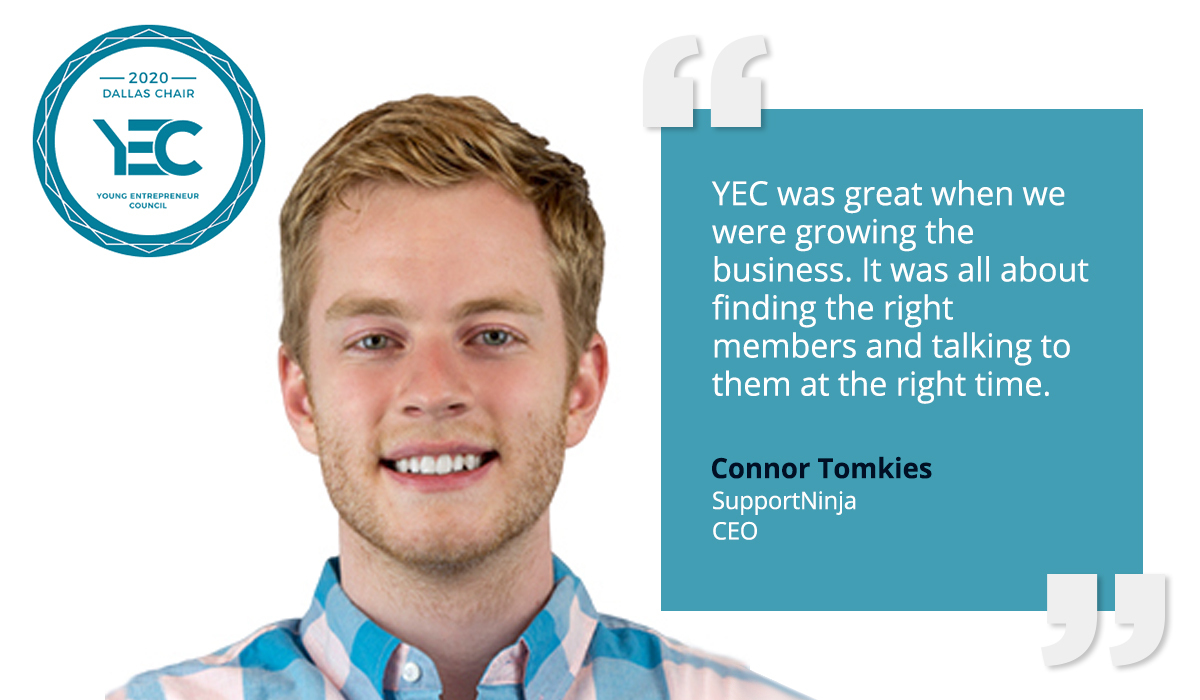 Connor Tomkies is YEC Dallas Group Chair
Young Entrepreneur Council is a highly selective membership community of entrepreneurs under 45 whose companies have revenues or funding of at least $1M. The YEC Groups program is a new initiative designed to better connect and engage members through the creation of micro-communities based on location, industry, identity, and interests.
Each group is led by a volunteer chair, hand-selected by the YEC team for outstanding leadership in the community during his or her membership tenure. All chairs share one common trait that we believe makes them exceptional: a people-first mentality with regard to relationship building, heavily invested in giving more than is expected in return.
---
"I think it's very important that YEC member-to-member relationships solidify," says Connor Tomkies, CEO of SupportNinja and YEC's Dallas-Fort Worth chair. To that end, he says, he's working on a virtual — and eventually, physical — monthly meetup schedule. "It's pretty important to find people who are passionate about building community," he says. "You need a core group and then you can build from there." He hopes to bring more members from different industries into YEC.
Connor discovered YEC when SupportNinja's founder, Cody McLain, also a member, suggested he join the organization. "YEC was great when we were growing the business," says Connor. "We needed cash and we were talking to some other members about some of the different financial vehicles we could use. Some of the references gave us access to our first lines of credit."
A serial entrepreneur, Connor says there's a particular type of business that piques his interest. "I like companies that are very small and niche, or ones that are in an industry that hasn't changed much," he says. He started his first company, DelegateIt, when he was in college. It was a concierge app for Airbnb and HomeAway that allowed renters to get groceries delivered to their rental, buy event tickets, and so on. He also helped start and grow Embark Vet, a dog genetics company. After that company's first product launched, Connor got an offer from SupportNinja to join as CEO.
"We needed cash and we were talking to some other [YEC] members about some of the different financial vehicles we could use. Some of the references gave us access to our first lines of credit."
SupportNinja is a business process outsourcing company (BPO) that offers entrepreneurs a variety of services such as customer and technical support, content moderation, virtual assistants, and lead generation. "Outsourcing is a very old industry and it hasn't changed much," says Connor. "A lot of the big outsourcing companies are 30-40 years old, and they still use paper. We wanted to figure out how to use technology to handle small teams of, say, five, and help them to scale to 100. And we wanted to create a company that could manage remote employees." The company's clients include Uber, Lyft, SeatGeek, NerdWallet, and Coinbase, among others.
Recently, Connor says, SupportNinja faced a major challenge when the Philippines' government announced a lockdown; the company has 600 employees in Manila. "The president gave us 12 hours notice that he was going to shut the country down," recalls Connor. "We had to figure out how to get our people home as quickly as possible and then get hundreds of people working remotely." It was a huge logistical challenge, but within 48 hours, the company was at 97% capacity. "We thought this might happen, so we had started buying every computer we could get our hands on in late February," he says. "We deployed six different vans and our IT staff, and we installed computers in hundreds of different homes and set up wireless remote routers."
The pandemic has also impacted his core business — the company lost 15 clients due to COVID-19, many of them in the travel and hospitality industries. But when SupportNinja put out the word that it was still operating, while many competing firms were compelled to shut down, new business came through the door, and "we replaced the companies we lost and now we are actually growing," says Connor.
YEC has helped Connor grow his company over the years, and he's looking forward to helping other members make the kinds of connections that he so values. "For us," he says, "it was all about finding the right members and talking to them at the right time. YEC is all about those connections."