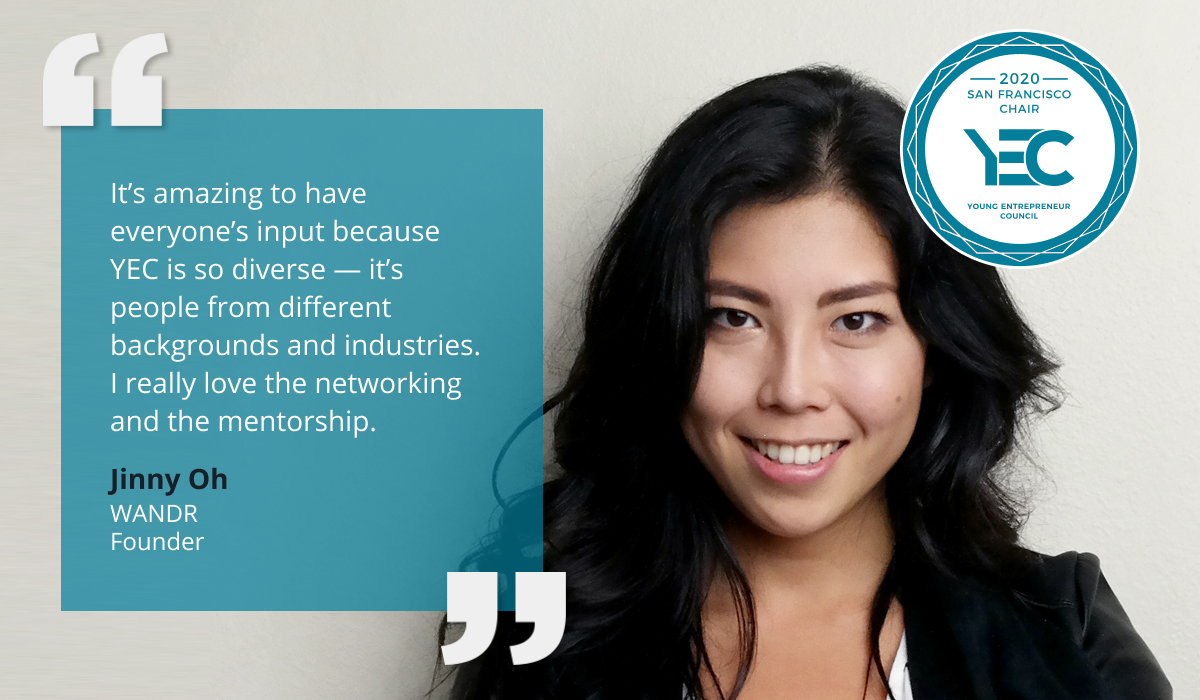 Jinny Oh is YEC San Francisco Group Chair
Young Entrepreneur Council is a highly selective membership community of entrepreneurs under 45 whose companies have revenues or funding of at least $1M. The YEC Groups program is a new initiative designed to better connect and engage members through the creation of micro-communities based on location, industry, identity, and interests.
Each group is led by a volunteer chair, hand-selected by the YEC team for outstanding leadership in the community during his or her membership tenure. All chairs share one common trait that we believe makes them exceptional: a people-first mentality with regard to relationship building, heavily invested in giving more than is expected in return.
---
As YEC's San Francisco chair, Jinny Oh plans to build on her solid reputation as a YEC connector and event host. The founder of WANDR, a product strategy and UX design firm, Jinny has been hosting intimate dinners for YEC members every month or so "to get to know the other member in whatever city I'm in." And she has been in many, many cities. A self-described nomad, Jinny traveled the world for a year, moving around every week or two and managing her distributed team remotely. Prior to COVID-19, she had planned to ease up a bit on her peripatetic lifestyle, but the virus compelled her to put on the brakes completely. "It's now been three months of just staying in one place," Jinny says. "And I think the last time I did that was when I was in college." When it's safe to do once again, she's looking forward to hosting more dinners for YEC members. And one of her big goals as chair is to recruit more women from the Bay Area into YEC.
WANDR's clients are mid-sized companies and enterprise organizations that hire the company to help optimize their user experience. Jinny says that the company lost several good prospects in the pandemic's early days, in March. "We had several really large contracts that were supposed to sign that week when the lock downs were happening, and they all pulled out at the 11th hour," she says. "We even had a government contract that we were supposed to sign and they put a pause on the contract."
It wasn't spending concerns that made those potential customers skittish, Jinny says, but rather the disruption of having to work from home and their need to refocus attention and resources on getting their own teams set up to work remotely. Now, WANDR is actually growing and hiring new employees. "I think people are realizing that with what's happening, they just need to have better user experience online, so a lot of companies are reaching out to us." And that big government contract that was put on hold came through as well.
The YEC online forum, Jinny says, "is kind of like my group of advisors and mentors. It's been a really great resource to me, both for the business and just for my own mental health."
As for how her own company is coping with current challenges, Jinny says that not much changed. WANDR has always had a distributed team, with more than 20 employees globally, and having that structure already in place gave her an edge in adapting to a post-COVID business environment. "We've always been remote, so everyone's already been equipped to work from home. We were able to reassure our clients that our team was going to be fine, and able to work with them." And she had also developed ways to keep her team members engaged and connected to one another. "We do a lot of fun activities to remind people that they're not working alone," she says. "For instance, on Mondays I'll try to host a 30-minute game through Jackbox and we have monthly competitions that add to our culture and help us get to know each other more on a personal level."
While she's waiting for the COVID crisis to abate, Jinny is hoping to host some webinars for YEC members. She already has a private online group for remote CEOs that she's been managing for a few years. "We started doing webinar interviews for people who have been running their companies remotely, to share their insights. So I'd love to do something similar for YEC," she says. "It's amazing to have everyone's input because YEC is so diverse — it's people from different backgrounds and industries. I really love the networking and the mentorship." The YEC online forum, she says, "is kind of like my group of advisors and mentors. It's been a really great resource to me, both for the business and just for my own mental health."