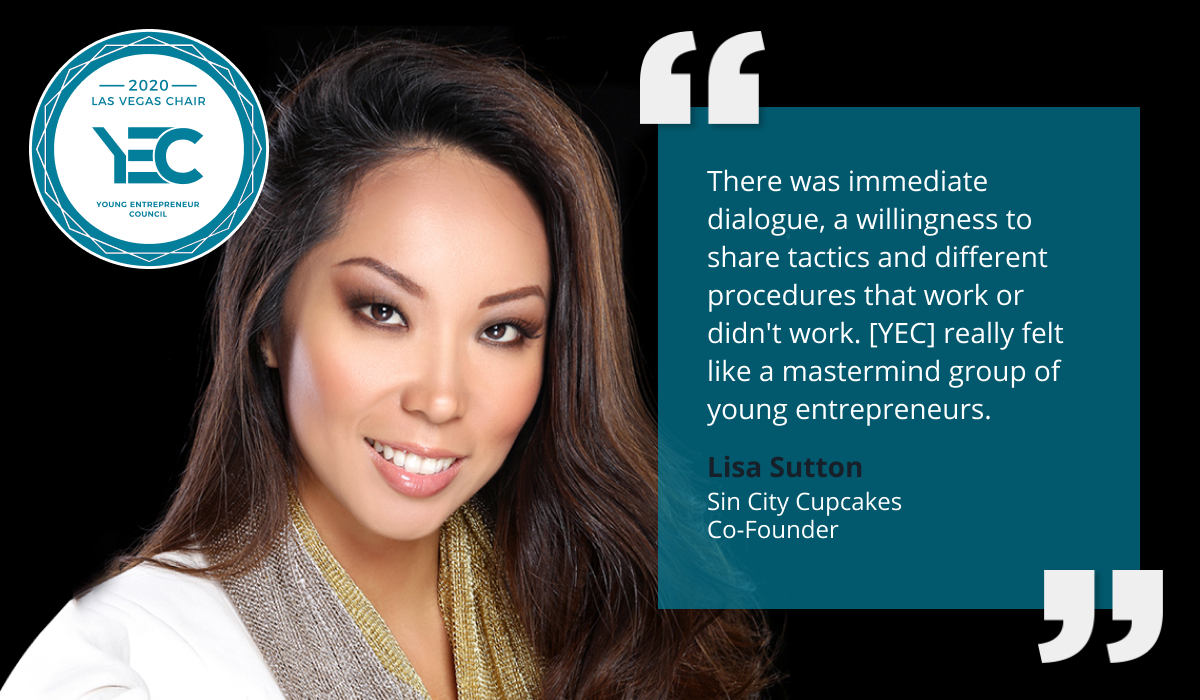 Lisa Song Sutton is YEC Las Vegas Group Chair
Young Entrepreneur Council is a highly selective membership community of entrepreneurs under 45 whose companies have revenues or funding of at least $1M. The YEC Groups program is a new initiative designed to better connect and engage members through the creation of micro-communities based on location, industry, identity, and interests.
Each group is led by a volunteer chair, hand-selected by the YEC team for outstanding leadership in the community during his or her membership tenure. All chairs share one common trait that we believe makes them exceptional: a people-first mentality with regard to relationship building, heavily invested in giving more than is expected in return.
---
For Lisa Song Sutton, Las Vegas has offered a fertile environment for many different kinds of entrepreneurial pursuits — she currently has four companies. "Nevada is really such a great place for business," she says. Over the years, she has met with many YEC members who visit Las Vegas for business or pleasure, and says that "I would love to build a [YEC] base here so that anytime anyone comes through Las Vegas, they know there's a group of people they can connect with." As YEC Las Vegas chair, she's hoping to recruit more members and help create a cohesive community of entrepreneurs who can network and learn from each other.
Lisa's four businesses — all in different industries — are indicative of her ability to recognize opportunities, partner with the right people, and manage multiple projects. She founded her first company, Sin City Cupcakes, in 2012 with a friend she met in the modeling industry (Lisa is a former Miss Nevada). "I had moved to Las Vegas after school and was working in a law firm," she recalls. "My friend told me she'd been making alcohol-infused cupcakes and I thought that was an amazing idea. What better place to have alcohol cupcakes than Las Vegas?"
The two started the bakery (shockingly, the first of its kind in Las Vegas) and served mostly tourists, but also had corporate clients such as Twitter, Zappos, and Playboy and provided cupcakes for parties, weddings, and other special occasions. While the Las Vegas strip has re-opened after a COVID-19-related shutdown, Lisa says that 2020 "will certainly be our worst year. I'm really grateful that I'm diversified."
"I would love to build a [YEC] base here so that anytime anyone comes through Las Vegas, they know there's a group of people they can connect with."
In addition to selling boozy cupcakes, Lisa also started a real estate business, Elite Homes, which is affiliated with Christie's. When she was working at a law firm that specialized in business litigation and bankruptcy, she realized that the firm's clients also had real estate needs. "I thought if I teamed up with a broker, I'd have a pipeline of deals," she says. She and her partner in that business, Cathey Kuo, have built a strong, mostly female, team of brokers. As with all of her companies, Lisa was heavily involved in the startup stage. "But it's always my goal to scale up and out of day-to-day operations, so that's how I've structured everything."
Additionally, Lisa owns an independent mailbox rental and shipping store, Ship Las Vegas, and an e-commerce swimwear company called Liquid and Lace. The latter was founded in 2014, when she was Miss Nevada, and donates a percentage of sales to domestic violence non-profits.
At each business, Lisa has an operating partner. "I'm a huge proponent of partnering with people you already know," she says. "Whether it's a friend, acquaintance, or colleague. You know what they're like when they're having a bad day, how they handle stress, how they communicate."
This year, Lisa expanded her Las Vegas footprint to include politics: she threw her hat in the ring to represent Nevada's 4th Congressional District. While she lost the Republican primary in June, she's proud of her campaign. "We built it out like a professional team from day one," she says. "We just kept focused on the ultimate goal, which was to help the community. We were able to run the campaign like a business and we didn't have any debt."
Lisa found YEC several years ago when she was searching for entrepreneur peer groups online. "I was looking for an organization that was pro-business, and that was catering to young entrepreneurs," she says. "I joined YEC and on the [online forum] there was immediate dialogue, a willingness to share tactics and different procedures that work or didn't work. It really felt like a mastermind group of young entrepreneurs. It was exactly what I was looking for."