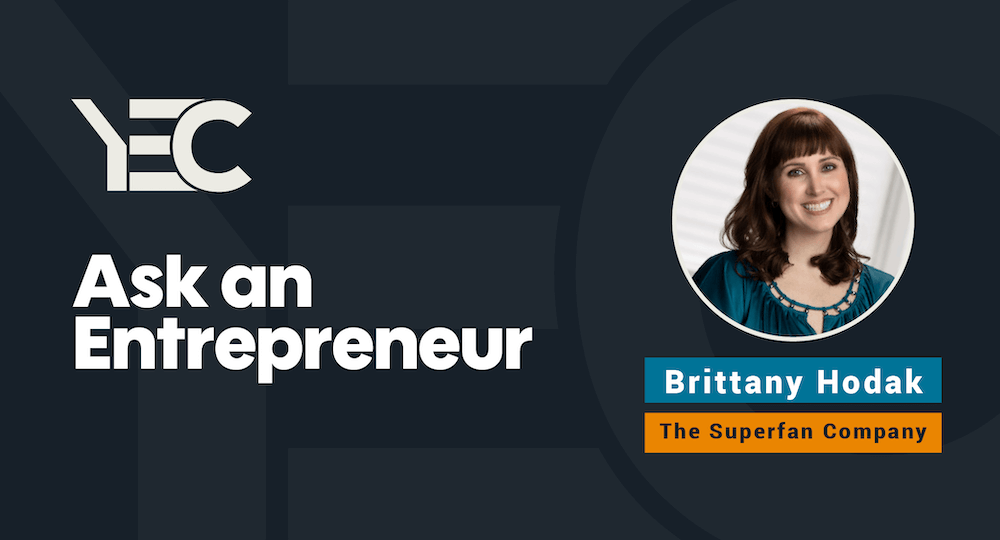 How Can I Turn Customers Into Advocates?
The Ask an Entrepreneur series features YEC members' experiences in entrepreneurship in a Q&A format.

Question: How Can I Turn Customers Into Advocates?
I know that my best marketing tools are my most loyal customers; however, I don't want to push people away by asking too much. How can I identify devoted customers and turn them into into brand advocates?
Meet Our Entrepreneur: Brittany Hodak, Co-founder, The Superfan Company
Brittany Hodak is a popular keynote speaker and award-winning entrepreneur. She is the co-founder of The Superfan Company (formerly ZinePak), a company that creates more loyal customers by harnessing the power of fandom. She's spearheaded assignments for Walmart, Katy Perry, Unilever, Amazon, Taylor Swift, and Johnson & Johnson, just to name a few.
Answer: Treat Superfans Like Friends
Every company should work to identify and cater to its superfans. I define "superfans" as customers who over-index in their affinity for a brand, entertainer or product. Although the metrics on what what qualifies someone as a superfan vary from industry to industry, the psychographic markers are the same — a customer who identifies with your story and will pay more for your product or service because of it. Superfans make up only a small portion of the overall customer mix (typically 10 - 35%, depending on the brand), but they are often responsible for a significant portion of a brand's revenue. Their lifetime value is often much higher, because they're brand-loyal. And, most importantly, their advocacy drives overs to try your product or service.
Before you can identify your most important customers, it's important to come up with a system of measuring fandom. For some brands, it's black and white: the customers who spend the most are the most important. For others, different measures of engagement are key — maybe it's about customers who send the most referrals, who are the most visible on social media, or who the founders just enjoy working with the most. Figure out WHO you want to target (those who your story and product/service will resonate with), then figure out WHY your company/story matters to them. Don't guess on the why; ASK if you're unsure of exactly what your "secret sauce" is.
Once you know the WHY and the WHO, catering to your most valuable customers is simple. Follow the Platinum Rule: treat them the way they want to be treated. Look for opportunities to surprise and delight them. Assign someone in your company to look after each superfan personally, if possible. Send hand-written thank-you notes. Remember to wish them a Happy Birthday. Log your conversations in a CRM so you can remember to ask about their daughter's wedding plans, or their uncle's standup comedy career.
Don't treat these customers like customers, or even fans — treat them like friends. Pretty soon they'll become your friends…even if your brand is looking after 150,000 of them. And, friends are the best kind of advocates any brand can get! If you treat them right, they'll be sharing your brand's story left and right, driving all kinds of inbound business.