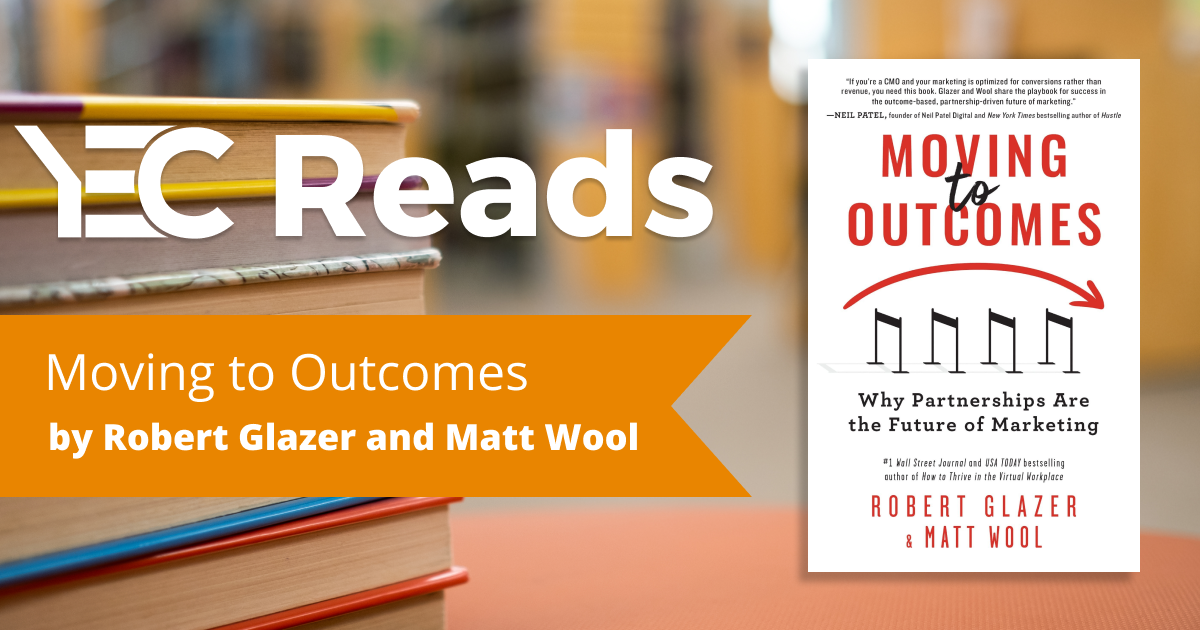 YEC Reads: Moving to Outcomes by Robert Glazer and Matt Wool
Welcome to "YEC Reads," a series presenting business books for entrepreneurs authored by members of YEC. Today's pick:
---
Moving to Outcomes
Sourcebooks
March 22, 2022
Our Take:
In Moving to Outcomes, YEC member Robert Glazer and Matt Wool help readers identify and implement a partnership marketing strategy, allowing them to get sustainable, scalable ROI and future-proof their business in the ever-changing world of marketing.
About This Book:
From #1 Wall Street Journal bestselling author Robert Glazer and Matt Wool comes a revolutionary approach to partnership marketing, which is poised to become the fastest growing channel of marketing in the next decade. Partnership marketing is not new;it has existed in many different forms, and under many different names, such as affiliate marketing, for decades. However, thanks to transformative changes in enabling technology and pricing models, as well as a change in both advertiser supply and brand demand, partnership marketing now exists in a more automated, scalable form that some of the world's most successful companies are now leveraging.
Drawing from success stories from leading brands, Moving To Outcomes will show readers how they can unlock more sustainable, scalable ROI with their marketing dollars. Every brand's marketing strategy is akin to an investment portfolio, which requires diversification. While brands are quick to pour budget into popular channels such as paid search or paid social, these channels get more expensive and less profitable each year. Partnership marketing offers a profitable channel where marketers can diversify their marketing investments and get better returns that are sustainable in the long term. History shows us that companies who take advantage of a new channel before it becomes ubiquitous reap the largest rewards.
About the Author:
YEC member Robert Glazer is the founder and managing director of Acceleration Partners, an award winning customer acquisition specialist with an exceptional track record in growing revenue and profits for fast-growing consumer products and services companies..
Reviews:
"If you're a CMO and your marketing is optimized for conversions rather than revenue you need this book."
— Neil Patel
"Moving To Outcomes shares proven strategies to help businesses build sustainable revenue through a scalable model of transparent marketing partnerships. It's a great playbook for the partnership-driven future of marketing."
— Anna Fieler, Board Director, Shake Shack, J. Crew Group and Quinstreet and Former CMO, PopSugar
"Glazer and Wool make the persuasive case that relationships will matter most in the future of marketing. Moving To Outcomes is a proven playbook for the next great opportunity in marketing: partnerships at scale."
— Keith Ferrazzi, #1 NYT Bestselling Author & Founder/Chairman of Ferrazzi Greenlight & Go Forward To Work