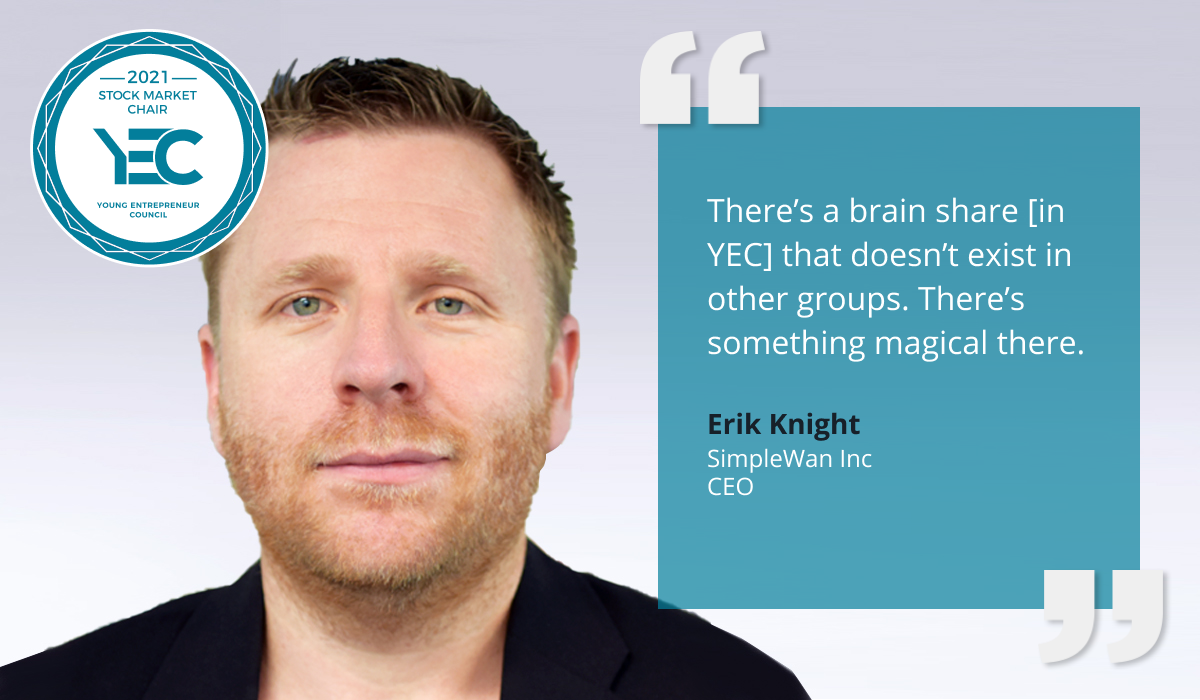 Erik Knight is YEC Stock Market Chair
Young Entrepreneur Council is a highly selective membership community of entrepreneurs under 45 whose companies have revenues or funding of at least $1M. The YEC Groups program is a new initiative designed to better connect and engage members through the creation of micro-communities based on location, industry, identity, and interests.
Each group is led by a volunteer chair, hand-selected by the YEC team for outstanding leadership in the community during his or her membership tenure. All chairs share one common trait that we believe makes them exceptional: a people-first mentality with regard to relationship building, heavily invested in giving more than is expected in return.
---
Erik Knight was first bitten by the stock market bug when he was a teen. An internship with Cisco landed him at Charles Schwab in a tech support role for six months and, he says, "I got to see and hear things as a fly on the wall and I learned a lot. Immediately after my internship was over, I got an online brokerage account, and over the years, I've done really well."
The amount of data available to small investors, Erik says, has increased the number of participants and made the stock market more interesting. As YEC Stock Market chair, he wants to encourage discussions about new investing strategies. But a recent conversation surprised him when members started talking about creating computer programs to help with investing. "That's what I love about these kinds of chats," says Erik. "With [YEC'ers] you get the unexpected."
Erik has a long history in the tech industry. When he was just 17 years old, he landed a job at a technology startup's help desk, and within six months was being trained as a systems and database administrator. He was soon making more money than most of the adults in his world so, like many young entrepreneurs, he decided to scrap his college plans. "I went to Oracle school and got a couple of other certifications, got married, and two weeks before we had our first kid, I quit my job and said I was going to start a business." He was 21, and that company, KnightTek, which sold and managed computer systems, would be the first of three that he would start.
ComVoice, an early VOIP play, was Erik's next startup, and he was getting ready to sell it in 2007 when the economy tanked. "We had built the business primarily with mortgage, insurance, and real estate companies," he recalls. "So almost overnight, 50% of our business was just gone." He hunkered down, moved to smaller offices, and worked for the next several years to build the business back up. When he finally sold it in 2014, it was bigger than it had been before the crash.
"Everyone [in YEC] is well-vetted. They have money and they've worked hard to get where they are. So when someone says something, you know it's not hype. This is the real stuff."
Erik then took everything he learned at his previous companies and leveraged that knowledge to start SimpleWan, a network security company that allows companies to manage distributed networks from a single dashboard. "We have a lot of large chain businesses who use us," Erik says. "Anyone who has a remote office where there's no IT staff is really our customer." When he started the company, Erik says that Cisco was his biggest competitor but that SimpleWan "took it down to a lower level through automation. Instead of paying an expensive network engineer to set things up or fix things, you can take our technology and your typical IT guy can set it up."
SimpleWan also launched a hardware product that allows employees working from home to securely connect to their office networks, while bypassing their slower and less secure home networks. During the pandemic, Erik says, "people have realized they can work from anywhere. As long as they can have the same experience, employers are thinking this might actually work pretty well. They're saving a ton of money on office space."
A member of YEC for several years, Erik says he's made great connections and is involved in a number of business deals with fellow members. "There's a brain share [in YEC] that doesn't exist in other groups," he says. "There's something magical there." As stock market chair, he feels confident in the knowledge that members will bring to discussions. "Everyone here is well-vetted," he says. "They have money and they've worked hard to get where they are. So when someone says something, you know it's not hype. This is the real stuff."