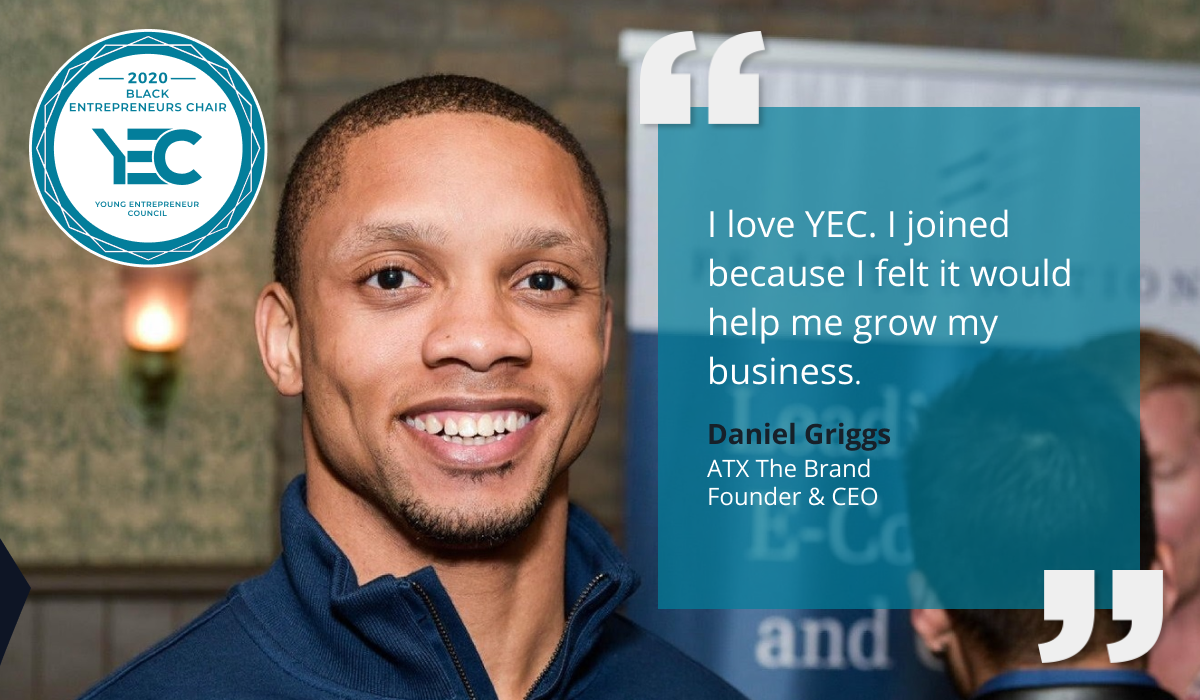 Daniel Griggs is YEC Black Entrepreneurs Group Chair
Young Entrepreneur Council is a highly selective membership community of entrepreneurs under 45 whose companies have revenues or funding of at least $1M. The YEC Groups program is a new initiative designed to better connect and engage members through the creation of micro-communities based on location, industry, identity, and interests.
Each group is led by a volunteer chair, hand-selected by the YEC team for outstanding leadership in the community during his or her membership tenure. All chairs share one common trait that we believe makes them exceptional: a people-first mentality with regard to relationship building, heavily invested in giving more than is expected in return.
---
When he first started his web design company, Daniel Griggs, founder of ATX The Brand, was keenly aware that very few other founders in his industry looked like him. Now, as a successful Black entrepreneur, he says, "it's my duty to put myself out there so that others — especially the younger generation — can see me and the position I'm in and say, 'okay, this is something I can do.'" As YEC Black entrepreneurs chair, Daniel says he wants to create a structure that will help other Black entrepreneurs gain access to YEC's collective knowledge and network. "I love YEC," says Daniel. "I joined because I felt it would help me grow my business."
Daniel is a former professional football player who played defensive back for various AFL teams, with multiple NFL opportunities. "My journey throughout sports prepared me for entrepreneurship," he says. For instance, he once emailed almost every cornerback coach in the NFL with a detailed personal marketing pitch. "I went to every website and looked up the players in the position I played to see how they measured up with my talents and skill set," Daniel says. "That's how I got my opportunities. The Jets contacted me within 24 hours and the Jaguars called me within 45 minutes."
Between football seasons, Daniel worked as a substitute teacher and personal trainer, while consulting with a mentor who helped him figure out what his post-football career might look like. He stumbled upon web design when he realized that a professional-looking website would help differentiate his personal training business. "I enjoyed it, so I started doing it for family and friends," he says. "And gradually, I started doing it for businesses." Coding was not his passion or his strong suit, so he hired a developer and began marketing his services to small brick-and-mortar retail and service companies.
"It's my duty to put myself out there so that others — especially the younger generation — can see me and the position I'm in and say, 'okay, this is something I can do.'"
Daniel's football career -taught him the value of cold-calling and emailing, and he applied those lessons to his business. His first client was a pest control company that he cold called when he noticed the company's truck on the highway, then visited its website. "The website was just horrible," Daniel recalls. "So I called him up in traffic and pitched him. He said he'd like to meet, and that was my first client." Other clients followed — non-profit organizations, churches, salons, a therapy clinic — and Daniel's business grew.
Eventually, his focus shifted to clients who needed more sophisticated work. Since 2015, when he founded ATX, the company has grown to 21 full-time employees, including 10 developers. It serves a client base composed of funded startups and large corporations that hire the company for complex development projects, brand restructuring, mobile apps, and custom software. The company has developed into two different entities: ATX the Brand offers digital consulting for companies who need a roadmap to guide them before getting started on a project; ATX Web Designs brings development projects to life.
Recently, ATX the Brand launched a new portfolio of independent projects that Daniel says are all "based on helping out a community." While he was successful and making money, he says he "didn't feel like I had much of a purpose. I didn't have that sense of joy that comes with helping people out." The first project to address a specific community need is RecDiv (short for recruit diversity), an online job platform built to serve graduates of HBCUs (historically Black colleges and universities). "It's basically an Indeed or CareerBuilder but strictly for HBCU students and alumni." The site, he says, will make it easier for organizations to meet their diversity needs. More projects are in the works, Daniel says.
As a YEC member, Daniel has tapped the community numerous times for advice that has helped him grow his company. "There's always a ton of questions and things I don't really know," he says. "And there's so much information I get from other business owners." That could be anything from how to manage contract employees or how to structure salaries, to what books people are reading. His role as Black entrepreneurs chair, he says, "really aligns with everything I'm doing now. I'm really passionate about helping Black entrepreneurs and Black communities in general."