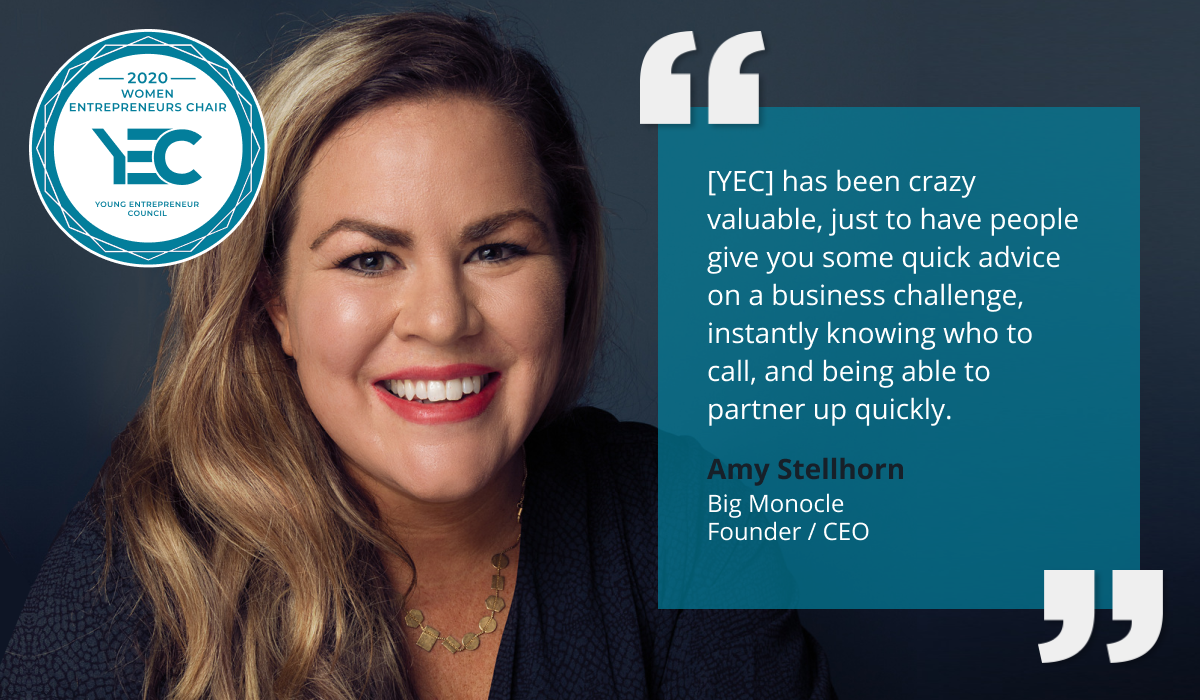 Amy Stellhorn is YEC Women Entrepreneurs Group Chair
Young Entrepreneur Council is a highly selective membership community of entrepreneurs under 45 whose companies have revenues or funding of at least $1M. The YEC Groups program is a new initiative designed to better connect and engage members through the creation of micro-communities based on location, industry, identity, and interests.
Each group is led by a volunteer chair, hand-selected by the YEC team for outstanding leadership in the community during his or her membership tenure. All chairs share one common trait that we believe makes them exceptional: a people-first mentality with regard to relationship building, heavily invested in giving more than is expected in return.
---
Amy Stellhorn, founder of the creative agency Big Monocle, is a champion for women entrepreneurs. When she moved from the Bay Area back to her hometown of Provo, Utah, in 2016, she realized she was one of the only women invited to and attending entrepreneurial events. "Utah ranks as the worst state in the nation for women's equality," she says. "There was this frustration for me with not knowing about these women and then meeting them and thinking 'how is it possible that other companies that aren't nearly as accomplished but are run by men are getting a ton of visibility, and these women just haven't been seen?'" She decided to do something about that by co-founding Sego Awards to recognize and celebrate local female entrepreneurs in various categories. The three-year-old organization hosts an annual awards gala that shines a spotlight on women entrepreneurs to give them more visibility and, hence, access to mentors and funding.
As YEC's Women Entrepreneurs chair, Amy is looking forward to expanding her work as an advocate for women entrepreneurs. "My goal is to increase the percentage of women who are participating, coming to events, showing up to get advice, and feeling included in the community," she says.
Amy launched Big Monocle in 2012 after working for creative agencies in the Bay Area for several years. While she originally planned on going to art school, she had moved to San Francisco in the middle of the dot-com boom, was drawn to the tech scene, and switched her focus to graphic design. She landed an apprenticeship with branding/design thinking guru Marty Neumeier, who gave her the mentorship, experience, and gravitas she needed to advance her career. "My next boss was intimidated by me because I had worked with Marty," Amy says. "It was such a good launchpad. My career took off at age 19."
"My goal is to increase the percentage of women who are participating, coming to events, showing up to get advice, and feeling included in the community."
After the dot-com crash, she worked at another Bay Area agency, rose through the ranks, and ultimately realized that she was "basically being an entrepreneur but without the massive upside. I felt like, 'I can't do this for someone else anymore. It's taking part of my soul.'" She decided to strike out on her own, and quickly landed a gig though a former client who had moved to Intel. "After that first project with a big respected brand, we started getting passed around," says Amy. Since then, Big Monocle has done more than 100 projects for Intel, in addition to working with other high-profile organizations such as eBay, The Nature Conservancy, Salesforce, and McAfee. Big Monocle also created the logo for the Women's March — an image that would give the movement a visual identity beyond the original March on Washington.
While Big Monocle is technically a graphic design brand agency, Amy says the company serves a broad variety of client needs. "I'll get handed an event because they know how creative we are, how dedicated we are to reaching customers, and how much we love to create a brand experience," she says. More typically, though, the company helps startups create or refresh their brands.
Amy has been an active member of YEC on many levels. She's been to YEC Escape multiple times, is an active participant on the online forum, and has been published on several media brands. "I felt like I was getting a lot of value from that alone," she says. The online forum, she says, has also been invaluable. "It's been really helpful to be able to post questions about projects or contracts or how to hire. [YEC] has been crazy valuable, just to have people give you some quick advice on a business challenge, instantly knowing who to call, and being able to partner up quickly."