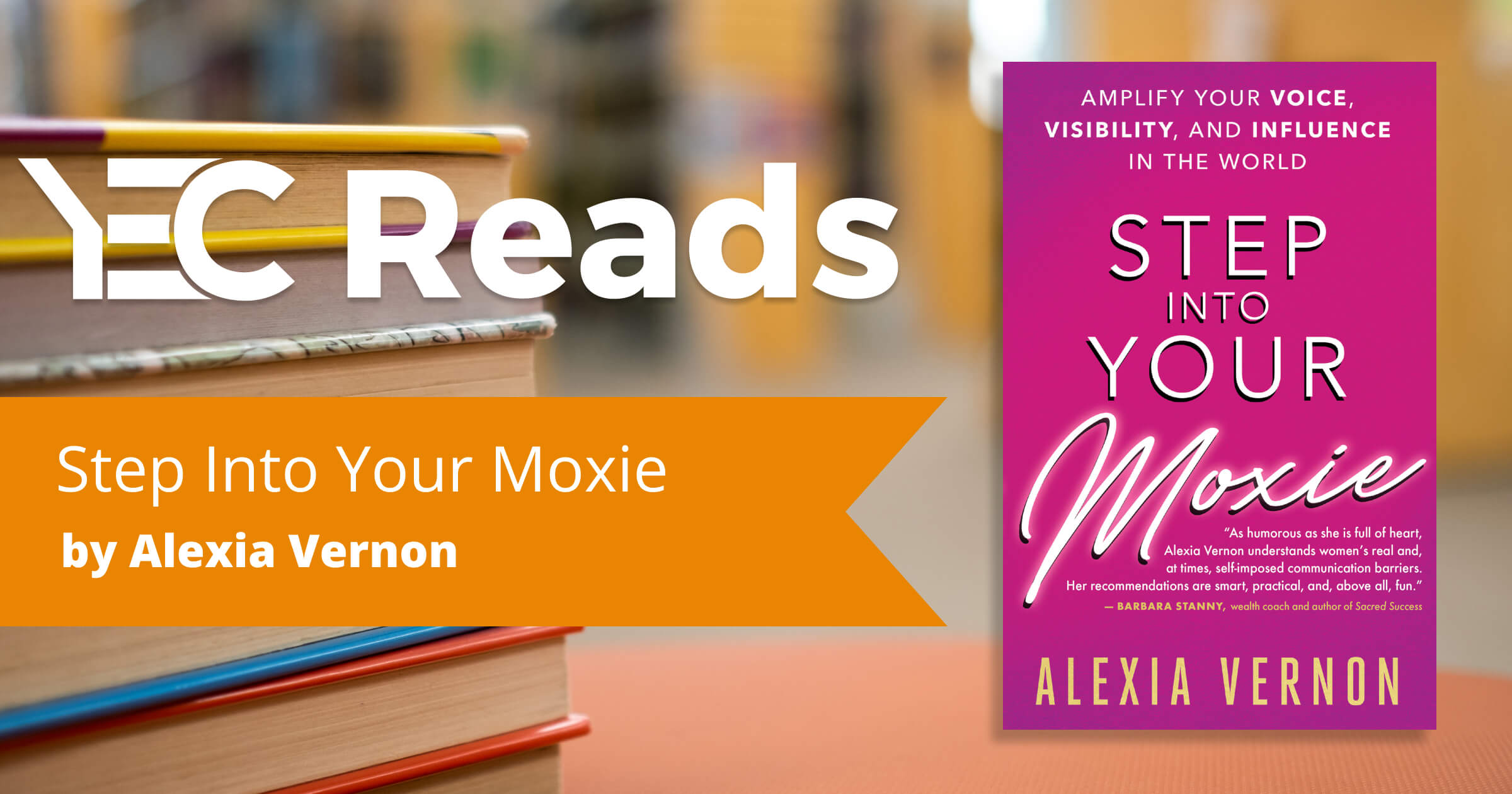 YEC Reads: Step Into Your Moxie by Alexia Vernon
Welcome to "YEC Reads," a series presenting business books for entrepreneurs authored by members of YEC. Today's pick:
---
Step into Your Moxie: Amplify Your Voice, Visibility, and Influence in the World
New World Library and Random House Audio
October 16, 2018
Our Take:
In Step Into Your Moxie, YEC member Alexia Vernon suggests ways for women to level up speaking and thought leadership skills to increase communication and leadership success.
About This Book:
Step into Your Moxie is a soul-stirring call to action to speak up for yourself and the ideas and issues that matter most to you.
Dubbed a "Moxie Maven" by President Obama's White House Office of Public Engagement for her potent approach to women's empowerment, Alexia Vernon has helped thousands of women (and men) slay diminishing self-talk and speak with moxie. She has created a timely, refreshingly playful guide for women to communicate with candor, clarity, compassion, and ease every time they open their mouths to speak — in their careers, communities, and homes.
Step into Your Moxie is the book women want by their side as they have that daring conversation, give an important presentation, run for office, or simply tell the people closest to them to step back from the boundaries they've trespassed.
About the Author:
YEC member Alexia Vernon, president, Step Into Your Moxie, is an executive communication expert. Dubbed a "Moxie Maven" by President Obama's White House Office of Public Engagement for her unique and effective approach to high-stakes communication and leadership development, Alexia Vernon is a sought-after advisor to executives and others.
Reviews:
"We all have something to say, a part of us that is deeply real and powerful that's yearning to get out. But how do we share it with the world in a way that leaves us feeling seen, heard, understood, and embraced? Step into Your Moxie is the answer. Filled with compelling stories, raw honesty, and actionable ideas, Alexia Vernon's book gives readers permission to bring their full selves into everything they say."
— Jonathan Fields, founder of Good Life Project; bestselling author, How to Live a Good Life
"Thank goodness for Alexia Vernon, who recognizes that we are overdue for a new paradigm of empowerment and is helping us find a holistic path toward reclaiming our most powerful selves. Step into Your Moxie will help you do just that — with heart, passion, and purpose. As Alexia writes, we must transform our communication with ourselves so that we can transform our communication with the world. It's time to let our inner moxie shine."
— Jenny Blake, author, Pivot
"If #MeToo has taught us anything, it is that powerful, brave, and truthful women are needed to topple tired and oppressive systems. Step into Your Moxie is the tool we have been waiting for to unlock female leadership so that our ideas, policies, products, and art take center stage. This book will give you the courage to show up, speak up, and claim your seat at the table."
— Pamela Slim, author, Body of Work
---
If you are a Young Entrepreneur Council member who has published a business book, contact the YEC concierge to learn how to get it featured in this column.