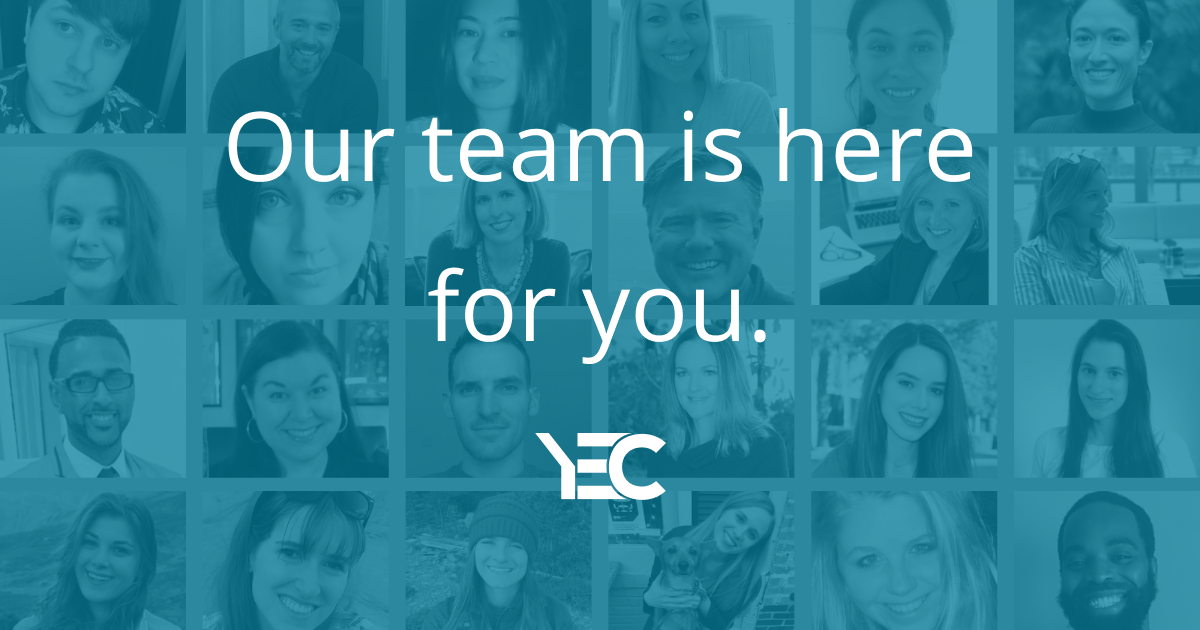 YEC Members: YEC Response to COVID-19
It's hard to imagine a more challenging time to be an entrepreneur. We know this is taking a huge toll on the members of this community as they make difficult decisions on how to best navigate this crisis.

The YEC team is constantly thinking about ways we can do more to help our members. We know members need resources to help with unprecedented business challenges, access to a trusted community, and experts to help you make critical decisions. Here's some of the ways YEC can lend support:
Helping One Another
As "social distancing" redefines our average day, our desire to connect with peers for advice and support will become more dependent on digital transactions than ever before. While mainstream social media continues to be an unpredictable source of information and level headedness, we're committed to making our private, members-only forums a safe place to talk about what's happening in our businesses as a result of this epidemic.
This is an important time for the community to come together to help each other. After hearing from so many members with offers of support for one another and the community at large, we are collecting these offers in a continuously-updated blog post to ensure maximum visibility. To contribute, post your offer to assist in your member forum (and indicate whether or not the offer can be shared publicly on the blog). Be sure to review the collection of offers regularly to see what might help you.
Access to Experts
During these uncertain times, we've seen a big uptick in requests for coaching support from our team. The team has taken steps to ensure that our stable of coaches is more accessible than ever before.
Additional free online Office Hours sessions will be scheduled on a regular basis to provide you all with access to our accredited coaching team who can answer all of your business questions. Along with our coaching team, we'll also be pulling in experts from diverse backgrounds who we think can assist your business in this time of need. Have specific topics you'd like to see us cover? Let us know and we'll work on integrating those topics into our digital coaching strategy in the coming months.
We also recently launched the YEC Speaker Series, and will be building out more online learning from content masters.
YEC Events
While our in-person events are on hold for now, we're busy building a robust calendar for when the time is right. We know you'll be ready for a lot more in-person gatherings once we can all shake hands again! If you're in a major city and interested in hosting a gathering in the future, reply and let us know. We will be so excited to see you again!
Evaluating Business Expenses
None of us can predict when this crisis will end, or the extent of the economic toll it will take on the business community. If you haven't started thinking about ways to stay lean and cut costs you probably will be soon. With that in mind, remember that as a part of the community you have access to an expense analysis expert who can help you cut costs on a number of areas in your business, including:
Health insurance and payroll expenses - No matter what service you're currently using, we'd be happy to look into cheaper options. If you specifically use Paychex, ADP, or Insperity, we feel extra confident that we can help you lower costs and encourage you to reach out asap for an intro to Beth, our resident expert.
Business insurance- If you want to evaluate your current business insurance policies, or shop for alternatives for your current policies, we feel confident that we can get you activated with the best providers at the lowest possible rates. Whether it's general liability, professional liability, cyber security, directors and officers (D&O), or something else, we can have your back.
R&D tax credit - If you haven't done so already, you should be looking into whether or not your business qualifies for an R&D tax credit. Members who have worked with us have brought tens of thousands of dollars back into their business. Even in stable times, that's impactful money.
Outsourced IT - As many of us migrate our teams for the first time to a remote work environment, how we manage our technology infrastructure also needs to change. If you're concerned about how your IT will fare in a more distributed ecosystem, let us connect you with our vetted vendors for a consultation.
Financial health - Let's keep our business finances as healthy as possible during this crisis and the aftermath. If you're in need of accountants/bookkeepers or a more seasoned outsourced CFO to consult, please let us know so we can connect you to some great resources in our vetted network. For a consultation call with our expert, contact concierge@yec.co.
Loans / Financial support - Our vetted vendor network includes a collection of trusted experts in obtaining business loans and emergency financing during these troubling times. Respond to this email or contact concierge@yec.co with details on what you're looking for. We'll rush to put you in touch with an expert that can help.
Member Mobile App
As we all juggle competing demands of work and family, the member mobile app will help you stay easily connected in the forum and contribute quick content for publication. Download it here on iOS and here for Android.