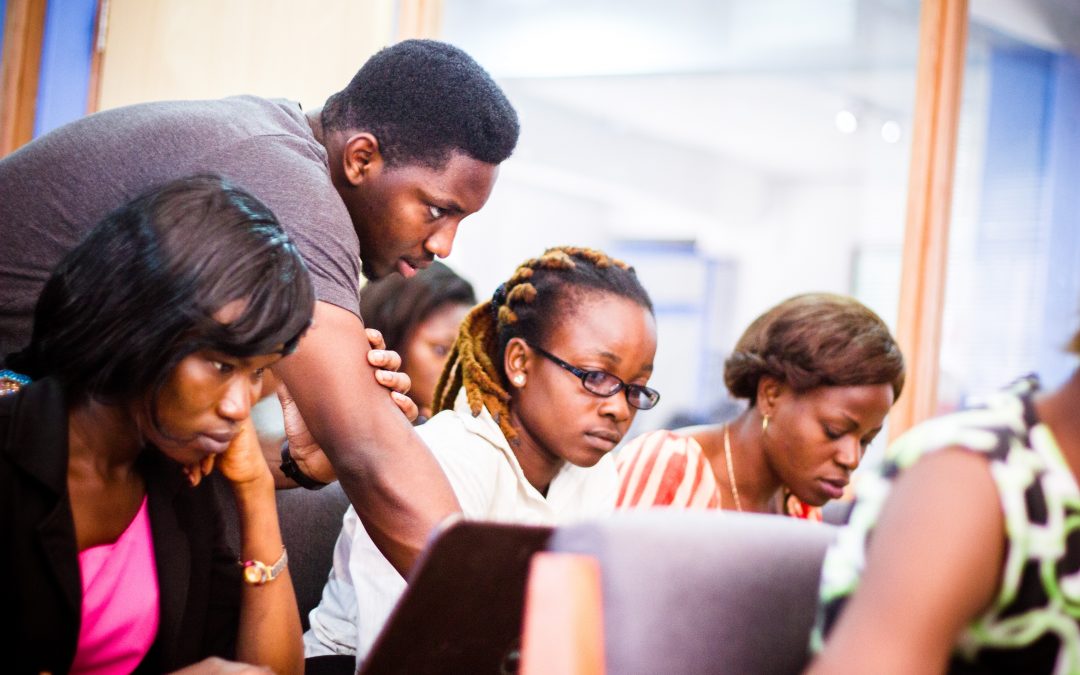 Young Entrepreneurs of YEC on How to Build a High-Impact Organization
When you're trying to engineer solutions to the world's biggest problems, strong leadership is a must.
As the idea of a social enterprise has evolved in the last decade or so — alongside rapid advancements in technology — impact-minded entrepreneurs are applying the same rigor to making a measurable impact on problems like humanitarian aid delivery as other entrepreneurs might to hitting a customer acquisition milestone.
But what does it take to scale a mission-driven organization? Or, to paraphrase a slide deck from Hive, a global network of impactful leaders co-founded by YEC'er Ryan Allis, why is a sustainable world this generation's moonshot — and what kinds of leaders will get us there?
Identify sustainable solutions with long-term potential
Carrie Rich is co-founder and CEO of The Global Good Fund, a nonprofit with a flagship 15-month fellowship program built to accelerate young social entrepreneurs' leadership development. Rich comes to nonprofit work from healthcare, where she got a front-row seat to a different view of the not-for-profit model: not as a charitable endeavor, but as a business that must measure success and refine best practices to survive.
Today, The Global Good Fund is focused on developing revenue streams so they can continuously reinvest money back into their program and not rely solely on donors. "For us it was an opportunity from the beginning to build both sides of the equation: the purpose and the profit as a vehicle for being able to deliver our mission long term," she says.
The team at Andela — a for-profit talent accelerator that trains world-class developers and places them with top startups, co-founded by Jeremy Johnson — had to architect a scalable approach to a very thorny problem: how to leverage the kinds of tools and systems Johnson had built at 2U, his edtech startup, to impact other parts of the world where high tuition isn't feasible. He already knew giving education away wasn't the answer. "You look at MOOCs and it's an amazing idea, but unfortunately you have a 7.6 percent completion rate, and 80 percent of the people who actually do complete are in the top six percent academically and economically in their country," he says. "Education is very different from most other consumer goods. You can't effectively give it away because you need someone at the other end to engage."
So Andela's founders reframed the problem: what if you paid people to learn — and in the process, addressed the growing tech skills gap?
Through their highly selective Andela Fellowship program -- during which fellows receive immersive training in full-stack development, ongoing professional development and paid experience working remotely for a tech startup — Andela is able to turn out world-class developers to startups hungry for top-notch talent at roughly half the cost. Even Andela's investors found the results surprising: 75 percent of the startups they work with have asked about hiring new people, and not one has dropped a single Andela developer.
MassChallenge founder and CEO John Harthorne and his team are on a mission to catalyze a global startup renaissance. Since 2010, they've graduated 617 alumni; collectively, those companies have raised over $706 million in capital and created over 4,800 new jobs. They've now expanded to London and Tel Aviv, the first steps toward their vision of bringing the MassChallenge model to every populated continent.
Deciding to structure MassChallenge as a nonprofit was a strategic decision. "As a 501(c)3 that does not take equity from startups, we can support startups in all industries, including social impact (nonprofit), life science, and clean tech startups, which generally do not get support from investor-run accelerator programs that are designed to seek short-term exits and profits," Harthorne explains.
"On the downside, we don't get paid a lot, and I still don't own a Ferrari — but, you know, I'd rather be working collaboratively with the Da Vincis of our generation and addressing problems of huge global significance than bathing myself in ego-sating luxuries."
High-impact leaders are humble and driven by self-improvement
Rich's entire business model is built on the premise that that to effect change at scale, you must first be a competent leader. "Leadership is the most effective vehicle for creating global good, and entrepreneurship is one tangible vehicle for delivering on that good," she says.
Certain leadership competencies are better predictors of a social entrepreneur's success than others. After learning there were no evidence-based tools for assessing the leadership development of young social entrepreneurs, The Global Good Fund partnered with other organizations to analyze a massive quantity of data (250,000 rows in an Excel sheet) and used that information to pioneer a first-of-its-kind 360 leadership assessment tool designed specifically for social entrepreneurs.
Several commonalities have emerged: a laser-like focus on hustle and execution (in spite of sometimes isolating work conditions); the ability to affiliate with people on the front lines as well as the most elite sectors of society; and importantly, humility. Everyone applying to her organization is already successful — they apply because they want to keep growing. (Notably, The Global Good Fund's leadership team takes the same leadership assessment annually that their fellows do.)
Ryan Allis, CEO and co-founder at Connect, has seen this first-hand at Hive, the global leadership community for entrepreneurs under 40 that he co-founded in 2013. Hive brings together successful socially minded leaders from all sectors — including top entrepreneurs, activists, academics, consultants, CEOs, scientists and engineers — for an intensive three-day leadership development event. Every one of the 280 "Hivers" graduated thus far left the event with a framed one-page life plan, designed to help them better understand how their work, their lives and the world's biggest problems overlap.
Running a mission-driven business is not a pass on execution
Allis had an epiphany after his mother fell gravely ill in 2011. "I realized that when I have a mission I'm deeply passionate about, I can move mountains. As I reflected on that experience, I looked back and I said to myself, 'I'm going to make sure whatever I do next is extremely mission driven.' And not only because it will be more meaningful, but because I'll actually be a better entrepreneur."
Connect, a technology that helps people deepen relationships over time, already has 3 million users, and the company recently raised a $10.5 million series A. "When you build an organization that makes a huge positive impact, you end up having the energy and the work ethic to do whatever it takes," says Allis. "You end up making way more money than you ever thought was possible, and you end up feeling way more alive than you've ever felt before."
You still need the right people on the bus to execute, but Shradha Agarwal, president and co-founder of the for-benefit healthcare media company ContextMedia and founding partner of Jumpstart Ventures, finds that a mission-driven culture serves as a kind of "north star."
"People are looking for three things from their workplace. One is to belong. Our parents used to belong to their local house of worship, or the community used to be their kid's school and other parents at the school and the teachers....The sense of community now comes from the workplace. We spend more hours working at work than we do outside of work," she says.
"Two is a sense of purpose, where people feel like the work they're doing is going towards something and being able to reiterate that within the team on a constant basis. And three is a sense of accomplishment. The people that we hire are wired to be overachievers."
For Johnson, who splits his time between Andela's headquarters in New York and operations in Lagos, Nigeria, having a strong operations team on the front line is key. "It's critically important to have really strong on-the-ground partners who do understand the culture and do have the networks needed to bring people together," Johnson says.
"Just because you have a mission doesn't mean that the core of building a business is not consistent. And that is you have to delight your partners and customers. You don't get a free pass on that because you're trying to save the world. People approach us and want to work with us because of the mission. But they keep working with us because of the quality."
Is there a right time to build your legacy?
"For five years, we were dolphins with our heads down, deep in the ocean building," says Agarwal, who — like many of the entrepreneurs in this story — also serves as a mentor, investor and partner for various organizations looking to help nonprofits and high-impact entrepreneurs succeed, in addition to her work at Jumpstart and ContextMedia. "And now we have the opportunity because our company is out of the fear-of-survival mode to really engage and give back. There really is a time and opportunity."
Past success can help prime founders for navigating the challenges of scaling a social enterprise. Johnson, who co-founded Andela not long after the $100 million IPO of 2U in early 2014, isn't building Andela for the short term; the team's 10-year goal is training 100,000 genius-level software developers and impacting a billion people.
Allis started Hive and Connect after growing his previous company, iContact, from startup to 300 employees, 70,000 customers, 1 million users and $50 million in sales. (It sold to Vocus for $170 million in 2012.) "The old mindset that you make money in business and then you make impact in nonprofits, that's a 20th-century mindset," he says. "As we now realize that the main way we're going to make an impact is through business, that will creatively challenge entrepreneurs to make sure they're using the best hours of their day to create a legacy and create what they're going to leave behind."
Harthorne, who has seen hundreds of like-minded entrepreneurs at MassChallenge, offers this advice: "Complexity of execution doesn't scale linearly with impact — so it isn't 10x more difficult to create a company producing a 10x greater impact. Why not go big(ger)? It's way more fun, and you're much more likely to attract other big thinkers and talent to your cause if you're targeting a big impact."
Image courtesy of Andela.
---
This feature originally appeared in YEC Quarterly, a print magazine for YEC members. YEC Quarterly is no longer producing new issues.