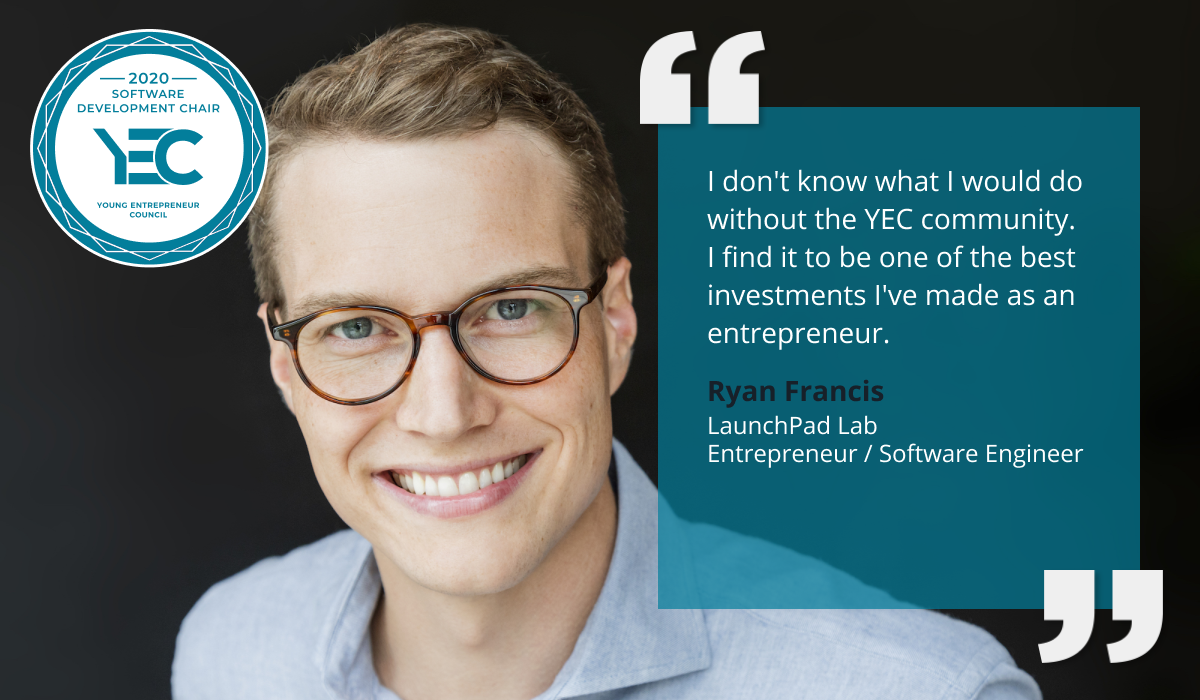 Ryan Francis is YEC Software Development Group Chair
Young Entrepreneur Council is a highly selective membership community of entrepreneurs under 45 whose companies have revenues or funding of at least $1M. The YEC Groups program is a new initiative designed to better connect and engage members through the creation of micro-communities based on location, industry, identity, and interests.
Each group is led by a volunteer chair, hand-selected by the YEC team for outstanding leadership in the community during his or her membership tenure. All chairs share one common trait that we believe makes them exceptional: a people-first mentality with regard to relationship building, heavily invested in giving more than is expected in return.
---
When Ryan Francis first heard about YEC, he knew right away that he wanted to be a member. "I needed to be in a community like that, because I don't know what I don't know yet. And I needed to be exposed to other people going through the same challenges," Ryan says.
One of biggest benefits, he says, has been getting to know fellow YEC members in Chicago. "At least every quarter, I've been able to bounce ideas off of them and also hear about some of the challenges they're facing during this recent crisis," he says. For example, what he learned about PPP loans enabled him to put his businesses, LaunchPad Lab and Francis Lofts and Bunks, in stronger positions. And he's been coached by fellow YEC members on how to have diversity-related conversations with team members. "I don't know what I would do without the YEC community," Ryan says. "I find it to be one of the best investments I've made as an entrepreneur." As software development chair, his goal is to help YEC'ers in his industry benefit from the community's advice and connections.
Ryan says he has had an entrepreneurial spirit since he was a boy. "I always had the itch to start something," he says. After graduating from college, he worked in finance for a couple of years before starting Francis Lofts and Beds with his father in 2012. "I was living in a studio apartment in the heart of the city and I wanted space to have friends over." A college-style loft bed was out. His father, who then owned an aluminum fabricating company, came up with a sophisticated design and their company was born. "We've grown it between 25% and 50% a year," Ryan says. But the pandemic has resulted in dramatic spike. "Over the last 90 days, we've seen our sales explode," he says. "I think people are spending more time at home and I think the bunk bed product does really well in that situation where you have lots of people staying in a house together." What better way to turn a childhood bedroom into a home office than an adult-style loft bed?
"I see a lot of opportunity for collaborating with other software development entrepreneurs to advance the industry, improve the performance of our businesses, and the outcomes for our clients."
While Ryan is still involved in Francis Lofts and Beds, he now spends the bulk of his time as CEO of LaunchPad Lab, a software development company where he started out as an employee in 2013. His desire to optimize his customers' web experience with Lofts and Beds led him to a coding bootcamp and, he says, "I totally fell in love with coding and building products." He signed on as Launchpad's first employee, grew into bigger roles in sales at the company, and then bought into it in 2015 as an equal partner. "I play the role of CEO now, which is really focused on vision and sales, bringing in new clients and leading the team," he says. "Frankly, everyone on my team is way smarter than I am. I help position them to succeed and do the amazing work they do."
LaunchPad Lab has clients of all sizes, from startups to publicly-traded companies, but its sweet spot, says Ryan, is non-technical businesses that "were founded before 2000 and need some help transforming and catching up from a digital standpoint. We act as the Silicon Valley arm of traditional, non-tech businesses."
Because the software development industry is so difficult and complex, Ryan is excited about getting YEC members together to brainstorm and share best practices. "I see a lot of opportunity for collaborating with other software development entrepreneurs to advance the industry, improve the performance of our businesses, and build better digital products," he says. He's currently planning his first virtual meeting as software development chair, with the goal of gathering information from members on what they'd like to discuss, how often they want to meet, and what they hope to get out of the group. "From there, we can start to structure a game plan," Ryan says. "So much of software development is building opportunities for people to grow and learn and get better. So I think there are plenty of really interesting topics for us to discuss and collaborate on."