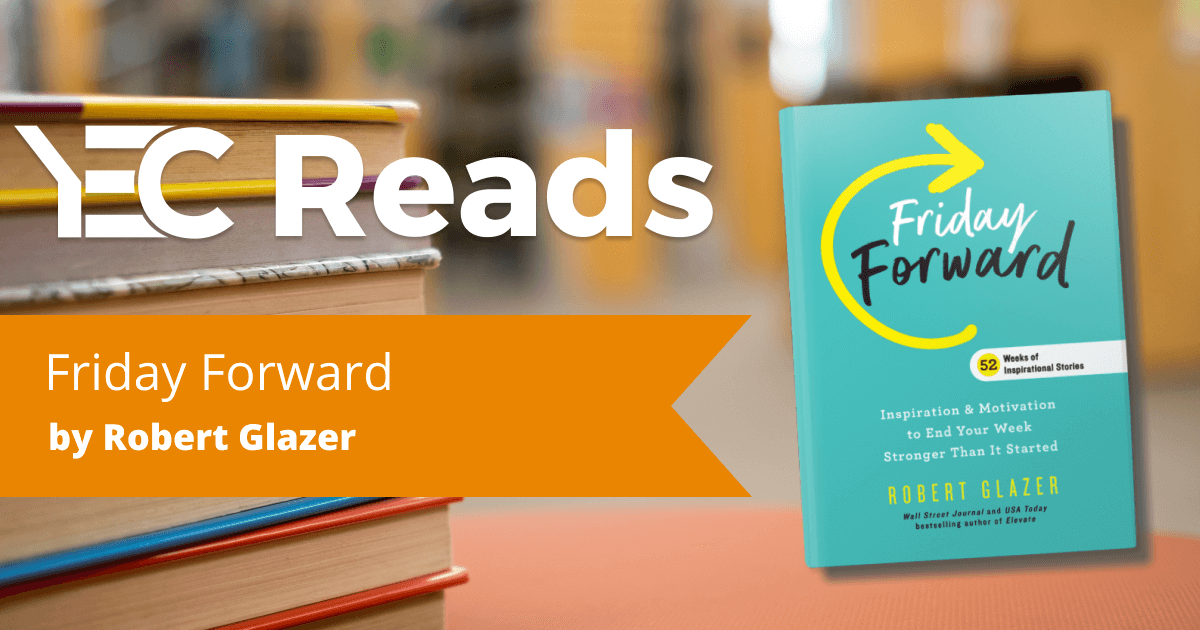 YEC Reads: Friday Forward by Robert Glazer
Welcome to "YEC Reads," a series presenting business books for entrepreneurs authored by members of YEC. Today's pick:
Friday Forward: Inspiration & Motivation to End Your Week Stronger Than It Started
Publisher: Simple Truths
Release date: September 1, 2020
Our Take:
In Friday Forward, Robert Glazer offers inspiration and encouragement for business leaders based on real stories of achievement and growth. Get out of your rut by putting these strategies into action.
About This Book:
Wake up. Get inspired. Change the world. Repeat.
Global business leader and national bestselling author, Robert Glazer, believes we all have a responsibility to each other: to give one another the inspiration and support we need to be our best. What started as a weekly note known as Friday Forward to his team of forty has turned into a global movement reaching over 200,000 leaders across sixty countries and continually forwarded to friends and family.
In Friday Forward, Robert shares fifty-two of his favorite stories with real life examples that will motivate you to grow and push you to be your best self. He encourages you to use this book as part of a positive and intentional Friday morning routine to get the weekend started on a forward-looking note that will carry you through the week. At once uplifting and deeply thought-provoking, these stories will challenge you to propel yourself outside your comfort zone to unlock your innate potential. By making small, intentional changes, you have the power to create lasting impact, not only in your own life, but also to inspire those around you to do the same. Today is the perfect day to start.
About the Author:
YEC member Robert Glazer is the founder and managing director of Acceleration Partners. He is an award-winning customer acquisition specialist with an exceptional track record in growing revenue and profits for fast-growing consumer products and services companies. In demand by top consumer brands and investment firms, Robert has extensive consulting experience and demonstrated thought leadership in the consumer, e-commerce, retail, online marketing, and ad-tech industries.
Reviews:
"Robert Glazer has spent five years sharing thought-provoking, motivational lessons to a global audience of business and thought leaders. With Friday Forward, he delivers 52 must-read pieces of inspiration to help you be your best and lead others to their full potential."
— Keith Ferrazzi, New York Times best-selling author of Who's Got Your Back and Never Eat Alone
"Robert Glazer has built a world class Scale-up company by finding creative ways to challenge and inspire his own team-and hundreds of thousands beyond the company's walls. Friday Forward shares stories of achievement, peak-performance and personal growth that anyone can use to improve their life, their leadership and their business."
— Verne Harnish, founder Entrepreneurs' Organization (EO) and author of Scaling Up
"Friday Forward is the best way I can imagine to start your morning. In contrast to the negative news that fills our days, these real-life stories of achievement give the positive inspiration we all need, and will challenge you to improve for yourself and others."
— Chester Elton, New York Times best-selling author of All In, The Carrot Principle and Best Team Wins