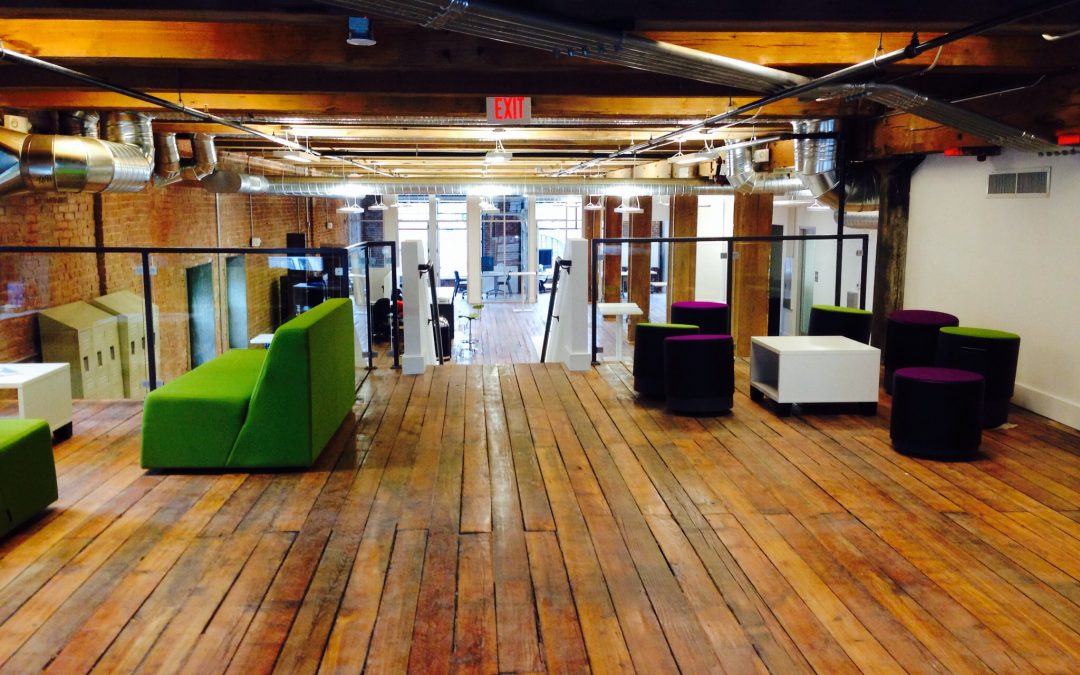 YEC Members Weigh In on the Real Lure of Co-Working
At its core, the co-working model offers entrepreneurs anything and everything they might need to run a business without the hassle. You get the typical benefits of a traditional corporate building (collaboration, location independence), and almost none of the disadvantages (housekeeping, lease obligations, stuffy decor).
But that's not the real reason millennial founders love to co-work; neither is the attractive price per square foot. For many YEC members, the right co-working space gives them the chance to nurture and grow their culture alongside like-minded entrepreneurs. In turn, their employees get incredible flexibility and perks, not to mention access to other companies, ideas, events and conversations that would be unheard of in a one-company space. Reduced overhead is just the icing on the cake.
Co-working as Cultural Inspiration
How can you feel at home in someone else's house? Carving out your own space is what matters most, says Morgan First, co-founder of Second Glass, a company that brings wineries and wine drinkers together through in-person events and educational apps and videos. The Second Glass team has belonged to eight different co-working locations over the years, recently settling upon WeWork because of its member caliber, cultural fit and location autonomy.
"I've talked to a lot of people, and they say anytime your team's under 25 people, it's not that your company doesn't have a culture, but you don't have enough of a culture and enough of a diverse culture that your employees have a ton of other options of people to talk to and people to go to," says First. She likes the idea that if her designer has a specific question about a project, they can go one office over to ask a designer on a different team.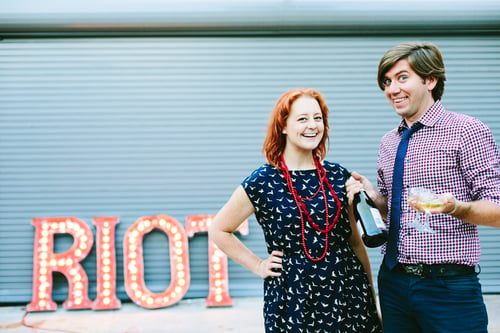 First and her co-founder Tyler Balliet use whatever they can to make the borrowed space feel more permanent to employees and visitors alike. "We try to personalize the space more than just putting up some photos. I gutted the furniture of my office, crammed in a couch, a bright green rug that looks like grass, and rock a standing desk," says Balliet. WeWork's modern decor, scattered inspirational quotations and huge, multicolored bean bag chairs fit well with Second Glass' goal of making learning about wine a less stuffy experience.
Blake Miller, partner and director of Think Big Partners, a Kansas City, Kansas accelerator, started his business in 2009 with the goal of creating a space he himself would want to work. "We're really focusing on how to continue to provide value outside of just a desk and a chair and an air conditioner," says Miller. In January, they moved from their 18,000 square foot space to their current 43,000 square foot space to accommodate 175 members. Miller believes strongly that, because of the co-working model, you never know whom you might run into and end up collaborating with or being inspired by, which is an important benefit for growing companies. To facilitate this kind of cross-pollination, Think Big Partners holds happy hours, lunches and programs like PitchKamp, a boot camp they created to help entrepreneurs learn how to pitch their ideas.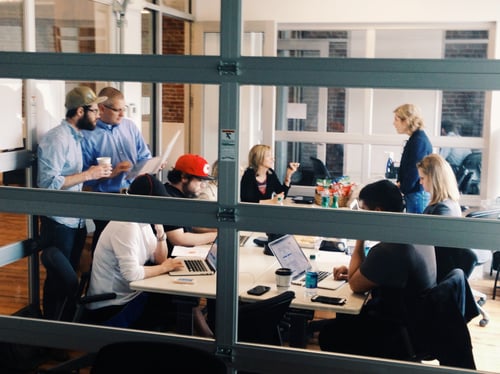 Miller says that having a wide range of startups in different stages at his accelerator has an added benefit: it has helped advance the startup ecosystem in Kansas City. First and Balliet, on the other hand, like knowing that other businesses in their shared environment have reached a certain level of success. But they all agree on the importance of being able to work closely with other innovators. "Too often people understand what each other do and not what each other are doing. When you understand what somebody is doing, you can likely help them on a day-to-day basis," says Miller.
The Modern, Mobile Office
First and Balliet are constantly traveling. They don't want to have to worry about who is going to close up the office every night or where their packages will go when they aren't around. More importantly, they want to be able to have an office to call home wherever they are. They choose to work in WeWork because, among many other benefits, they have the opportunity to work out of any location free of cost.
"We have somebody who lets us know when we have guests here. When packages come, she gets them and lets us know," says Jayna Cooke, CEO of EVENTup, the largest event venue marketplace in the U.S. She chooses to co-work primarily for its cost benefits but notes the additional peace-of-mind benefits. They have been in The Warehouse at Lightbank in downtown Chicago since January 2014. For Cooke and her busy team, it's nice to know that coffee is always poured, the printer always has paper, and conference space is readily available.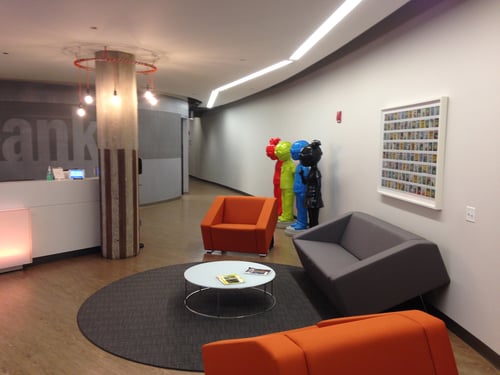 A Small Space Makes a Big Impact
There's another way businesses are sharing space and resources and creating new communities in the process.
Last September, Matt Alexander's men's retailer and lifestyle publication, Need, was asked to co-present the men's portion of New York Fashion Week. It was there he came up with the idea of giving e-commerce sites like his own representation through physical space. He started Unbranded, a Dallas-area pop-up providing free retail and event space to local creators and entrepreneurs. People who applied and were accepted had one week to use the area however they wanted, completely free of charge. Hundreds of applicants vied for 20 spots in the 1,500 square foot hall. Although space only existed temporarily, it was a huge success.
Alexander had friends roast the coffee and got sponsors to hand out products. He put desks in Unbranded during the day so that people could co-work. "It wasn't just pop-up co-working. It was kind of like a community experiment. It was a lot of different things at once," he says. His main problem was explaining to real estate agents what a pop-up was in the initial stages, and that he didn't want a full lease. Despite the need for more volunteers on a more consistent basis, he would do it again — and is planning to.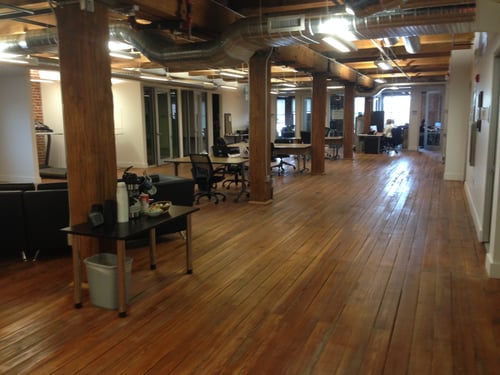 When focusing on his full-time business, Alexander also works out of a co-working space in Dallas. His main reasoning? Drawing a concrete line between home life and work life. He mentions the psychological issue of explaining to friends and family the concept of working from home: "They'll get really confused and they'll say stuff like, 'Why didn't you do any laundry today or make food for yourself today? You were at home.'"
"It's like, 'I wasn't at home. I was working.' A lot of people just don't get that. Finding a space for me was important to have a clear delineation between one side of my life and the other."
The Future of Co-Working
"The real big catalyst movement is going to be co-living," says Rameet Chawla, product specialist and the founder of Fueled, a design and development company based in New York and London. The New York office is home to 30 startups, including companies Thrillist and FourSquare, who work out of the space that Fueled owns. "There's more laws around that because there are rules around how you're allowed to live that are just so antiquated. But I think that people will be able to lobby and change those laws."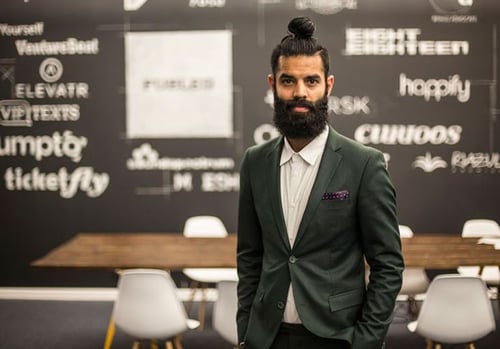 Chawla feels strongly that the next billionaire from the Millennial generation will have made their fortune in co-living for a few reasons. He paints a picture of a life where entrepreneurs and young professionals trade their beat-up three-bedroom walk-ups in New York City or San Francisco for professionally decorated, modern and more spacious community houses — and enjoy cheaper rent too. Why not take space-sharing one step further?
"There is a better version of whatever you want in the building. You would be totally game to entertain there. It would be so much better than bringing someone into an apartment that is all you could afford," he says. Sure, the rooms would be the size of those in a standard hotel. But everyone would be surrounded by other creatives 24/7.
Nanxi Liu, co-founder of Enplug, (a company that builds software that powers digital displays in malls, restaurants and retail stores), actually lived and worked in the same space with her team in downtown Los Angeles until they outgrew it. She liked the co-living model so much that the team kept the house after they built their nearby office, and she still lives there now with a few other Enplug team members. Many of the employees who don't live in the house are roommates elsewhere in the city. "I think it's because we have a very family-oriented environment. Your teammates become the people you really enjoy hanging out with," says Liu.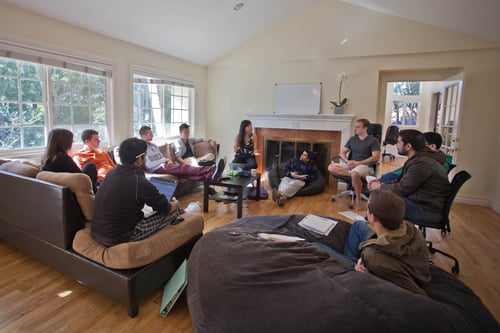 They host brunches and barbecues when the weather permits on weekends at their place. They carpool to and from work and cook together. And rightly so, culture fit is a big part of their hiring process. Every time they bring on a new employee, Liu asks herself whether they're someone they want to spend a lot of time with.
Co-working connects startup companies in the space in many ways that traditional office spaces physically cannot. The future means smart collaboration, and it's a bright one. "As a culture, we spend so much time looking at screens," says First. "I think we need to do everything we can to be more around other people."
[All images courtesy of listed member companies unless otherwise noted.]
---
This feature originally appeared in YEC Quarterly, a print magazine for YEC members. YEC Quarterly is no longer producing new issues.