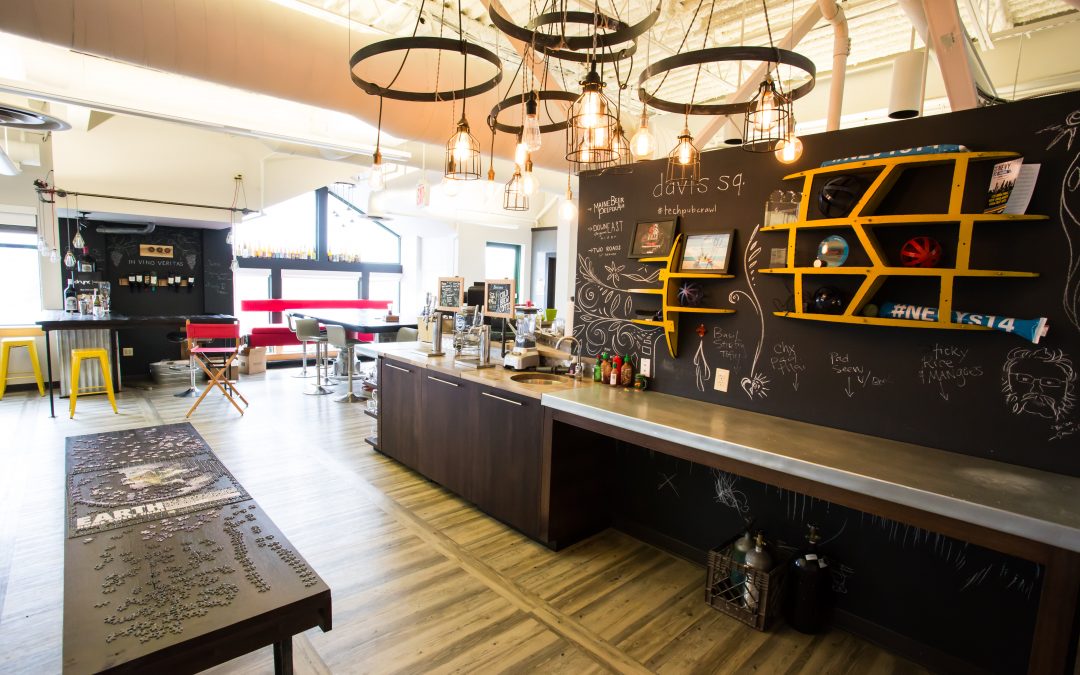 YEC Members on Why Design Matters
For the most innovative companies, physical offices are more than just a place to work. Google and Facebook are the most notable examples, turning their offices into perk-filled campuses that reflect the dynamic, people-friendly cultures they're famous for. But you don't have to be a tech giant — or even have an office at all — to design a physical work space that reinforces your company culture.
Whether you're stone-grinding organic cacao beans in your backyard or turning your walls into whiteboards, culture can be integrated into every design decision you make with your space.
Bring the Outside Community In
Alex Whitmore, CEO of Taza Chocolate, a stone-ground organic chocolate company, spends a lot of time interacting with the outside community. Taza hosts both public and private tours of their chocolate factory every day of the week, in addition to events like their Cinco de Mayo and Day of the Dead festivals. Events are complete with a beer garden, live music, face painting and of course, chocolate.
Taza manufactures their product in house, which is rare for consumer packaged goods companies, particularly in the food industry. About half of their 60 employees are in sales, marketing and operations, and the other half work in manufacturing. Their multi-story, multi-purpose office is the ultimate definition of an open work environment. "We try to make it so the tours don't get in the way of the production line. We also want to respect the work of the production workers," says Whitmore.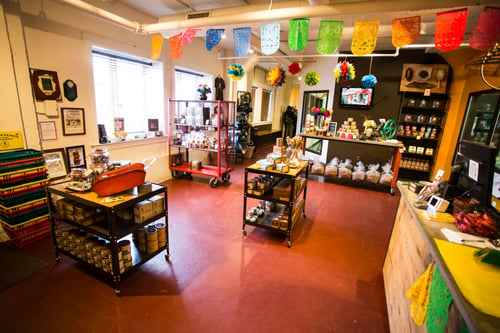 Taza has managed all operations under one roof since they first opened in Somerville, MA in 2005. For them, it's important that the internal and external community understand that their process is connected, from start to finish. That's because to Whitmore, social sustainability, environmental sustainability and economic sustainability are intrinsically linked. "We want to make sure that the kind of community we create internally is what is expressed externally to our customers and to our vendors. So we're trying to create the right kind of benefits, build the right kind of work structure, and support our ideal vision of what our culture and community should be."
As such, their design reflects the ethos of their team members, who built the office from scratch themselves. "We have a special HR meeting room that doubles as a nursing room for new moms," Whitmore says. "You want to build an environment that respects all of those needs and creates the kind of working atmosphere your company needs to succeed."
Involve Your Team in the Process
Joshua Summers, CEO of Clypd, a platform that automates workflows for the TV industry, has two main business focuses: building the best platform he can and making the company office a place where his team really wants to be. "We wanted to build a company that we could truly say is one of the best places to work," he says.
Now, the office is stocked with a snack section, wine bar, coffee and tea bar and full beer selection. There is a game room and sliding projector screen. An unfinished puzzle sits on a side table. "Office space is about how you make it feel a little less corporate, frankly. Nobody really likes going to an office," Summers explains.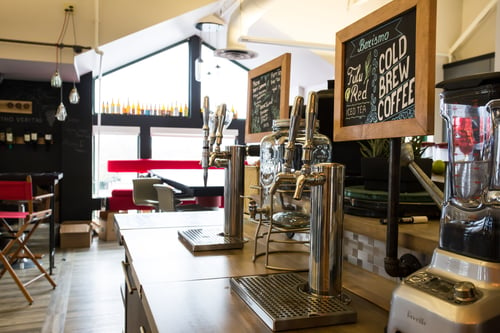 Clypd employees created many of the more unique features themselves. In a side room with a television screen and coaches, employees mounted a glass tabletop from Ikea to the dark wall and propped black lights above it so the dry erase markings would glow in the dark.
Summers believes that their physical office space is a reflection of one of their core values: collaboration. But involving employees at every step in the design process was crucial. The team brainstormed how they wanted the space to look and what they wanted to incorporate before building.
"You cannot 'cookie cutter' your space. You really need to involve your team," says Summers. "For us, collaboration space was important. Our space would not work for everyone." When more room opened up in the originally 6,000 square-foot Clypd office, Summers subletted the extra space to five other startups in the area. But first, he made sure their office cultures were a good fit for Clypd's team.
Use Your Product to Tell the Story
The white walls of IdeaPaint's headquarters are covered in murals and scribbles of all different shades in downtown Boston — a fitting look for a company that helps transform any surface into a dry erase canvas. "We looked at the space a way to make our brand, our company, our culture, and really our product come alive through our space," says Jeff Avallon, CEO.
Every six to eight weeks, IdeaPaint invites an artist or a group of artists to use the space as their canvas. They cover the walls with maps, graphics, thought bubbles, abstract designs and more, usually sticking to a topical theme like collaboration or creative innovation. IdeaPaint then throws a gallery opening to bring the community into the office and show off the artist's work.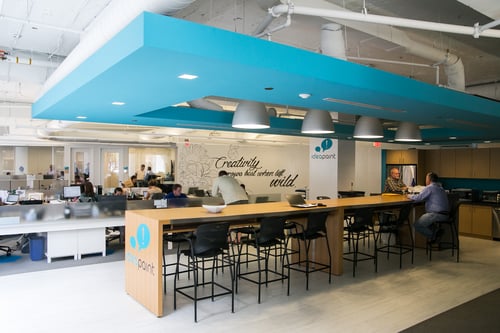 They constructed their office with their major projects and clients in mind. "Really our space is designed around the learnings that we have had growing the business and the learnings that we have had working with our customers," says Avallon. "We've taken cues from Google, Microsoft, AutoDesk, Adobe, Nike, Apple, Victoria's Secret, Reebok, and all these different projects that we have been exposed to over the years."
Encourage Ongoing Participation
Matt Wilson has a killer view. He works in cafes off the dirt roads of Belize, on balconies of hotel rooms in Ireland, and on the sandy beaches of Brazil. He runs a travel company called Under30Experiences, which is part of his bigger business, Under30CEO. Under30Experiences brings different groups of 12-20 people under the age of 35 together multiple times a year for new experiences in unique locations, and they have no stationary office space.
"I abhor that people want to be locked in an office all day, not moving our bodies and not stimulating our minds," says Wilson. Knowing that the day holds a hike through a jungle to a volcano is perfect motivation for working late into the night. After each trip, his team adds the new group of travelers to the Under30Experiences alumni mailing list and Facebook page. The company helps them organize stateside meetups and encourages constant communication, turning a one-time customer experience into a lifetime of loyalty.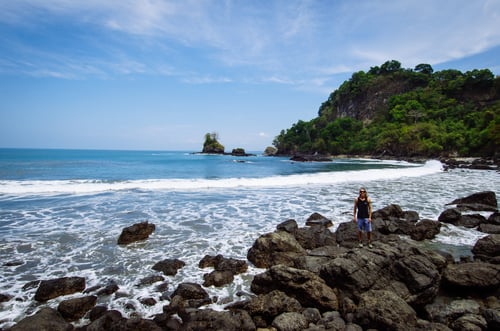 [Photo credit: Courtney Slade]
Wilson is always in touch with his staff, too, whether together or apart. Joking back and forth on FaceTime or Skype helps him boost company morale and keep a consistent sense of culture, especially when there is no physical shared space. That sense of community is clearly a core value -- for both Under30Experiences customers and its employees.
"If your life is aligned with the mission of your company, you don't need work-life balance. It is your life," says Wilson.
Making Your City Your Office
James DiSabatino, CEO of Roxy's Grilled Cheese, a Boston-based gourmet grilled cheese food truck, isn't usually so far away from his staff. Actually, he is often often only inches away, as he and most of his staff do a majority of their work tucked inside one of two food trucks around the Greater Boston Area. "I tell people that Boston is my office, because I'm in so many different places throughout the week that it never gets stale," he says.
Culture is constantly evolving to keep up with the fast-paced nature of running a mobile restaurant. If someone is in a bad mood on a cold winter day in the 80 square-foot space, it affects the whole team, so collaboration and teamwork are high priority. The Roxy's culture is a reflection of the time they spend together, interacting with their customers, as well as their role in the growing Boston food truck ecosystem. "Someone always tweets at me, 'I saw you trading food with another truck. That's the cutest thing I've ever seen!'" says DiSabatino when Roxy's is serving food in downtown Boston.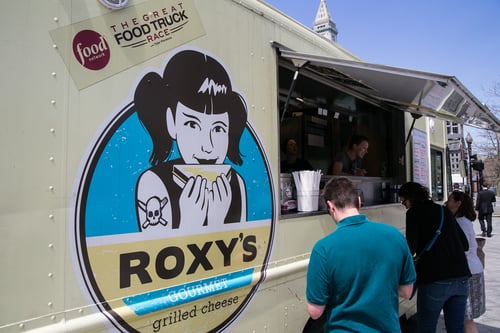 While one truck has a steel roof, the other's is made of fiberglass. If you follow the steam coming from the grilled cheese to the ceiling, you can see the light outlining the leaves on the rooftop. The trucks have to be completely cleaned top to bottom every day, which takes several hours — one of the disadvantages of working in a moving vehicle. There are also the inevitable mechanical issues and uncomfortable seats.
Still, DiSabatino says that it's the people who make the space not just bearable, but fun. As he knows (maybe better than the average entrepreneur), you can't survive if your team doesn't operate as a collective unit — even if your office can make french fries on demand.
[All images courtesy of PrettyInstant unless otherwise noted.]
---
This feature originally appeared in YEC Quarterly, a print magazine for YEC members. YEC Quarterly is no longer producing new issues.