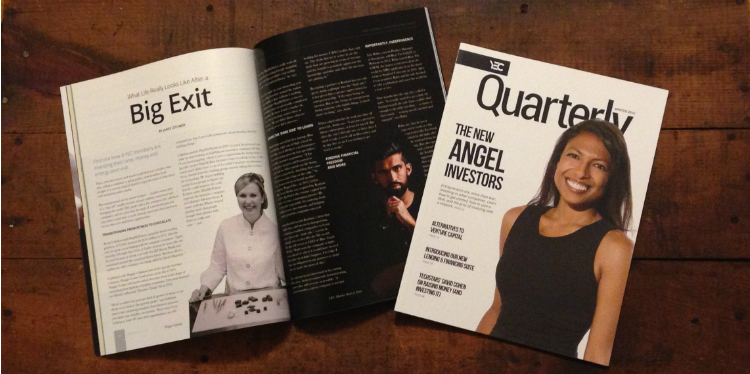 YEC Members on What Life Really Looks Like After a Big Exit
Films, television shows and novels would lead you to believe that after selling a company or going public, most founders head straight to a remote tropical island to enjoy the fruits of their labor with bottomless piña coladas.
But entrepreneurs are by nature hustlers — hustlers whose idea of a "day off" usually revolves around making connections and changing the world. YEC spoke with a few members who sold their companies, and it's clear that the myth of a storybook post-exit experience is just that: a myth. Instead, most turn their hard-won success into new and better opportunities.
Transitioning From Fitness to Chocolate
Kevin Callahan sold MapMyFitness, a popular fitness tracking platform, to Under Armour for $150 million in 2013. After his exit, he spent a year helping with the company's transition. "Quite honestly, I thought that I'd be at Under Armour for years after the fact just because of all the cool stuff that KP [Kevin Plank] had envisioned around the connected fitness future. But then, all of a sudden my wife's company was being called by Oprah Magazine."
Callahan's wife, Maggie Callahan, started her upscale chocolate company, Maggie Louise Confections, in the fall of 2013. Maggie Louise sells hand-crafted chocolate treats in the shape of everything from lipsticks to holiday ornaments. They were featured on Oprah's influential "Favorite Things" list in 2014.
"All of a sudden the grass got kind of greener in terms of my desire to be back in that growth mode," says Callahan. And so the surprising transition from fitness to gourmet chocolate was actually a no-brainer. "Even when I was looking at some VC and other opportunities, my wife reminded me that I am really passionate about having a hand in building things."
Callahan started MapMyFitness in 2007 to track his personal runs while he was working on building an insurance company full time. "I was bootstrapping, which is just a euphemism for being broke. I literally created MapMyRun because I was too cheap to buy a GPS watch and I didn't have a car so I couldn't measure my distances." Soon, friends from his running group started asking him to share the technology. He began holding weekly focus groups to figure out how he could improve the code. In short order, MapMyFitness replaced the insurance company as Callahan's full-time focus. It wasn't until the iPhone started playing music that people brought their phones with them on walks and runs -- and that's when MapMyFitness really took off. "I remember us writing Google mapping library code that just didn't exist within Google's own standard library," he says.
Just as the couple are now innovating new ways to ship chocolate around the nation in the middle of June without it melting, Callahan made MapMyFitness a success by building what was previously considered impossible. He knew had a market fit, even if the technology wasn't there at the time. "We just didn't know what we couldn't do, so we did it anyways."
Joining the Dark Side to Learn
Shahzil Amin started his first startup, Blue Track Media, right out of high school in 2008. Blue Track Media is a performance-based advertising network that specializes in mobile customer acquisition. "[Our family] grew up poor and I wanted to make sure we didn't spend our life living paycheck to paycheck. Anything that came after that was just icing on the cake," he says. Amin went on to found another company, Plugged Inc. in 2012, before Blue Track Media was acquired by Karlani in 2014. Karlani is the venture capital firm where he's now a managing partner. He is currently responsible for sourcing deals, voting on new investments, and helping current portfolio companies succeed.
Amin decided to join Karlani, a firm that builds, buys and invests in fast-growing, technology-enabled companies, to learn more about the "dark side," a term he jokingly uses to describe the VC world. He also still serves as CEO of Blue Track Media. "Right now the company is light-years ahead of where it would have been if this entire deal didn't happen. I feel like I have an obligation to my partners to make sure we make the most of this."
For entrepreneurs interested in becoming investors, Amin recommends demonstrating your value add as soon as possible. "A great founder, a great company is not just looking for money. I didn't realize that early on. The deals that we're active in are the deals that are growing in terms of revenue and the founders genuinely appreciate the knowledge and time and effort the investors are putting in."
Becoming a partner at Karlani has not only given Amin a glimpse into the dark side; it has given him a greater appreciation for entrepreneurship. "I do enjoy being an investor. But to me, being an entrepreneur, being someone who builds things, is much more exciting," says Amin.
When asked whether he took any time off post-exit, Amin says "I am not a person to throw celebrations, at least for myself. But after the exit I did take two or three days. I tried to take a week off in December, and by day five or six I was itching to get back to work."
Finding Financial Freedom and More Importantly, Independence
Eric Bahn, current Product Manager at Facebook and Co-Founder at Hustle Con Media, sold Beat The GMAT to Hobsons in 2012. Bahn started Beat The GMAT, the largest social network in the world for MBA applicants, from his dorm room at Stanford University in 2005. After it was acquired, Bahn and his wife decided to take a sabbatical and travel the world for a year or two.
Nine months into the trip, they called it quits. "It actually started to get a little bit boring towards the end. I just couldn't find enough to do while traveling — as funny as that sounds — to keep myself satisfied and engaged," says Bahn.
Bahn says that he never expected to work at a big corporation like Facebook. But after speaking with a friend about the flexibility and opportunities that a product management role there could offer, he accepted the job in 2014. His exit has allowed him the freedom to pursue all sorts of other endeavors, like working at a nonprofit or as a barista at a coffee shop, two things that he hopes to do in the near future. But by no means does Bahn look at his earnings as money to burn. He has a strict view on personal finance: "It's been a very big factor in terms of how I think about my wealth, in that I view it all as independence. If I decide tomorrow that I am tired of Facebook and I want to take three months off to write a book, then I have the option to do that."
Bahn advises other entrepreneurs and businesspeople who share his view of financial independence to get out of the "rat race" as quickly as possible. He has accumulated enough wealth that, based on annually recurring investment interest, he should be able to maintain or improve his quality of life without ever having to work again.
"Another aspect of maintaining financial independence is knowing what you value in terms of how you spend your money," says Bahn. He doesn't drive a fancy car and has worn the same clothes for the past five years so that he can spend a little extra on other priorities, like travel and dining expenses. The key is to understand how much you need to maintain the lifestyle you're accustomed to and invest accordingly.
Getting to Work After Going Public
YEC member Jeremy Johnson and his co-founders Chip Paucek and John Katzman took their education technology company, 2U, public in late March of 2014, raising $119 million. Just three months later, Johnson co-founded Andela, a technology partner that matches full-time remote software developers from Africa with Fortune 500 companies.
When he started Andela, Johnson didn't anticipate that he would leave 2U to run it full time. "But after my first trip to Lagos with now co-founder Christina Sass, I realized I couldn't stop thinking about the company," he says.
Johnson says he took on the role at Andela because he believed that this service would help close the global skills gap, not because of the timing of 2U's IPO. Johnson still sits on 2U's advisory board, but on a day-to-day basis is heads down and focused on the work his team is doing at Andela.
Having experienced success after success, one might think Johnson lives a life of luxury, but he has a very different philosophy. "Always live below your means." he says. "For entrepreneurs, there's little more valuable than being able to focus on the finances of your company and not think about your own."
Johnson notes that one of the biggest myths regarding how entrepreneurs spend their time post-exit is that it's anything but hectic. "Most people who are driven enough to build something of consequence probably did it in part because it's in their nature — they just enjoy it. While balance is important, it's difficult to change one's nature."
These successful founders have more in common than making it big. In some way or another, they each want to continue working in order to better the planet — whether it be through self-funded technology training or addressing the world's waste problem, as Amin hopes to do later on in life. As for now? He, along with Callahan, Bahn and Johnson will keep working diligently until that change comes, whether or not the timing is ideal.
Says Amin, "A lot of entrepreneurs are 'wantrepreneurs.' They hear all of these stories of struggle leading to success and they are like, 'Man, I want to do that.' Don't forget how much work it takes to get to that point. You're never going to be able to do it alone."
---
This feature originally appeared in YEC Quarterly, a print magazine for YEC members. YEC Quarterly is no longer producing new issues.