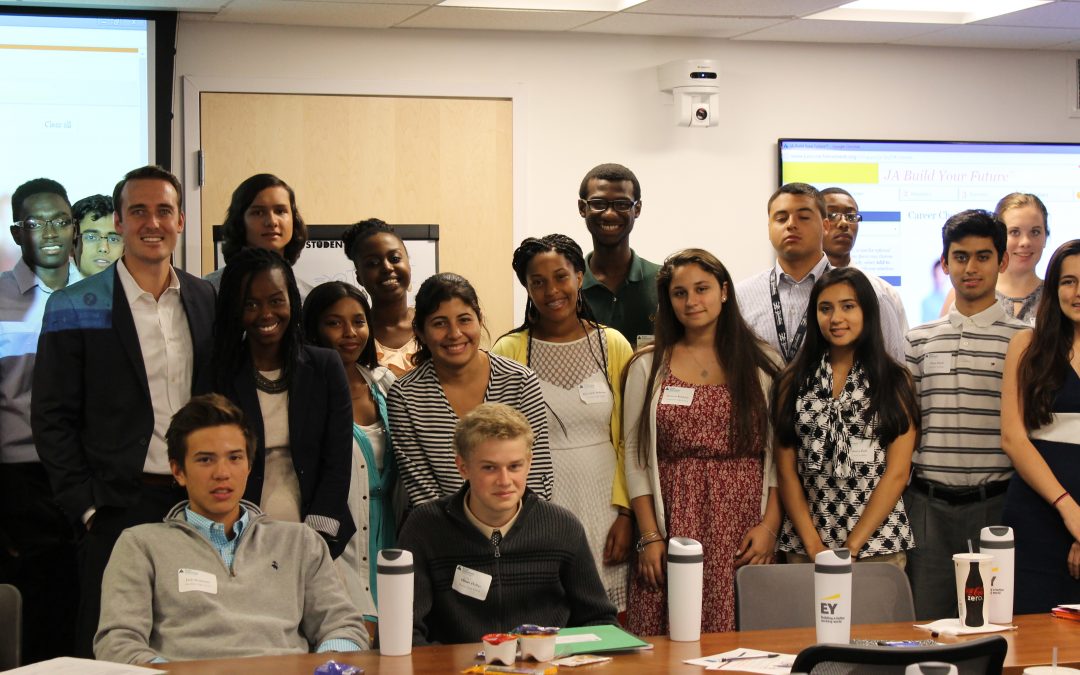 YEC Members Help Out at JA New England Summer Institute
Last month, YEC members Enrico Palmerino, Dan Pickett, Stephanie Kaplan Lewis and Slater Victoroff offered up their time and expertise to students participating in the Junior Achievement New England Summer Institute event at Northeastern University. As part of YECs connection with Mentorship Network, three YEC members led a day-long session on entrepreneurship.
As part of the 2nd Annual JA Summer Institute, 44 high school students participated in a week-long program focused on igniting their entrepreneurial spirit, learning about career options, networking with business leaders and collaborating with mentors and peers. An entire day of the event was led by YEC members, who taught a session on entrepreneurship that included students collaborating to make a product.
Starting with a panel, YEC members energized students with their own stories of entrepreneurship. Continuing in that vein, they had students identify a market need and design a product from a bag of random items to address it. Students then had to pitch their products using first non-verbal, then spoken communication in order to "sell" their solutions.
"The energy in the room was contagious! The team at Junior Achievement has done a fantastic job exposing young, aspiring professionals to the roller coaster ride that is a career in entrepreneurship. Our panel was met with thoughtful and engaging questions, and I hope we inspired the group to get out there and create something special," said YEC member Dan Pickett, co-founder at Launch Academy.
From YEC member Stephanie Kaplan, co-founder of Her Campus Media: "The JA students were so engaged and asked smart, thoughtful questions. They were chomping at the bit for knowledge and information. I felt lucky to get to speak to such an ambitious group!"
The students also had a blast experiencing hands-on entrepreneurship for themselves.
"My favorite part of the week was seeing that there are other youth that are extremely motivated and eager to find success. They are passionate, hardworking, and in control. This week I learned that it is good to be prepared for your future and do anything you can set yourself up for success," said student Kester Messan-Hilla, who was voted to win the MVP and Leadership Award for the week.
You can learn more about Junior Achievement and the programs they hold for students on their site.
If you're a YEC member and would like to get involved in this or other mentorship opportunities, feel free to reach out to your member concierge.